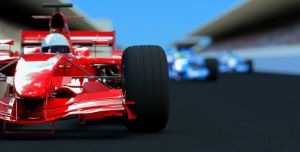 You've probably heard about the growing popularity of retail weddings and other alternative wedding ceremonies, but what about performing a wedding on a racecourse? That's exactly what one minister in the Universal Life Church did in the U.S. state of California. Such quirky occasions are fun and creative, but they also raise questions in the minds of new ministers about how to perform a legal wedding ceremony.
The wedding was held at the Stockton 99 Raceway in the California town of Stockton. There, Kelly Collins was married to Richard Reese, the raceway's caretaker, by Universal Life church minister Wayne Pierce, who also happens to be the raceway's announcer. Collins and Reese exchanged wedding vows in front of about 4,000 racing fans prior to the Southwest Tour Late Models 150-lap main events. Adding to the nontraditional nature of the venue, Pierce gave Reese an equally nontraditional word of wisdom: "[m]arriage is not like Burger King; you won't always get it your way". Truer words were never spoken.
Many ministers would like to perform such nontraditional wedding ceremonies, but are unsure how to go about doing so. What are the legal requirements? What are the logistics? The latter depends on the venue whether it's a racecourse, a Home Depot store, or a skydive but the former can easily be answered with a few pieces of advice. Despite some obstacles facing wedding officiants in places like Michigan and Washington, DC, almost all U.S. states recognize weddings performed by priests, ministers, or pastors ordained online. (Visit the ULC Monastery's marriage laws Web page to find out more about laws in Michigan, Washington, and similar places.) It is always wise to check with your local county clerk to make sure that weddings performed by priests ordained online are legal in your local jurisdiction. In addition, a legal ordination credential might be required as proof of ordination in order to perform weddings in some situations.
Of course, this is only the tip of the iceberg. If you have general concerns about the legality of online ordination or how to officiate a wedding ceremony, perform a baptism, or perform a funeral legally, or what documents and materials are needed to conduct your service, you can find more information and online resources by visiting the ULC Monastery's Web pages on wedding training and legal officiation. Additionally, you may find answers to your questions and exchange helpful ideas by joining the church's social network for ministers or Facebook discussion forum.
Deciding to get ordained online and become a priest in order to solemnize weddings for friends and family inevitably poses some challenges, but hopefully some guidance and resources will help smooth out the rough patches, as it were, in your new ministry. With a little bit of effort and determination, anybody should be able to perform the most outlandish weddings imaginable. Why stop at a racecourse wedding? Why not dream big and imagine performing a space-station wedding? Most likely, someday such visions will come to fruition anyway.
Send us your personal stories: have you ever performed an outrageous or nontraditional wedding ceremony like the one performed by Pierce at the Stockton 99 Raceway? Perhaps yours was even more unusual. What did you have to do to prepare?
Source: