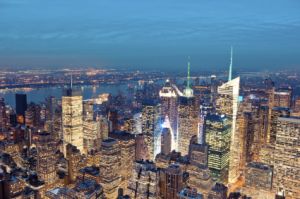 The excitement over royal wedding of Prince William and Catherine Middleton is not limited to Great Britain throughout the Commonwealth, and in the United States, people are marking the occasion in their own special way. The wedding bells ringing in Westminster Abbey will be echoed in Times Square, where the Rev. Mitchell Maged will perform a modern wedding ceremony for three different couples to commemorate the union of Prince William and Kate Middleton. The event is more than an homage to the British prince's new role as husband, however it also illustrates the growing popularity of interfaith ministers and priests.
The Times Square weddings are the culmination of a week of programming organized by The Learning Channel (a television channel which focuses on lifestyle trends not learning) and dedicated to the royal wedding. TLC chose Maged to serve as legal wedding officiant at three consecutive ceremonies in the midst of the city's fabled carnivalesque entertainment district at 7:40am, 8:30am, and 9:10 am (-5 GMT) respectively. It is being broadcast live on one of the square's famous Jumbotron screens. Beforehand, Prince William and Catherine Middleton are exchanging wedding vows live on another Jumbotron screen at 5:00am (-5 GMT). The Times Square couples were selected from forty-five applicants after a process that began in February.
In addition, the couples' wedding cakes will be provided by Hoboken, New Jersey's Carlo's Bake Shop featured in the reality television show "Cake Boss" while New York City's Kleinfeld Bridal of "Say Yes to the Dress" fame will furnish the brides with their gowns.
Maged's interfaith approach has played a big part in the event. TLC selected him not only because he served as a wedding minister in the network's program "Four Weddings", but also because he is a nondenominational minister. The pastor began to develop an interest in marrying interfaith couples in 1985. That year, Maged, who comes from the Jewish faith tradition, married a woman with a Roman Catholic background. Because interfaith weddings were still unconventional at the time, he devoted his ministry to bringing together people of different faith backgrounds, emphasizing the importance of love rather than doctrine or theology.
People like Maged remind the rest of us how powerful love really is by eroding the stigma surrounding interfaith marriages, and it does not hurt that he is capitalizing on one of the most historic weddings of recent years in order to send this message across. Hopefully the work of Maged and other nondenominational pastors will make it easier for people who decide to get ordained online in an interfaith church to perform weddings themselves for the sake of love, in spite of traditional religious barriers. Give us your thoughts. Have you seen a growing acceptance of interfaith weddings in recent years?
Source:
Northjersey.com