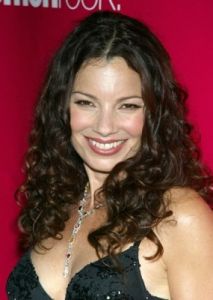 One of the most recent additions to the ULC Monastery's growing list of celebrity ministers, which includes the likes of talk show host Conan O'Brien, Talking Heads frontman David Byrne, and reality T.V. personality Jason Segel, is actress Fran Drescher_._ The Emmy-nominated actress will be taking advantage of her new status as a minister ordained online to officiate a wedding for a gay couple. We at the ULC Monastery are very excited about this event and the important role media and celebrities are playing in changing people's minds about gays and lesbians and people who get ordained online.
Drescher will be performing the ceremony on March 6th at XL Nightclub, in the Hell's Kitchen neighborhood of Midtown West in Manhattan, New York City. The lucky couple is Tom and Russell, who have been together twenty years, and who were selected in the "Love is Love" marriage contest held by the cable television network TV Land. The event will also mark the second season launch of Happily Divorced, a TV Land sitcom starring Drescher as a florist who lives with her gay divorce to save money because of the economic recession. (According to a TV Land press release, Drescher will be marrying two other gay couples that night as well.) Other celebrities are also deciding to take a stand for equality and become a minister to perform wedding ceremonies for committed gay and lesbian couples. O'Brien himself recently officiated a wedding for one of his staffers and his staffer's partner onstage during the Conan show at the Beacon Theatre, also in New York City.
Drescher's role in the ceremony seems to be driven by genuine support for the community as well. The former star of The Nanny, known for her affectedly (but adorably) nasal Queens twang, has long been an advocate of LGBT rights and same-sex marriage. According to a PRWeb article posted in the Seattle Post-Intelligencer, the actress had this to say about the issue:
It is our duty to recognize that injustice exists and shift national consciousness to correct that injustice. Marriage equality is our opportunity to uphold our constitutional values, to stretch beyond our comfort zone and mature into a better version of ourselves. It is only by example that we may continue to be a beacon of freedom for the rest of the world.
Such strong support and affirmation on the part of high-profile ULC wedding officiants seems to be growing, too. It's good news for the LGBT community and its allies: as high-profile weddings like this become more and more commonplace, so will social acceptance of committed LGBT couples. The ceremony will be perfectly legal, too, since both gay marriage and online ordination are legally recognized in the Empire State. (Washington state and Maryland have also just legalized the practice.)
The Universal Life Church Monastery would like to congratulate Drescher on her ordination in the church and express its gratitude for the instrumental role she has played in advancing the cause of LGBT rights. We also wish the best of luck to Tom and Russell. With enough support from ordained celebrity ministers like Drescher and O'Brien, marriage equality across America will become a foregone conclusion, and ULC ordinations will have played a central part in this important work. We look forward to seeing many more weddings by this funny woman of T.V. comedy in the future.
Sources:
Seattle Post-Intelligencer