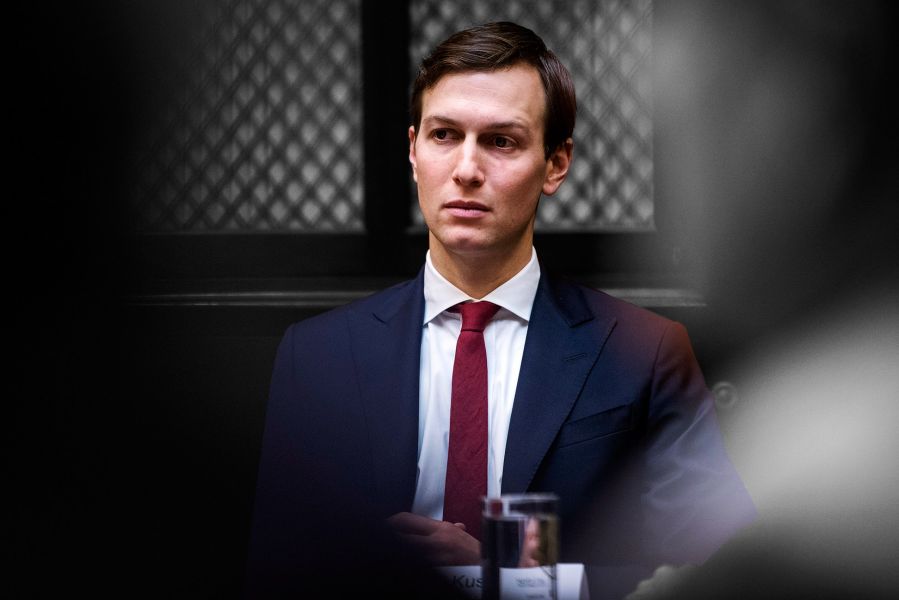 ---
In an explosive new book titled "Fire and Fury: Inside the Trump White House," author Michael Wolff reports that Jared Kushner, one of the president's senior advisors and husband of Ivanka Trump, is a ULC minister. Anyone who feels so-called can become an ordained minister by filling out the ordination form located here on our website, provided they abide by our central tenets.
Upon receiving his ordination, Kushner apparently offered to marry MSNBC co-hosts Joe Scarborough and Mika Brzezinski. "I can marry you! I'm an internet Unitarian minister," he is quoted as saying.
(We know what you're thinking: Unitarian? Since Unitarian churches don't provide online ordination, there is wide consensus that Kushner simply got the name wrong, and in fact meant the Universal Life Church.)
ULC in the White House?
What would it mean to have a ULC minister in the White House? Could Kushner's affiliation have any effect on White House policy decisions? Certainly the religious affiliations of any influential member of the government are carefully scrutinized and are widely seen to influence decision making.
Kushner's ordination is especially interesting given that he has thrown himself headfirst into perhaps the most complex faith-issues facing our world.
Most recent was the move to formally recognize Jerusalem as the capital of Israel, widely seen to have been influenced by Kushner an announcement that angered many Islamic countries in the region and even sparked widespread criticism here in the United States.
The Jerusalem Question
Jerusalem has historically been a flashpoint for religious conflict. Considered a holy site by three major religions Christianity, Judaism, and Islam the city has tremendous religious, symbolic, and physical significance.
Jews see Jerusalem as their "original capital", a major city in the first Kingdom of Israel. Not only that, but it's home to the holiest site in Judaism, the Western Wall. Muslims believe that Prophet Muhammad ascended to heaven from Jerusalem, and the Dome of the Rock is located there.
Meanwhile, Christian tradition teaches that Jesus was crucified in Jerusalem. Interestingly, many evangelical Christians (sometimes referred to as Christian Zionists) believe that Jewish control of the Holy Land is a prerequisite for the Second Coming of Christ.
The city is currently split into separate sectors, each home to a different religious group and containing important holy sites belonging to their respective faiths. Given this complex relationship, any threat to the status quo in Jerusalem has the potential to provoke a resurgence in its unresolved conflicts.
Kushner, who follows the Jewish faith, reportedly encouraged the president to support Israel's claim to Jerusalem as the nation's capital. Some sources claim Kushner's involvement tipped the scales and was the determining factor in the president's decision.
Could his status as an ordained minister have had any effect on the process? Perhaps he spent time pondering the ULC tenet of "doing only that which is right" before lobbying the president to support the Israelis.
But Kushner's sphere of influence extends far beyond Jerusalem's walls. He's also been charged with advancing a broader peace deal in the Middle East a supremely difficult task by any measure. We wonder if his efforts might be aided by pondering the ULC's guiding belief that we are all children of the same universe.
What is the Universal Life Church?
Arguably, this is not the first time that the ULC may have had a hand in influencing major policy. The Church has a long history of empowering change-makers, movers, and shakers." The Universal Life Church was founded in 1959 by Kirby J. Hensley. After studying a variety of religious texts, Hensley decided that conventional religious traditions are too constricting, leaving little room for individuality. He concluded that "the proper religion may differ for each person, and everyone is entitled to choose one's own religion. No one should be criticized or condemned for wanting to practice the beliefs of one's choice." Hensley decided to start a church that would allow people to believe whatever they wanted.
The church saw a surge in membership during the Vietnam War a time of immense social and cultural upheaval when many people turned away from traditional religions and explored other forms of spirituality.
To this day, the ULC continues to stand for spiritual individuality and personal exploration. By knocking down the barriers to traditional ordination, it provides an avenue for people to explore their beliefs, perform religious ceremonies, and even start their own ministries.
The Universal Life Church has two main tenets:
Do only that which is right.

Every individual is free to practice their religion however they please, so long as their actions do not impinge upon the rights of others or violate any laws.
Trump, Wedding Officiant?
We end with this interesting anecdote: Michael Wolff's book inadvertently sheds light on a potential new hobby for President Trump officiating weddings. After Jared Kushner offered to officiate the MSNBC hosts' ceremony, Trump reportedly shot back, "What are you talking about? Why would they want you to marry them when I could marry them? When they could be married by the president! At Mar-a-Lago!"
It's yet to be seen if Trump will follow in his son-in-law's footsteps by getting ordained.