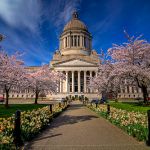 On Monday, 13 February, Washington State legalized gay marriage when Governor Christine Gregoire signed into law a marriage equality bill passed by the state Legislature. On the same day, GOP presidential candidate Rick Santorum was visiting the state to meet with gay marriage opponents, who plan to file a referendum and an initiative to overturn the law in next November's election. If anything is certain, it is that Washington State will be a battleground for gay marriage in the coming months--but there is hope that equal rights will prevail.
The path to gay marriage in the Evergreen State has been an incremental one, gradually gaining momentum over the years. Senator Ed Murray, D-Seattle, has played an instrumental role in sponsoring gay rights in the Senate. With his help, the Legislature passed a domestic partnership law in 2007, and voters upheld an expanded, "everything-but-marriage" version of the law in 2009, the first time in American history that voters upheld a gay rights law. Plans to pass gay marriage legislation picked up the pace on 4 January, when Gregoire publicly endorsed the bills. The Senate, which has a higher percentage of Republicans than the House of Representatives, passed a Senate version of the bill in a 28-21 bipartisan vote 1 February, and the House passed its own version of the bill in a 55-43 bipartisan vote the following Wednesday. Gregoire's signature followed.
Gay marriage opponents have vowed to defeat the legislation by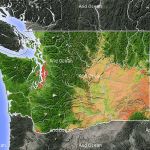 putting the issue to the voters. Some have vowed to file a referendum to have the law repealed through a public vote in next November's election using money from out-of-state lobbies like the National Organization for Marriage. Meanwhile, Everett, Wash. attorney Stephen Pidgeon filed an initiative last month to change the current state statute's definition of marriage from a union between a male and a female to a union "between one man and one woman". The referendum requires opponents to submit 120,577 signatures by 6 June to qualify for the November ballot, or gay weddings will commence 7 June. The initiative requires opponents to submit twice those many signatures--241,533--by 6 July to qualify for the November ballot. Rick Santorum is meeting with gay marriage foes in Olympia and Tacoma this week to help boost opponents' efforts, but will be skipping Seattle, the state's socially liberal, culturally influential stronghold.
Even with the threat of a referendum and an initiative looming in the distance, research suggests Washingtonians may uphold gay marriage if it appears on the ballot. A poll conducted by the University of Washington last October shows that 43% of Washingtonians support marriage equality, an increase of 13% from the same poll five years earlier. That might still sound like the death-knell for gay marriage, but the same poll showed that 55% of Washingtonians would vote to uphold marriage equality if it were actually put to a public vote. Polls like these reflect the rapidly growing acceptance of gay marriage in recent years, and a good chance that Washington voters will defeat the efforts of gay marriage opponents at the ballot box.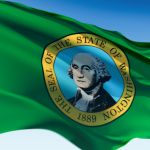 Washington's legalization of same-sex marriage comes at a time when multiple states are dealing with the issue. The New Jersey, Maryland, and Illinois legislatures are mulling similar bills, and the people of Maine might be voting on the issue in November. In addition, the Ninth U.S. Circuit Court of Appeals recently rejected a voter-approved ban on gay marriage in California, and while the ruling applies only to that state, it may open doors for similar rulings elsewhere in the court's jurisdiction, which includes Washington. On top of that, the Australian Parliament is mulling four bills on the issue. In response to mounting opposition, the ULC Monastery recently posted an article on its ULC.org blog debunking the common arguments against homosexuality and gay marriage. While the true battle may just be beginning, for now gay marriage remains legal in Washington state, as well as in Massachusetts, Connecticut, Vermont, New Hampshire, New York, Iowa, Washington, D.C., and a handful of countries around the world. We at the ULC Monastery hope that voters uphold equality if it is put on the November ballot, and that the pace of change continues to quicken in favor of equality for all loving and committed couples across America and around the world.
Give us your thoughts. If gay marriage were put up to a public vote, how would you vote, and why? Do you think it's right for a majority to vote on minority rights? Why or why not?
Sources:
News.co.au
The Seattle Post-Intelligencer: Voters may face 2 ballot measures on gay marriage
The Seattle Times: Rick Santorum to visit Olympia and Tacoma on Monday