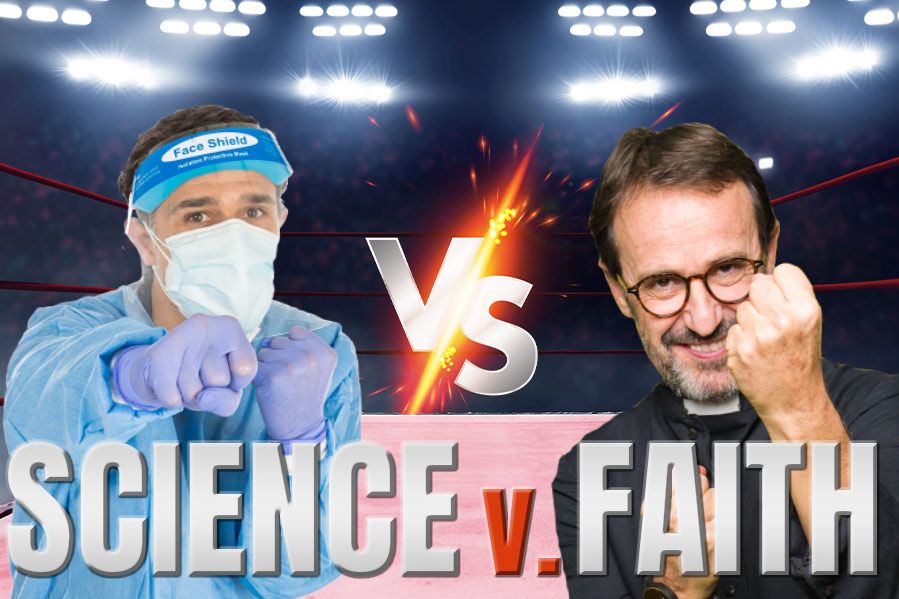 From churches refusing to close, hosting 'COVID parties', and Christian singers even going on tour, evangelical Christians have been some of the most defiant and most vocal critics of stay-at-home orders, mandatory masks, and more in our seemingly endless pursuit to get on the tail end of the COVID-19 pandemic.
Now one prominent evangelical group is imploring Christians to listen to the science and not politicize it, follow the advice of experts, and "love thy neighbor by wearing thy mask."
Pledge of (Scientific) Allegiance
The statement comes from BioLogos, a group that seeks to thread the needle between faith and science. "We call on all Christians to follow the advice of public health experts and support scientists doing crucial biomedical research on COVID-19," the statement reads. "The word "science" has become a weapon in the culture wars. Scientists are vilified and their findings ignored, while conspiracy theories go viral. Sadly, Christians seem just as susceptible to these trends. Thoughtful Christians may disagree on public policy in response to the coronavirus, but none of us should ignore clear scientific evidence."
Some of the nation's most famous evangelicals signed the statement, including the editor-in-chief of Christianity Today, the president of the National Association of Evangelicals, and bestselling Christian author Philip Yancey.
The pledge frames accepting the science as not only a moral imperative, but the Christian thing to do as well. Signers pledge to wear masks, correct misinformation when they see it, and eventually get vaccinated.
COVID Wars
For Deborah Haarsma, president of BioLogos, the pledge was drafted not only as a way to make communities safer, but also as a means to defend Christianity from its anti-science reputation. 
"We felt like the faith side was being stereotyped as all being on the anti-science side and we wanted to show there are a large number of Christians in this country who are supportive of rigorous science and think the public health measures are important," she told Religion News Service.
That's a reasonable defense to mount. It seems no other group in America has made more headlines by defying safety orders from governors than evangelical Christians, who time and time again open church doors, avoid masks, and contribute to the spread of COVID-19. 
According to one study, White Evangelicals simply aren't as worried about COVID-19 than other faith groups. They're the only group from any faith where a majority believed that scientists' judgments are just as biased as anyone else's. They're more likely than other faith groups to want businesses to reopen, and they're the only faith group where a majority feel comfortable attending worship services.
Do Faith and Science Mix?
The statement's authors hope they can convince Christians to listen to the science and stay home and mask-up when outside. They also view those simple acts as necessary to their faith.
"Being in the church in a pandemic means standing 6 feet apart, it means wearing an uncomfortable mask. Because that's the best way we can love our neighbors," said BioLogos president Deborah Haarsma.
Given that just earlier this month, prominent Los Angeles pastor John MacArthur made national headlines when he held worship service for thousands with no social distancing and in defiance of California's public health orders, it seems entirely possible the pledge won't exactly change the hearts and minds of the Evangelicals they're courting.
What do you think? Will the pledge change any minds? Or do faith and science fundamentally not mix?