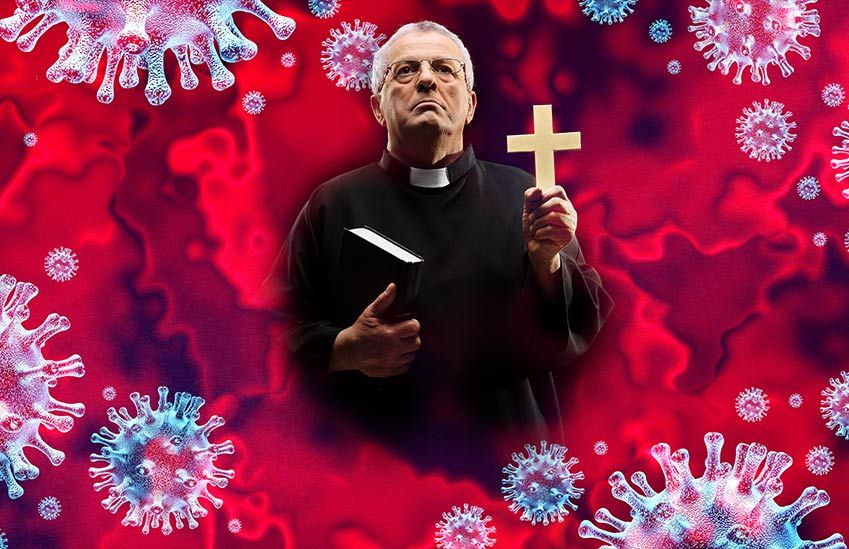 As most of us are self-quarantining and practicing social distancing to get through the coronavirus pandemic, there are some people of faith who believe that the rules simply don't apply to them. Take, for instance, this churchgoer who recently went viral when she was interviewed by CNN.
"Aren't you worried you could impact other people if you get infected inside?" the reporter asks the woman. "No," she responds defiantly. "I'm covered in Jesus' blood." She repeats the notion that she's immune to coronavirus because of her faith a number of times, before driving away.
The crazy thing is, she's not alone. Although many have closed their doors and gone digital for the time being, many churches are defying health experts and refusing to close, under the same mistaken belief that they're immune to infection due to their faith. That, or they're willing to risk catching the disease in order to keep congregating and practicing their faith. 
Ground Zero
In fact, churches are one of the places you're most likely to catch coronavirus. A study in Sacramento showed that nearly one-third of Sacramento County's coronavirus cases – 100 out of 314 – are linked directly to churches and church groups. 24 of those cases are linked directly to a single church, despite Sacramento's shelter-in-place order. 
And they aren't the only ones. Dozens of churches are continuing to hold in-person services, an increasing risk to health that one landlord even changed a church's locks after the pastor said he intended to continue to hold services.
"God Will Save Us"
Despite clear evidence to the contrary, some churchgoers continue to believe that their faith will protect them. But why? Could it be because some of the nation's most prominent religious leaders are telling them exactly that?
Evangelist Jonathan Shuttlesworth is among many faith leaders who've made bold proclamations about the virus or dismissed its seriousness. Shuttlesworth recently predicted that America will largely be spared from coronavirus because President Trump "honors Israel." If God decides to affect America with coronavirus, it will be blue states that have "chosen to give God the middle finger," he contends. The implication, of course, being that if you believe in the Christian God and vote Republican, you're likely to be safe.
And Pat Robertson, longtime host of The 700 Club, recently said on-air that "if you have a healthy gut, you don't have to worry about corona." That report was delivered with cans of black beans, kimchi, and yogurt displayed on the screen – the apparent frontline warriors in the intestinal battle against coronavirus.
Part of the Solution, or the Problem?
While COVID-19 has been blowing through communities like wildfire, overloading hospitals, straining medical systems, and killing thousands, it seems religious leaders have decided they've got a better approach to the coronavirus threat. Whether openly defying shelter-in-place orders or insisting that the virus is punishment reserved only for people who don't have the "correct" beliefs, faith leaders are taking an aggressive – and many argue misguided – stand against this very dangerous disease. 
The reality, borne out by ample evidence, is that coronavirus doesn't care about your personal religious beliefs – it is an equal opportunity infecter. Any church that stays open for physical services, encouraging people to go to Sunday service as if life weren't completely upended right now, is at best irresponsible, and at worst guilty of knowingly putting its congregation in harm's way and helping to spread this deadly pathogen. 
The safest thing to do right now is to stay home. And that means "home home" – no going to visit God's house.