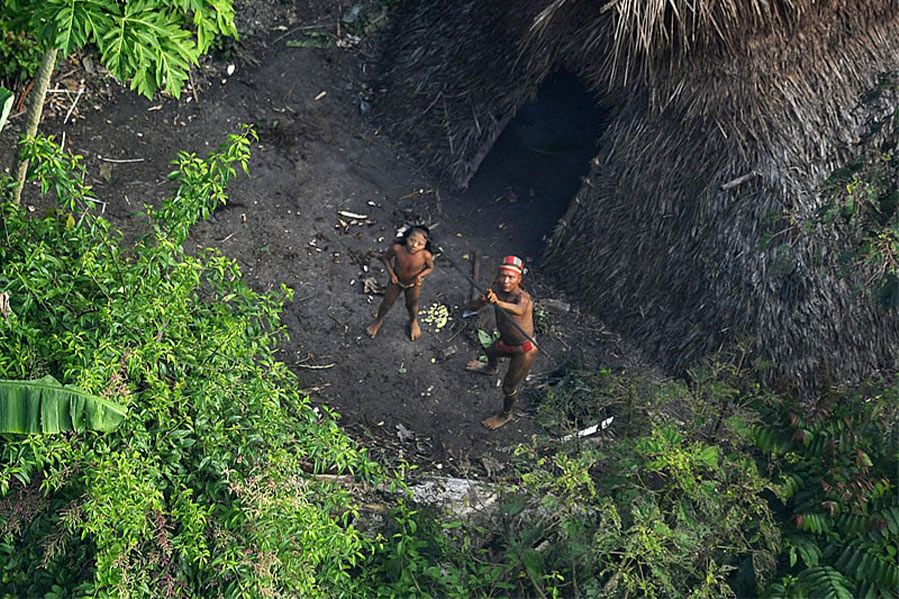 Many of us are still stuck indoors, working from home and taking extra precautions to do our part to flatten the COVID curve and get life back to normal. Many non-essential businesses have been closed for months, and the current political battle is whether it's even safe to send kids back to school or not.
But despite an international pandemic and the extremely high risk of spreading coronavirus, many missionaries are insisting their work must go on - no matter the danger.
Mission Possible
When COVID-19 first hit Brazil in March, the National Indigenous Foundation sent all non-essential workers away from indigenous zones, fearing that a single case of the virus would completely wipe out entire tribes. Only aid and medical workers remained, and so far, the indigenous tribes of the Amazon have remained safe from COVID. But last month, Brazil's government made an exception for one group to visit the indigenous tribes: missionaries.
Those who protect the indigenous peoples of Brazil are worried that a rush of missionaries to the area might quite literally lead to mass death. "Their immunity is very low," said Jandira Keppi of the Lutheran Diakonia Foundation. "The fundamentalists believe they must evangelize them for their salvation. This always meant death for the Indigenous peoples and their history proves it."
Missionary work is even more dangerous for tribespeople now, because one can be an asymptomatic carrier of COVID and not even know it.
And it's not just disease that advocates are worried about. Missionaries have long been the target of critics who argue that proselytizing completely erodes indigenous culture and beliefs. 
Sydney Possuelo, creator of Brazil's National Indigenous Foundation, told Religion News Service that missionaries gain trust by offering gifts, like tools, and in exchange the indigenous people agree to listen to their message. "You attract them through their fragility, through the technical unbalance between our societies. That's not exactly a Christian principle."
Tragic Consequences
Mission trips during COVID-19 are shockingly commonplace; Many missionaries are seemingly acting as if we aren't in the midst of a pandemic at all. Mission group Radius International recently made contact with the Amdu people of Papau New Guinea, again despite the high risk of COVID transmission.
Three days after this tweet, Buser, President of Radius International, tweeted that "By God's grace, there are now members of [the Amdu people] who are reconciled to God, who no longer have their sins counted against them."
Let's just hope no one spread COVID to any of the Amdus or they might be meeting their (newly discovered) maker prematurely.
Missionary work isn't only dangerous for indigenous peoples susceptible to modern diseases and viruses they have no immunities against. Often, indigenous groups are hostile to missionary workers, viewing them as foreign invaders and treating them as such. Two years ago, we wrote about John Chau, a Christian missionary who illegally traveled to North Sentinel Island in the Bay of Bengal to contact the remote Sentinelese people.
Chau made numerous attempts to contact the tribe, and each time was greeted with a volley of arrows. He documented each trip in his diary, writing that he tried to give the tribe fish and yelled to them, "My name is John, I love you and Jesus loves you." Chau was killed by the tribespeople and his body was never recovered for fear of further violence.
Is Spreading the Gospel Worth Spreading COVID?
In normal times, missionary work is controversial. During COVID, many argue it's downright irresponsible. With immune systems generally unequipped to handle even the common cold, indigenous peoples are at extraordinary risk during COVID. Even a single transmission could prove catastrophic for an entire community. Instead of spreading the gospel, missionaries may prove more effective at spreading COVID-19.
But for those doing missionary work, they view it as a moral imperative. In their view, if they don't show these remote tribes God's grace, the tribespeople will go to Hell - through no fault of their own.
What is your reaction?