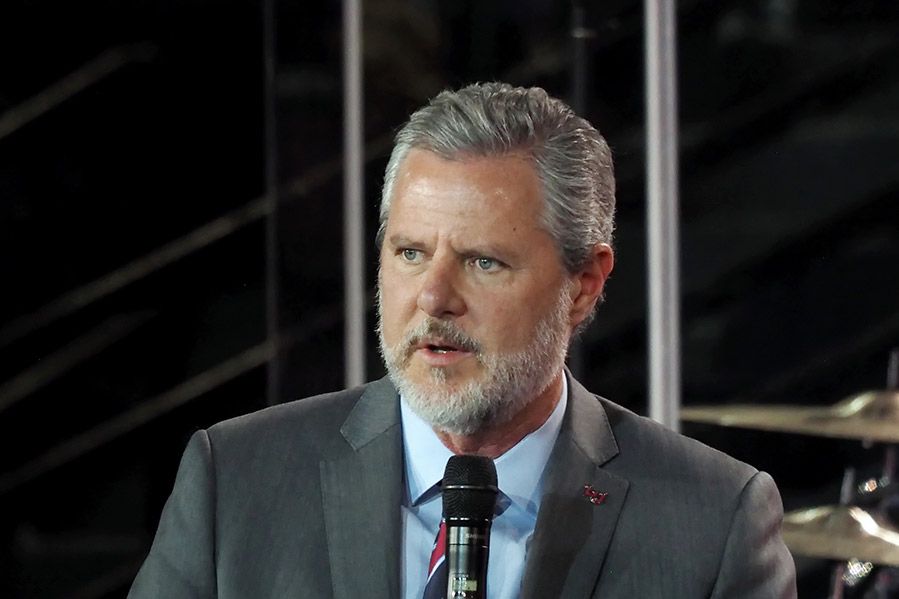 Jerry Falwell Jr., son of legendary evangelist Jerry Falwell, is out at the evangelical Liberty University he's presided over for 13 years. His ouster comes quick on the heels of a shocking sex scandal accusation.
Salacious details of the alleged scandal aside, the incident – and the public's reaction to it – underscores the outsized influence the Falwell family has had on American society over the past 50 years. 
The family is a polarizing force, simultaneously loved and hated; the Falwells' biggest fans were shocked by the news, while their critics relished in it. 
Bringing Faith to Politics
The Falwell family became some of the first faith figures to trade in the politics of morality, and their imprint on politics and culture is genuinely immeasurable. Jerry Falwell Sr. founded Liberty University, one of the world's largest evangelical Christian universities, and was one of the most famous evangelists on the planet for decades.
The Falwells also espouse a judgmental and outspoken brand of Christianity, one that takes every culture war issue and turns the dial up to 11. That strategy ultimately proved popular with many American Christians, as Falwell can be almost single-handedly credited for increasing Christian influence in politics and bringing the evangelicals to the Republican Party, gift-wrapping a massive voting bloc to his party of choice for a generation. 
The Moral Majority
Jerry Falwell Sr.'s religious career began in 1956, when at the age of 22 he founded Thomas Road Baptist Church in Lynchburg, Virginia. He led that church from a small membership of 35 into a megachurch, and later founded Liberty Christian Academy and Liberty University, cementing his status as one of the nation's most prominent evangelicals.
Unlike many evangelists of his day, Falwell was politically active in the 50s and 60s, fighting against Martin Luther King Jr.'s civil rights campaign, opposing desegregation, and regularly featuring segregationists like George Wallace on his radio and television program, The Old Time Gospel Hour.
His own school, Liberty Christian Academy, was itself a segregation academy, a private school for white parents to send their children to avoid desegregated public schools.
But following a 1978 IRS decision to remove tax-exempt status from private, all-white universities - like Liberty Christian Academy - he doubled down on politics, feeling the government was overreaching, and that he had every right to keep African-Americans out of his schools. "In some states it's easier to open a massage parlor than to open a Christian school," he once lamented.
Utterly incensed by the IRS ruling, he founded the "Moral Majority", a group which mobilized conservative Christians to vote in presidential elections. They were wildly successful in their goal - at their height they were one of the largest lobbying groups in Washington, and scholars credit their mobilization efforts for conservative wins throughout the 1980s, including a heavy influence in the election of Ronald Reagan.
What Makes Morality?
For all their trumpeting of moral righteousness, the Falwell family has their share of stains. There was the time Falwell Sr. was caught on tape calling gay-friendly churches "brute beasts" and "a vile and Satanic system." He also predicted they will "one day be utterly annihilated and there will be a celebration in heaven."
Falwell then lied about the tape and was taken to court by gay rights activist Jerry Sloan, where he was forced to pay damages. Falwell appealed, arguing that he didn't get a fair ruling because the judge was Jewish. He lost again. 
Perhaps due to this type of behavior, the Falwells became the target of many secular critics who thought them hypocritical and unsavory.
And they found ways to jab back.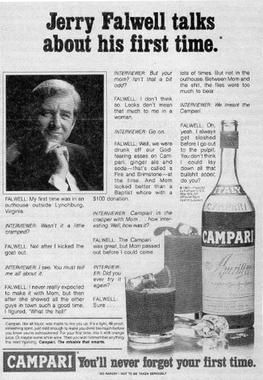 In 1983, Hustler magazine published a parody interview with Falwell Sr. in which he admits that his "first time" was an incestuous act with his mother in an outhouse. Furious, Falwell filed a libel lawsuit for $45 million. The suit was thrown out. 
Falwell's later legacy includes some of the late 20th and early 21st century's most memorable political hits, including "AIDS is God's punishment for homosexuals," "feminists did 9/11," and "the purple Teletubby is gay." 
A Legacy Tarnished?
In that sense, this recent drama with Falwell Jr. represents only the latest chapter in a complicated family history. Falwell Jr.'s current situation – embroiled in a lewd sex scandal, credible accused of comitting acts that Liberty University's honor code prohibits students from doing on risk of expulsion – is emblematic of one sticking point many hold against the Falwell brand of evangelicals: their sometimes blatant hypocrisy.
So perhaps the question now becomes: how much respect do those who can't practice what they preach deserve? By applying the rules of morality "to thee but not to me", does Falwell Jr. risk turning people away from the church entirely?