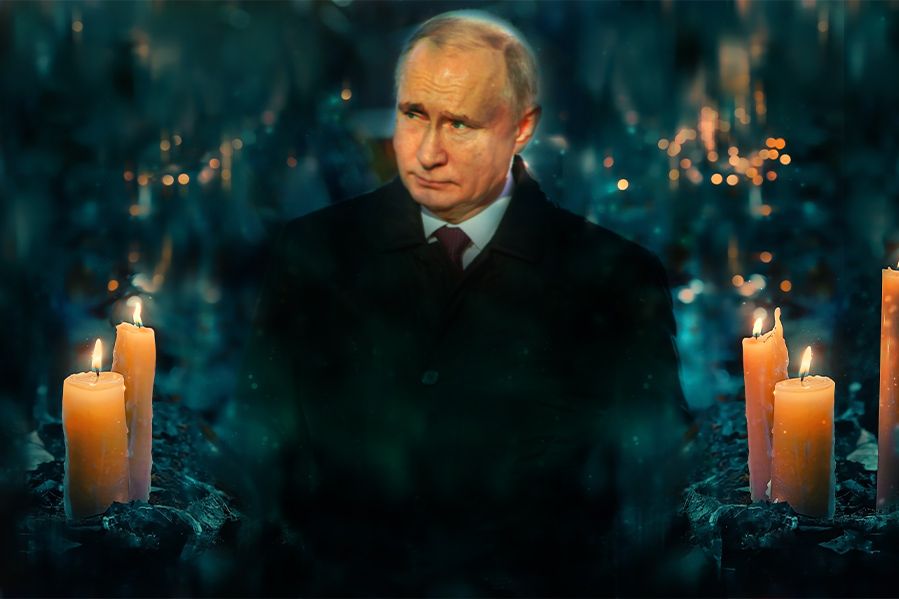 They've hexed the police, the Taliban, and even President Trump. But now a group of witches are taking on their mightiest foe yet: Russian president Vladimir Putin.
On March 2nd, a group of witches held a mass ritual to curse Putin and aid Ukraine as they remain besieged by the Russian military.
The global ritual was organized by Michael M. Hughes, author of Magic for the Resistance: Rituals and Spells for Change, and was such a success that future events – to be held every new moon until Ukraine is free – are already planned for the future.
Can the power of magic defeat Putin?
How to Hex Putin
According to Hughes, you'll need a variety of household items handy if you intend to join the next hex:
Blue candle
Yellow candle
Handful of sunflower seeds
Matches or lighter
Ashtray, cauldron, or other fireproof vessel
Photo of Putin to burn
After lighting the candles and blessing Ukraine, the hex proper begins, with a curse against Putin muttered aloud, including these words:
Vladimir Vladimirovich Putin
You are cursed
You are bound
May you choke on the seeds of sunflowers
May your soldiers refuse to fight
May your people rise up against you
Break your bones
And cast you down into dust and ashes
The ritual ends by burning the photo of Putin, and hex organizers recommend purifying yourself in a salt bath or anointing oils afterward.
"The Putin hex aims to bring a whole constellation of rebound effects on Putin while breaking the support of his soldiers and his people and supporting Ukraine," says Hughes. "The best goal imaginable is Ukraine beating back Russian troops and the Russian people deciding they are done with Putin's autocracy. That's what we all want."
He acknowledges that it's ambitious, but in his words, "f— Putin. It's time for the Russian people to serve up some cold Russian justice."
This isn't Hughes' first hex rodeo. He's led witches the world over in hexes against police, the Taliban, and former President Trump, and in at least one case, it seems they may have succeeded.
Do Hexes Work?
Witches had been ritualistically cursing Donald Trump since he took office as president. And in 2020, many felt the question "do hexes work?" was answered when he was diagnosed with COVID-19. 
Trump's diagnosis came on October 1st, during a full moon (which happened to be the 2020 harvest moon – an important event symbolizing the changing of the seasons).
Basically, this was the most superpowered full moon of the year, and Trump was diagnosed with COVID that very evening. Perhaps with tongue partially in cheek, many witches took a victory lap, as they felt validated after years of fighting MAGA with magic.
For those involved with the magical resistance, these hexes are an important part of expressing their faith, but also finding community; the witchcraft movement has grown from niche to relatively popular in just a few short years.
Whether hexes are the answer to resolving world conflict, however, remains to be seen. 
What do you think? Will the efforts to hex Putin be effective?