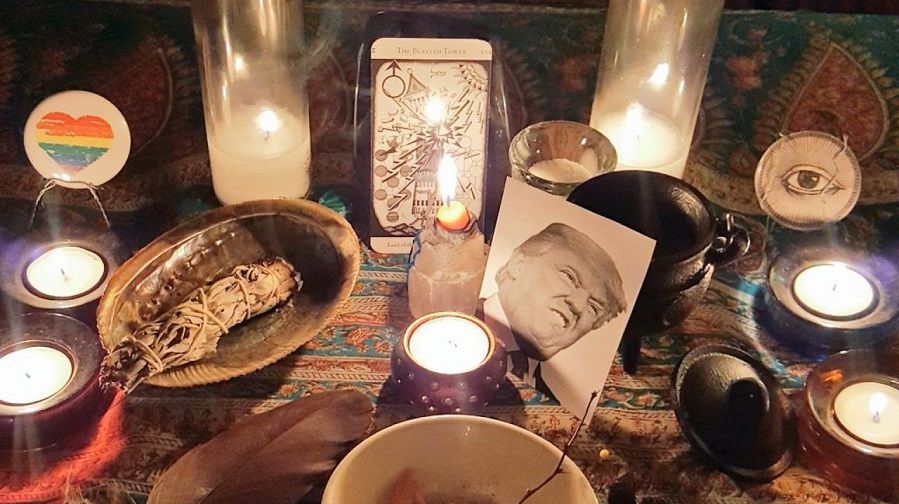 ---
You've probably heard of "The Resistance", a movement working to combat the Trump administration's agenda and policy proposals. But did you know there's also a "Magic Resistance"?
Comprised of at least 13,000 neo-pagans, Wiccans, and witches, the group holds monthly gatherings to cast spells on the president. These meetings sometimes consist of simply joining an internet chat room, but the Magic Resistance movement has also organized numerous in-person gatherings. On every waning crescent moon, at the stroke of midnight, they channel their collective energy to cast a "binding" spell on the president an attempt to limit his power and, they hope, eventually get him removed from office.
This unique community grew in popularity following the 2016 election and has even inspired its own book, Magic for the Resistance by Michael M. Hughes. The spell-casting practice has also drawn the attention of numerous media outlets, even leading one prominent Los Angeles witch to appear on a prime time Fox News program:
Binding Spell Goes Viral
Shortly after Trump entered office, a spell began circulating online and quickly spread like digital wildfire. Originally published on the website Medium, "A Spell to Bind Donald Trump and All Those Who Abet Him" was soon being practiced by thousands around the country.
Examples of required materials for the spell include:
Unflattering photo of Trump (small)

Tower tarot card (from any deck)

Tiny stub of an orange candle
After the lighting of a ceremonial candle, the spell begins:
Hear me, oh spirits
Of Water, Earth, Fire, and Air
Heavenly hosts
Demons of the infernal realm
And spirits of the ancestors
I call upon you
To bind
Donald J. Trump
So that his malignant works may fail utterly
That he may do no harm
To any human soul
Nor any tree
Animal
Rock
Stream
or Sea
Fighting Fire with Fire
Some members of "The Resistance" no doubt view this exercise as a strange strategy for combating the Trump administration. But according to the creator of this now-famous spell, Michael M. Hughes, his occult group is simply fighting fire with fire. "My thought from the beginning was that Trump's presidency was surreal and abnormal, therefore there was a need to counter him and resist his administration beyond the normal channels like public protests, petitions, emails, and calls to representatives," Hughes explains.
Is Magic Real?
But have these spells had any effect? It's hard to say. On the one hand, a number of Trump's policy proposals such as the travel ban and building a border wall have thus far been thwarted. Yet, Trump still remains in office. And he recently succeeded in appointing controversial judge Brett Kavanaugh to the Supreme Court, despite last minute efforts to block the appointment (which even included the creation of a Kavanaugh-specific binding spell.)
Kate Doucette, a proud member of the Magic Resistance, told reporters that even she has her doubts about the efficacy of the spells. "I'm cynical. Much as I don't think my vote has an effect, I don't think my spell is binding anyone," she admits.
But that's not to say the movement serves no purpose. Many "resistance witches" say they find satisfaction simply in working together and being part of a tight-knit group that participates in regular rituals. As Doucette explains: "For me, the practice of a community getting together for a common goal it kind of filled something in me."
In that sense, are Magic Resistance meetings really so different from a traditional church congregation gathering for prayer?