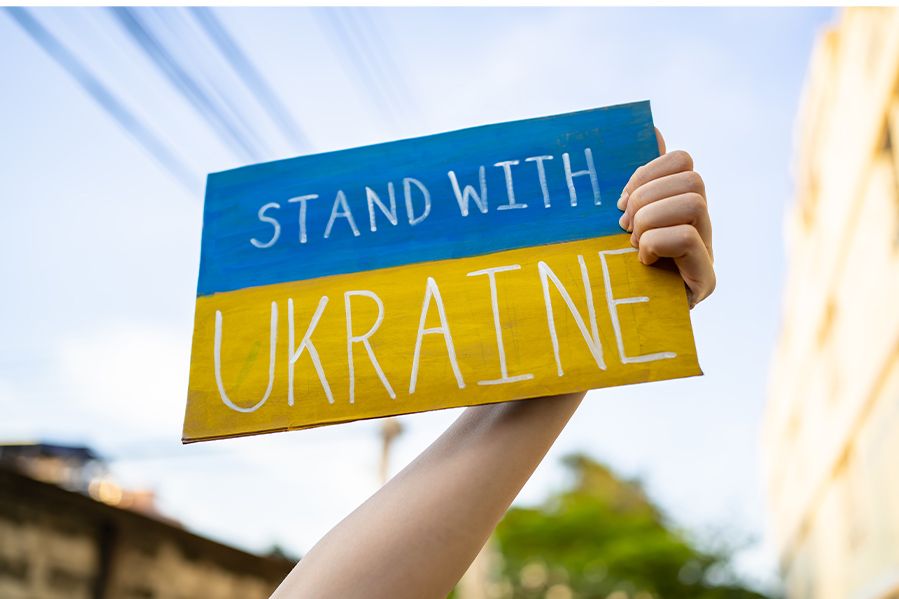 In the days following the invasion of Ukraine by Russia, faith leaders around the world have been reacting to these harrowing events. While many flatly condemned the invasion and repudiated the actions of Russian president Vladimir Putin, some faith leaders have put forth their own unique theories about the attack.
And at least one prominent religious figure insists the Ukraine invasion is guided by God's holy hand. Let's dive in. 
The Response in Ukraine
Within Ukraine, reactions are largely what you'd expect. Epiphanius I of Ukraine, head of the Orthodox Church in Kyiv, had harsh words for the man invading his nation – likening him to Hitler and calling him the Antichrist.
"The spirit of the Antichrist operates in the leader of Russia, the signs of which the Scriptures reveal to us: pride, devotion to evil, ruthlessness, false religiosity," he said in a statement. "This was Hitler during World War II. This is what Putin has become today."
That line of thought seems to be common in the Orthodox Church of Ukraine. Days prior, another archbishop and spokesman for the church, Yevstratiy Zoria, told BBC that "Putin is the antichrist of our time," he said. "Everything that he does now, is totally against gospel, against God's law."
American Evangelists React
In the United States, most faith leaders joined the international chorus condemning Russian aggression. However, the comments of two prominent evangelicals raised some eyebrows – and drew harsh criticism.
"Pray for President Putin," began a social media appeal from Franklin Graham, CEO of Samaritan's Purse and son of legendary evangelist Billy Graham. "We need to pray that God would work in his heart so that war—and the loss of thousands of lives—could be avoided at all cost."
Despite calling for peace, Graham's comments sparked outrage as many people wondered why he would ask for prayers for Putin, and not the Ukrainian people or President Biden.
But it was former '700 Club' host Pat Robertson who drew the most ire – and confusion – over his controversial comments.
Is God to Blame?
"Compelled by God" was how the 91-year-old Robertson described Putin's Ukraine invasion. He believes it's the ultimate fulfillment of biblical prophecy. 
"I think you can say, well, Putin's out of his mind. Yes, maybe so. But at the same time, he's being compelled by God. He went into the Ukraine, but that wasn't his goal. His goal was to move against Israel, ultimately."
Robertson's assertion appeared to be that the Ukraine invasion is actually part of a larger biblical prophecy in which nations of the world band together for an Armageddon battle in the land of Israel. 
His theory was, unsurprisingly, met with outrage by supporters of Ukrainian sovereignty. Huffpost editor Ed Mazza called it "the worst possible take on Ukraine" imaginable. 
For what it's worth, this isn't the first time Pat Robertson has warned of the end times. He previously predicted the apocalypse would happen in 1982, 2007, and 2020. As far as we know, the world failed to end in any of those years (although 2020 wasn't a bad guess).
What do you make of these prominent faith leaders' comments? Is Putin the Antichrist, guided by God to bring about the end times, or merely a tyrant?