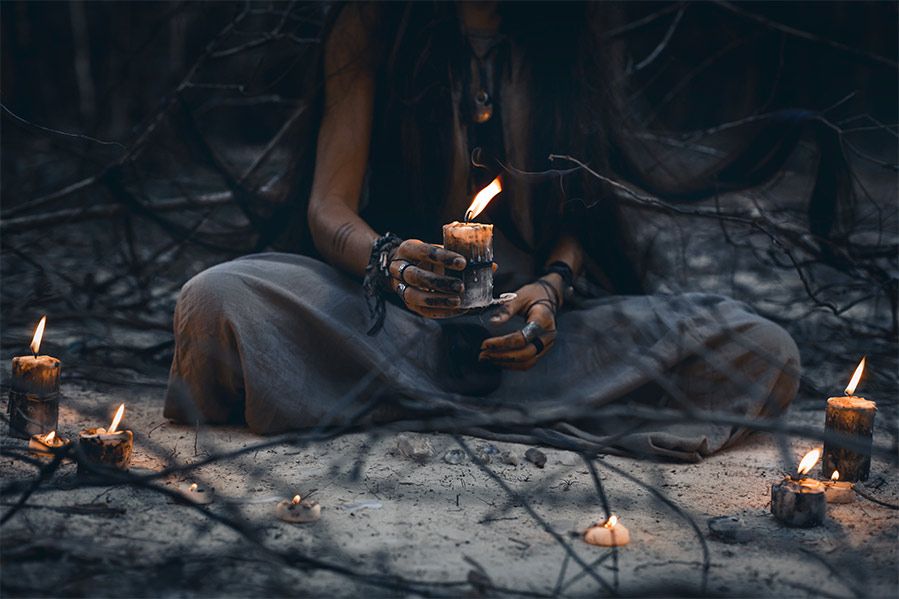 The Black Lives Matter protests may have gained a powerful new ally.
This last week, witches have thrown their support behind those protesting the death of George Floyd with protection spells for protesters – and hexing spells for police.
Organizing under the hashtag #WitchesForBLM, the growing subculture of witches, warlocks, and others shared hexing tips with one another, including how to cast a proper spell and draw a sigil.
The movement came together under the June 5th full moon, a time when witches believe their hexing powers to be particularly potent. They say that their spells will be more powerful in the days following the full moon, as well.
Witches are an increasingly powerful group online, with their numbers growing every day. On TikTok alone, the hashtag gained a whopping 10 million views. That makes sense, as witchcraft is a fast-growing movement particularly popular with Millennials and Gen-Z. 
Hex the Police
The #WitchesForBLM have a simple goal: protect protesters, and hex police officers. Popular TikTok witch GeminiMoon told Refinery29 that "witches or practitioners are using [their] power to help aid in healing and protecting people of color, or anyone affected. Some witches are also taking advantage of this great energy to hex the oppressors."
Not only are they hexing, but they believe that their hexes are working. On June 6th, lightning hit the Washington Monument, and many witches took it as a sign that their spells were working. And, of course, the arrests and charging of the four police officers involved with George Floyd's death was also seen as a sign that their spells were working as intended.
Still, witch influencers are urging that witches do more than just cast spells and hexes. They're urging their followers to donate to relevant charities and causes if they're financially able. As GeminiMoon said, "we will do our best to help end the racism that's embedded within our culture, with or without magic."
Not Their First Rodeo
This isn't the first time witches have made headlines for casting targeted hexes. Since President Trump took office, witches have fought MAGA with magic by hexing him, Supreme Court Justice Brett Kavanaugh, and more. They even wrote a book on it.
After he took office, an anti-Trump hex went viral online. The hex requires some rather humorous ingredients, including:
Unflattering photo of Trump (small)
Tower tarot card (from any deck)
Tiny stub of an orange candle
As for the pro-BLM hexes, it's no wonder that modern-day witches are eager to support protesters. Witches are a historically persecuted group (throughout history, but most notably during the Salem Witch Trials), giving them a deep sense of empathy for other marginalized communities.
What do you think of the #WitchesForBLM movement?