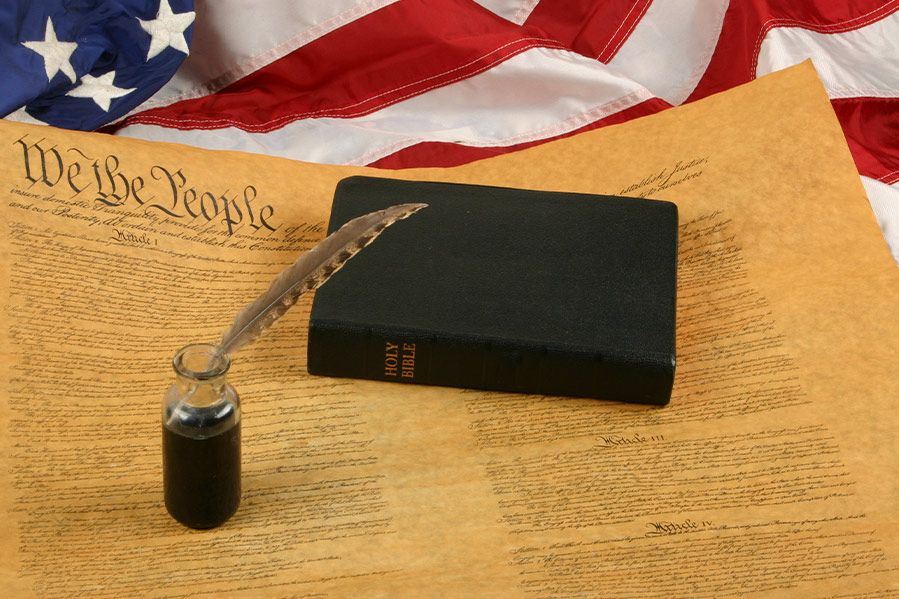 Even though the US Constitution makes no mention of Christianity or Jesus Christ, a new study from Pew Research shows that nearly half of Americans believe US law should be guided by the Bible.
A whopping 49% of Americans believe that the Bible should have at least "some" influence on the law. And a quarter of Americans (23%) are willing to take that a step farther - they say the Bible should have "a great deal" of influence on the law. 
Unsurprisingly, the results are split down religious lines. 68% of Christians of all denominations agree that the Bible should have at least some influence in US lawmaking. Meanwhile, only 4% of atheists say the same.
Survey respondents were also asked about what should take precedence when the Bible and the will of the people conflict? Over one-quarter of Americans believe that the Bible should hold greater sway in US lawmaking than the will of its own people. 
The Divide is Political
The split in favor of biblical values influencing US law was also, unsurprisingly, split along political lines. 67% of Republicans are in favor of at least some biblical influence, with only one-third of Democrats in favor of the same.
It's entirely possible if not likely that respondents had 'biblical (or conventional) marriage' in mind when answering the survey questions. That is defined by many Christian leaders as the marriage between a man and a woman. According to Pew Research, over 50% of Protestants continue to oppose same-sex marriage, despite its legality nationwide. Some states have been trying to hamstring the rights of gay couples to do everything from adopt children to ordering wedding supplies, using religious belief as their basis.
This really shouldn't come as a surprise, though. Creationist groups have been trying to scrub things they oppose - abortion, same-sex marriage, evolution, comprehensive sex-education - from the public sphere for decades. Take, for example, the evangelical groups who opposed Washington State's latest sex education bill, which the evangelical group My Faith Votes opposed because "students will be taught that homosexual sex is just as normal and good as heterosexual sex."
Or, as another example, an Ohio bill that would let students give incorrect test answers, so long as they're religious. 
That's not to mention the religious right's well-documented and longstanding attempts to make abortion illegal, using their biblical values as their foundation.
Does God Play Politics?
All of a sudden, many Christians' insistence on putting God in secular spaces makes a whole lot more sense when we consider that over half of them believe their specific holy book should hold sway over a secular nation.
And even as America's fastest growing religion becomes "none", evangelical Christians are doing everything but losing ground. Although the percentage of evangelicals in America has gone down in recent years, the number has gone up. And many evangelical leaders have become staunch allies to President Trump, who has in-turn pushed legislation the evangelical community supports.
What do you think? Does God play politics? Should the Bible influence our laws, even though the Constitution - the highest law in the land - explicitly forbids the establishment of a state religion, and makes no mention of Christianity? 
Should biblical values really override the will of the people?