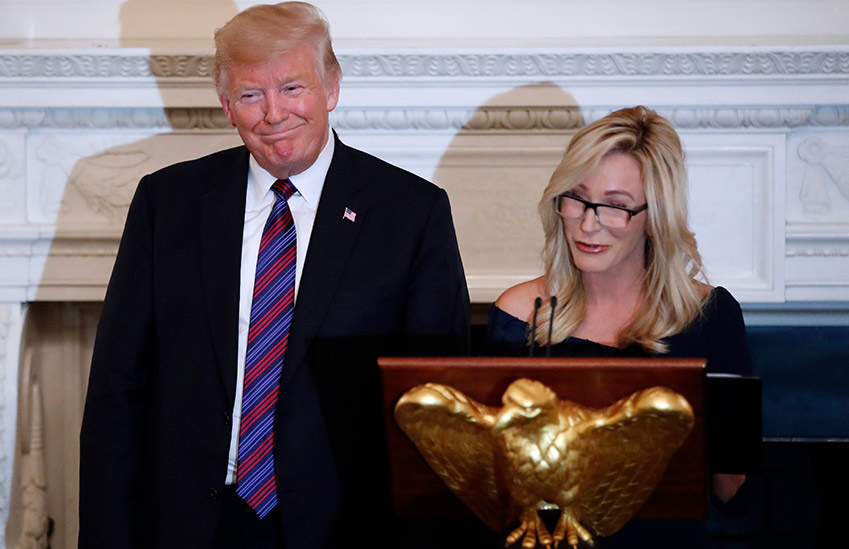 ---
A popular (and controversial) televangelist who has spiritually stewarded President Trump for nearly two decades is moving into the White House as a full-time staffer.
In spite of her own controversial past, or possibly because of it, Paula White will now serve as public liaison for the Faith and Opportunity Initiative, which President Trump established in 2018 via executive order. The initiative helps faith-based organizations compete for funds meant to strengthen the institutions of civil society, the American family, and local communities.
White is a proponent of prosperity gospel, a controversial (to say the least) belief that God rewards tithing with financial blessings and favors the wealthy. In essence, give your money to wealthy preachers, and God will reward you with money in return.
Here's a little taste of what she's like with a microphone in hand:
P(r)ay for Salvation
President Trump has long been a fan of Paula White. After seeing her on television in 2002, Trump called her and invited her to Atlantic City and New York for private Bible studies. The two have been friends since, and White is perhaps closer to Trump than any other religious leader. White says that even before his presidential candidacy, Trump would lean on her for spiritual advice and assistance. And during his presidency, she has been one of his most vocal evangelical defenders in the public arena.
The way White tells it, the leap from being the president's longtime spiritual adviser to praying at his 2017 inauguration, to this latest gig, is nothing short of miraculous, and yet something God himself has been working toward her entire life.
She claims God moved her to support President Trump's campaign: "God said, 'I have called you to shake nations.' And I'm standing there the most powerful nation in the world invoking the name of Jesus."
A Meteoric Rise - At a Cost
White's support of Trump comes with a price, however. Her son's church, Florida's New Destiny Christian Center, lost hundreds of its predominantly black congregation and thousands in weekly donations. White's son told the Washington Post that 'her relationship with the black community got really frayed because of President Trump she got messages from black leaders saying, 'You betrayed us.'"
And White's own pastoral history has been the subject of much scrutiny.
Back in 2011, Republican Sen. Charles Grassley released a report following a three-year investigation that investigated six popular American televangelists - including White. Grassley's investigation highlighted dubious personal use of church-owned airplanes, luxury homes, and credit cards, as well as the lack of financial oversight by boards filled by friends and relatives - but no hard evidence of illegal activity. Notably, White and her then-husband Randy refused to cooperate with the investigation and the Senate Finance Committee did not have the time nor the resources to enforce subpoenas for the financial statements they requested.
In a recent interview, White blamed the 'powers of darkness' for launching an inquiry meant to stem the righteousness of powerful televangelists.
"They looked at the ones who moved the needle the most and had the most influence. Because they said we can't go after one, we got to go after it and then they were like, you aren't cooperating. We all cooperated. Jay Sekulow was my attorney then they don't talk about the millions of dollars you have to spend to defend yourself, never get back. The PR nightmare, all that's going on. Then the recommendation is this, make yourself accountable to the Billy Graham Association. I knew we were clean as a whistle."
Does God Play Politics?
White's signature rants, which recently included threats that American Christians who vote against Trump in 2020 will have God to answer to, also earned her the vehement opposition of the Orlando Sentinel's editorial board.
"We're particularly appalled though not surprised by Paula White. Not because she's a conservative but because of her naked use of religion as a weapon. She's trying to frighten believers with apocalyptic consequences if they don't get in line behind this president. Unfortunately, the national attention on these self-promoting evangelical opportunists risks overshadowing the selfless work of Christian churches and missions that help people who are hungry, poor, sick and homeless."
The point is well made - to say nothing of religion's growing role in political discourse. Indeed, religion and politics have grown increasingly intertwined of late, and Paula White seems to be at the front and center of that movement. And while presidents have always hosted faith leaders at the White House, very rarely do they end up on the payroll.
So as Paula White heads to the White House, we're left wondering: Should faith leaders really be endorsing political candidates and suggesting that God backs their candidate of choice? Where is the line between mixing faith and politics?