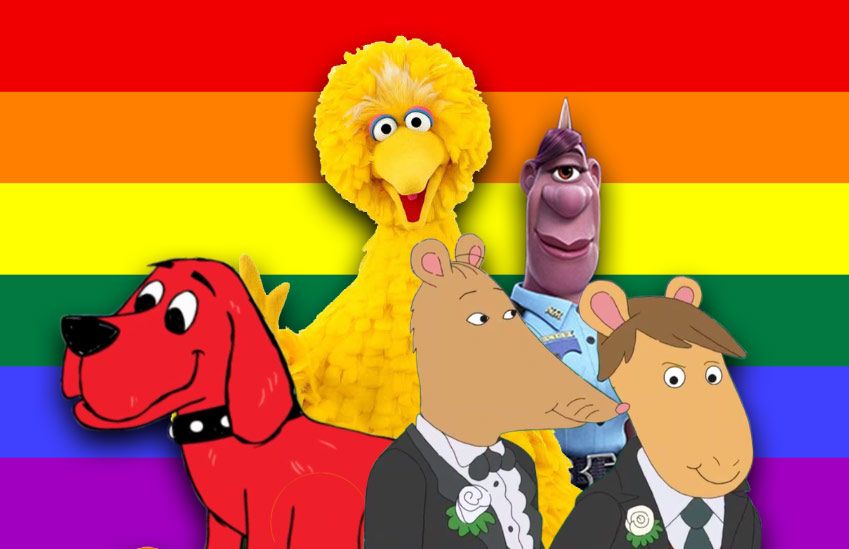 Evangelical Christians are afraid that there are some letters beyond the ABCs that Sesame Street will be teaching children soon: LGBTQ.
The controversy is over openly-gay Broadway star Billy Porter's upcoming appearance on the long-running children's show's 51st season, and his decision to wear a velvet Christian Siriano tuxedo gown while talking with Big Bird, Elmo, Bert, and Ernie.
It's prompted conservative detractors to once again bemoan the appearance of LGBTQ individuals on children's media. For his part, Billy Porter suggests that "if you don't like it, don't watch it."
Instead of changing the channel, some politicians are calling for public funding cuts to PBS.
"Do you approve of your taxpayer dollars being used to promote the radical LGBTQ agenda?" questioned 47-year-old Arkansas Republican state senator Jason Rapert on Facebook. "I object to PBS and AETN rebroadcasting any LGBTQ activist programming using public funds. Not the right time or the right place."
A Danger to Children?
Many evangelical Christians were similarly incensed. Evangelical website LifeSiteNews circulated a petition against Sesame Street, which they accused of trying to "sexualize children using drag queens" and claimed Porter's appearance would leave "psychological scars" for children that are tantamount to "abuse".
"Let children be children, and stop trying to force this corrupting and dangerous influence on the youth of America," it states.
Porter, meanwhile, has questioned how these critics can conclude he's having some kind of "perverted demon sex" based solely on his wardrobe choices.
"Like, what about me singing with a penguin [on Sesame Street] has anything to do with what I'm doing in my bedroom? The really interesting thing for me is that that's what it's all about when it comes to LGBTQ people — the first thing everyone wants to talk about is how we having sex. Stay out of my bedroom and you will be fine."
Of course, this debate goes far beyond one man in one dress.
More Children's Shows Getting Inclusive
Last May, we wrote about how Alabama Public Television refused to air the season premiere of PBS' famed children's television show Arthur simply because it featured a same-sex marriage between two characters, reasoning that broadcasting it "would take away the choice of parents who feel it is inappropriate."
More recently, the conservative group One Million Moms has targeted PBS's Clifford the Big Red Dog for introducing a character with two moms. "There was no disclaimer at the beginning of the episode where their relationship is explained," noted the advocacy group, who then formally blasted PBS' inclusivity, as if ignoring the reality that LGBTQ families actually exist. "Many families have already discovered that PBS KIDS, largely supported by federal funds, is anything but family friendly."
'Onward' to Representation
Privately companies, meanwhile, seem less beholden to such criticisms. Disney/Pixar is set to release Onward, its first animated children's film to feature an openly LGBT character, a lesbian police officer and Cyclops named Officer Specter.
Contrary to the notion that radical LGBTQ activists have somehow infiltrated the media and are now determined to indoctrinate our children, movie producer Kori Rae explains that art often imitates life. "It just kind of happened. The scene, when we wrote it, was kind of fitting and it opens up the world a little bit, and that's what we wanted."
And that seems to be the case on Sesame Street, Clifford, and Arthur as well. There is no promotion of some shadowy 'gay agenda'... unless you count depicting gay people as existing as some sort of agenda. The lesbian mothers on Clifford, for example, are shown in one episode as simply making dinner for their child. Officer Specter in Onward has a single line about how her girlfriend's kid has got her "pulling her hair out."
Are these benign depictions of completely normal LGBTQ people seriously worth getting worked up over?