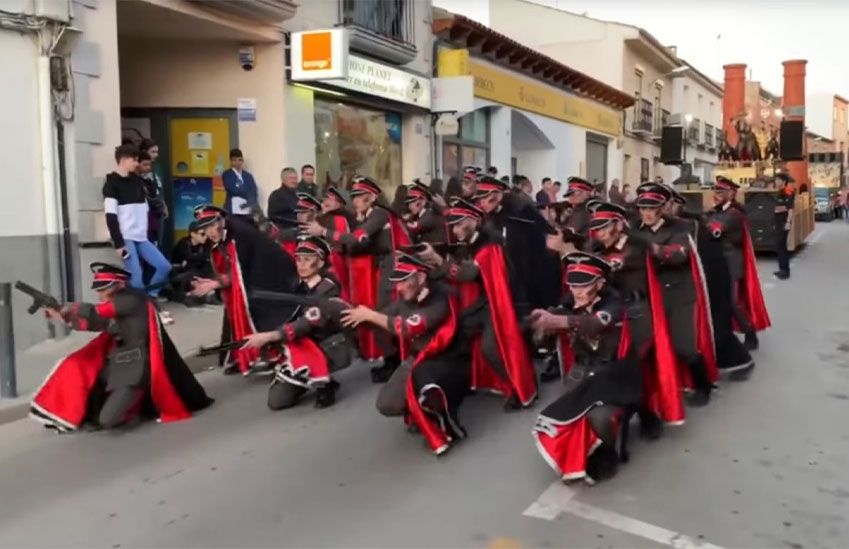 Dancing Nazis posing with rifles drawn. Women dressed in bloodstained death camp uniforms waving Israeli flags. All against a backdrop of floats decorated like crematoriums. These are images beyond poor taste in any setting, but especially during a carnival celebration.
And yet, that's exactly what a carnival troupe in Spain decided to show off on February 24th. The Holocaust-themed parade in small-town Spain sparked global outrage this week, with many wondering how anyone could think this was a good idea. Even the Auschwitz Memorial museum was at a loss for words:
The Israeli Embassy in Spain condemned "the vile and disgusting representation...making fun of the six million Jews killed by the Nazis." Even the city of Campo de Criptana, where the parade took place, admitted "any attempt to commemorate victims clearly hadn't been achieved."
The spectacle was particularly concerning in the context of increasing rates of anti-Semitic incidents on both sides of the Atlantic.
Hate on Parade
Tail between its legs, the El Chaparral Cultural Association, the carnival troupe from nearby Las Mesas behind the more offensive part of the parade, could only apologize to anyone it had offended as it canceled all further parades planned in the region. "An erroneous image of our club has been disseminated that, really, is not what we intended. We are against the genocide against the Jewish people, for whom we feel great admiration and respect and to whom we present our apologies."
Perhaps most troubling is this was the second case of an offensive carnival in the last week, somehow "even worse" than the Belgian parade in the city of Aalst that was just removed from UNESCO's cultural heritage list because of a "recurrence of racist and anti-Semitic representations," according to the Catalan-Israeli Friendship Association.
Disturbing Trends
Human Rights Watch has been warning of a worrying wave of anti-Semitism in Europe since last June, following the vandalism of a Jewish cemetery in France, a rash of attacks on Jews in Germany and patterns of anti-Semitism within the UK's Labour Party.
But it's not solely a European issue; the Jewish community hasn't had it much better in the United States.
As we've noted in previous blogs, Jews accounted for nearly half of all those victimized by religious hate crimes in 2016, and are "consistently among the top three most targeted groups" in America's largest cities, according to the FBI. A recent stabbing of five people at a Hanukkah celebration in New York, a horrific mass shooting at a synogogue in Pennsylvania in 2018, and numerous bomb threats have contributed to heightened fear in Jewish communities. 
What Were They Thinking?
While it's difficult to connect the poor judgment of one small-town Spanish carnival troupe to the more violent attacks against Jews globally, the troubling trend of people questioning and trivializing the Holocaust is nothing to scoff at. In fact, we posted on Facebook recently about a new study which found that many people were unable to correctly answer basic questions about the Holocaust. 
In this particular case, you've got to wonder what the carnival troupe hoped to accomplish.
Even if one wants to give them the benefit of the doubt and assume they intended a JoJo Rabbit-esque satire of Nazis, the parade is a massive misread of the political climate right now. With attacks against Jews rising and anti-Semitism rearing its ugly head, it would seem prudent to check with local Jewish groups before planning a show of this nature. 
What do you think? Is it okay to depict Nazis satirically? Do crematorium floats and choreographed dance moves go too far, or is nothing off-limits when it comes to satire?