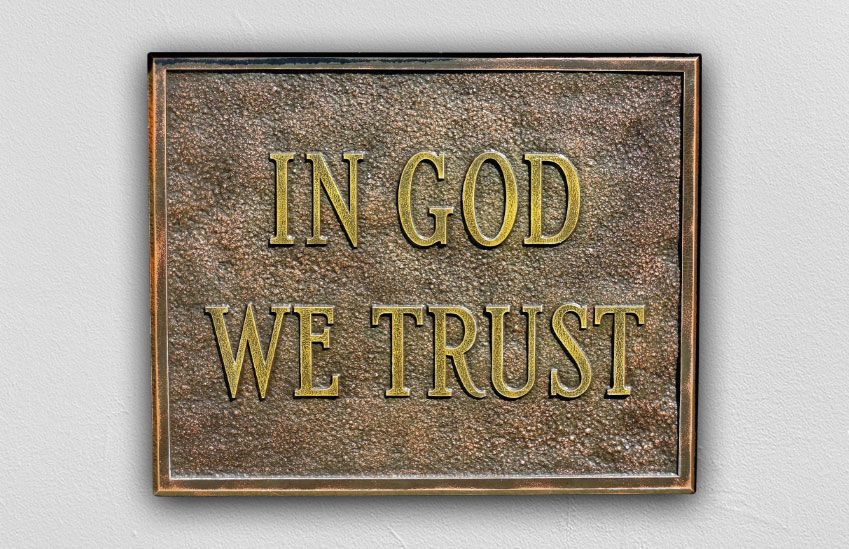 Oklahoma is inching ever closer to a very questionable separation of church and state.
Oklahoma House Speaker Charles McCall's bill calling for America's national motto "In God We Trust" to be displayed in all 342 state buildings passed in the Oklahoma House, 
American Atheists Oklahoma Director Tim Ward wasted no time weighing in. He said in a statement that "[the bill] sends the harmful message to atheists, agnostics, Buddhists, Hindus, and other polytheists that they are unwelcome in Oklahoma."
It isn't just American Atheists that are frustrated by the bill, however. Oklahoma Representative Emily Virgin sounded off about the bill, stating that "Many bills have already died because they weren't even given a committee hearing. These bills deal with funding mental health and substance abuse services, appropriately funding common education, ending the effective debtor's prison that is our cash bail system, and many more… The bill we're hearing right now will not improve the life of a single Oklahoman. No one's problems will be solved by words on a building."
Outrage in Oklahoma
First Liberty senior counsel Roger Byron, whose institute makes a living defending the historical significance of public crosses and other religious memorials all the way to the Supreme Court, believes the unifying factor alone is worth every last penny of the $85,000 it's been estimated the move will cost Oklahoma taxpayers.
He's demanding secular activists keep calm and carry on. 
"Despite the claims of the perpetually offended, there are few things in our country today more unifying across the cultural and political spectrum than our national motto," he told Fox News. "During a time of confusion and division in our nation, the Oklahoma House is right to provide a visible reminder of a common state and national heritage."
Others will argue the proposed Oklahoma and Kansas bills have nothing to do with patriotism, but are simply exploiting exclusionary religious slogans in disguise.
This has been a running battle for years now.
In Controversy We Trust
We wrote about a lawsuit in Ohio determined to wipe "In God We Trust" right off American currency way back in 2016. More recently, one Kentucky school board decided to send its public schools framed and enlarged one-dollar bills when forced to display the national motto on school grounds - the ninth state required to do so by law. Even the Florida Sheriff's Department caught legal flack after proudly announcing it'd be stamping the national motto on the back of its fleet of police cars.
But are any of these bills in fact exclusionary?
While one might argue displaying the national motto on a federal building would seem wholly intuitive, let alone discriminatory, it should also be clear the historical 'God' whose trust thee groups are continuously invoking is not the same one a growing number of Americans worship today - be they Jews, Hindus, Muslims, or Pagans. And that says nothing about the growing number of declared atheists in this country. If their argument is that the national motto is a unifying force, there are some definite holes there.
And yet, 'In God We Trust' has been the United States' national motto since 1956, when it was signed into law by President Dwight D. Eisenhower. And the nation's relationship with that motto goes even further back than that: it first appeared on U.S. coins in 1864. There is certainly an argument to be made for history's sake.
Where do you stand? Is plastering every state building with 'In God We Trust' discriminatory towards non-Christians? Or should we all unify under our national motto?