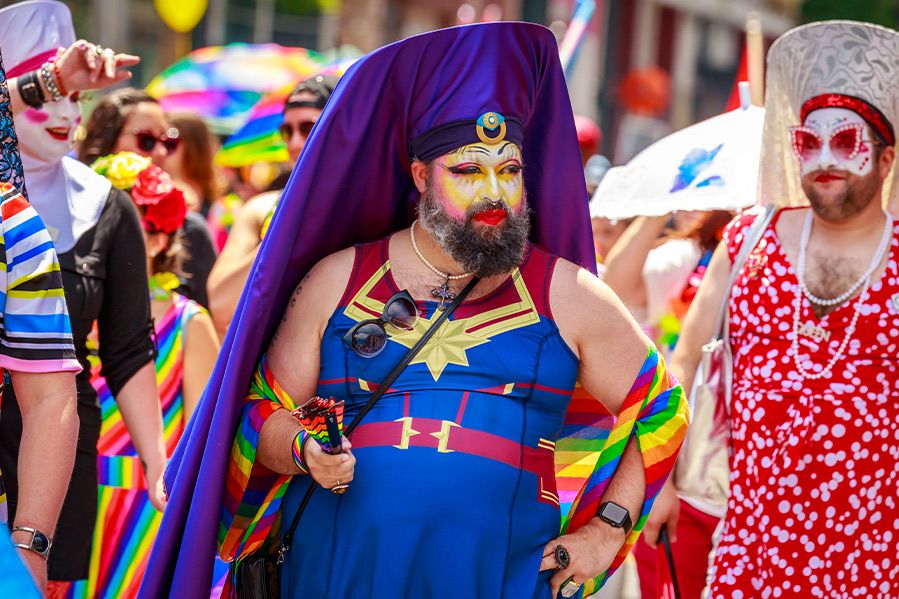 At this point, you've probably heard about the kerfuffle over an upcoming Pride Night hosted by the Los Angeles Dodgers. The saga has produced a higher spin rate than a 100-mph fastball, with the Dodgers initially inviting – then uninviting – then reinviting the Sisters of Perpetual Indulgence, a controversial LGBTQ activist group known for dressing in Catholic-themed drag. 
While the group is currently invited (for now), several religious MLB players – including the Dodgers' own three-time Cy Young winner Clayton Kershaw – have since spoken out to voice their opposition to including the controversial group.
Nun Too Pleased
In case you're new to this story, some brief background:
Donning punny names (Sister Shalita Corndog!) and eye-catching and often colorful nun outfits, the Sisters of Perpetual Indulgence are hard to miss. 
The group has long championed progressive causes like abortion rights and marriage equality. Perhaps most notably, the Sisters were on the forefront of addressing the AIDS crisis of the 1980s, leading the charge on both bringing AIDS to the public's attention and on promoting safe sex.
As for their style of activism, the Sisters might tell you they use humor to shine a light on causes close to their hearts, their nun outfits a satirical parody of Catholicism and religion in general.
Of course, not everyone's on board with the Sisters' brand of Catholic camp. Many Catholics say they find these antics offensive. Some people of faith have even decried them as a "hate group" for their mockery of Catholicism.
All that to say, their invite to the Dodgers' Pride Night sparked immediate controversy. 
MLB Players Speak Out
Initially, it appeared that players in the league might stay silent about the Sisters' inclusion. However, as the controversy grew, several players with strong religious ties decided to voice their opinions on the issue.
First to speak out was Washington Nationals pitcher Trevor Williams, who posted a lengthy statement on Twitter which read, in part:
"As a devout Catholic, I am deeply troubled by the Dodgers' decision to re-invite and honor the group 'The Sisters of Perpetual Indulgence' at their Pride Night this year... To invite and honor a group that makes a blatant and deeply offensive mockery of my religion, and the religion of over 4 million people in Los Angeles county alone, undermines the values of respect and inclusivity that should be upheld by any organization."
Here is the full statement:
Perhaps the most notable rebuke, though, was from Dodgers pitcher and nine-time all star Clayton Kershaw, who accused the Sisters of Perpetual Indulgence of "making fun of a religion." Kershaw stopped short of calling for a protest of the Pride event, but he did ask the team for an interesting compromise.
Pitching an Alternative
At Kershaw's insistence, the Dodgers have organized a Christian Faith and Family Day and put it on the schedule for late July. 
"I think we were always going to do Christian Faith Day this year, but I think the timing of our announcement was sped up," explained Kershaw.  "Yes, it was in response to the highlighting of the Sisters of Perpetual Indulgence."
As for the Sisters' response, they just say that they're happy the Dodgers have chosen to honor them. The abbess of the Los Angeles branch of the Sisters of Perpetual Indulgence, Sister Dominia, said that Kershaw's decision not to protest Pride is "very Christian."
"Neighbors are neighbors," she stated. "It's all good."
What do you make of the ongoing saga? Is hosting a separate Christian faith event at the ballpark a good compromise?