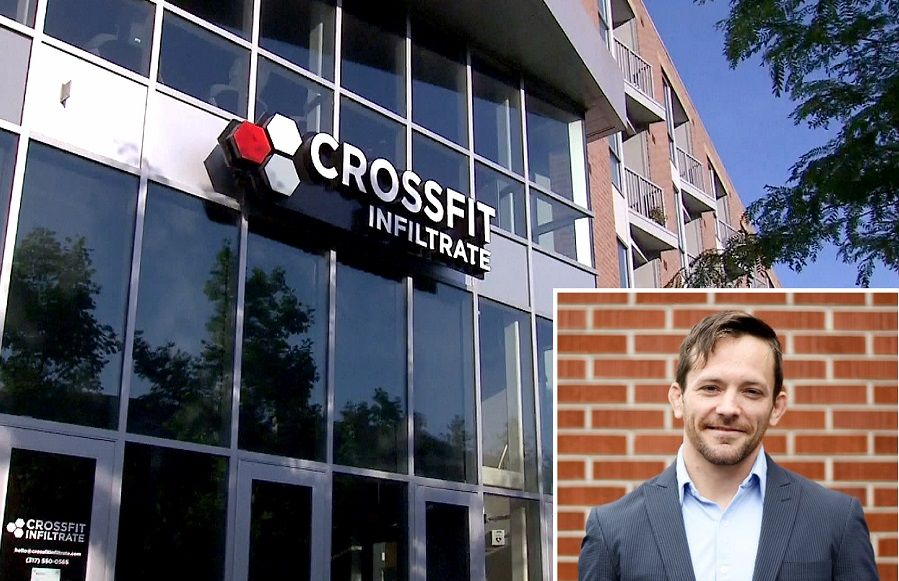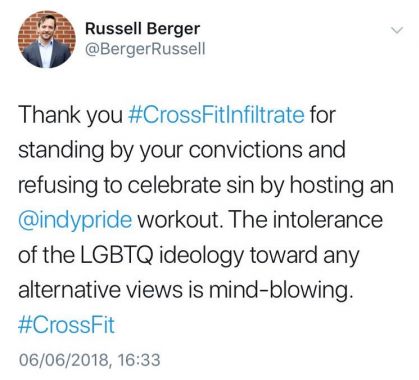 ---
The company behind the exercise phenomenon known as "CrossFit" recently found itself in the middle of a heated debate over religious freedom and LGBT rights.
The controversy began after an Indianapolis CrossFit gym decided to cancel a workout session planned during an LGBT Pride event. Members of the gym were informed of the cancellation via an email which read that "the owners of the gym value health and wellness, and they believe that this event does not."
A top CrossFit employee named Russell Berger then proceeded to voice his support for the cancellation on Twitter, thanking the company for "standing by your convictions and refusing to celebrate sin by hosting an @indypride workout."
As tends to happen these days, the comments quickly spread across social media. But even in the face of widespread condemnation, Berger chose to double down on his comments. He told the media: "I use the word 'sin' to describe pride events, and the sexual lifestyles associated with them, because that's what God's Word calls it, and I believe that God's Word is true."
Given the Boot
As you might imagine, this didn't improve matters much. Amid the ensuing outrage, CrossFit swiftly made the decision to fire Berger from his position at the company. Many people celebrated the move as a win against the Christian bigotry often faced by members of the LGBT community.
They also pointed to the incident as a clear example that freedom of speech doesn't necessarily mean freedom from consequences. The message is: if you want to discriminate against gay people, be prepared to face the ramifications.
In an interview with a Christian radio show after his firing, Berger expressed dismay that the comments were enough to get him fired:
"I think it's a really sobering and disheartening example of where we are as a culture that simply by expressing those views, which, again, have been pretty standard views for the historic Christian faith for thousands of years, that view is no longer tolerated, and, in fact, it's a view that's so divisive and so intolerable that it's the kind of thing you can't say and expect to keep your job."
Christians Speak Out
Many Christians also took issue with how Berger was let go. They turned the situation around to accuse CrossFit of being "intolerant" against an employee who "expressed his personal religious beliefs on his personal account."
Among Berger's staunchest defenders were prominent Christian pastors such as Franklin Graham. "I'm proud of Russell for being bold and standing on God's Word, no matter the cost. That takes guts. Join me in praying for him. As Christians, we all need to love people enough to tell them the truth," the evangelist said in a widely-shared Facebook post.
Conservative author Rod Dreher offered another take, writing:
"Gay activists and their supporters among the gym's employees destroyed this Christian's business, not because he wouldn't allow gays to work out at the gym, but because he would not permit them to celebrate gay Pride there. They shattered his business overnight without filing a charge or a lawsuit, but solely by using the power of stigma and collective action."
"God's Word" Vs. Respecting Others
Despite marked improvement in the area of LGBT rights, stories like these are still common across the country. Some involve only minor offenses, but others are shockingly blatant.
While devout religious folks like Berger regularly take to social media to voice opposition to the LGBT community, they are rarely able to properly explain or justify their views beyond blindly quoting scripture. Simply insisting that "God told me to hate them" might be a convincing argument in religious circles, but it's not going to win over many people in the general public.
If the goal is to boost support for their views, Christians might have more success if they stopped telling other people how to live their lives and instead focused on bettering themselves. A little respect goes a long way.