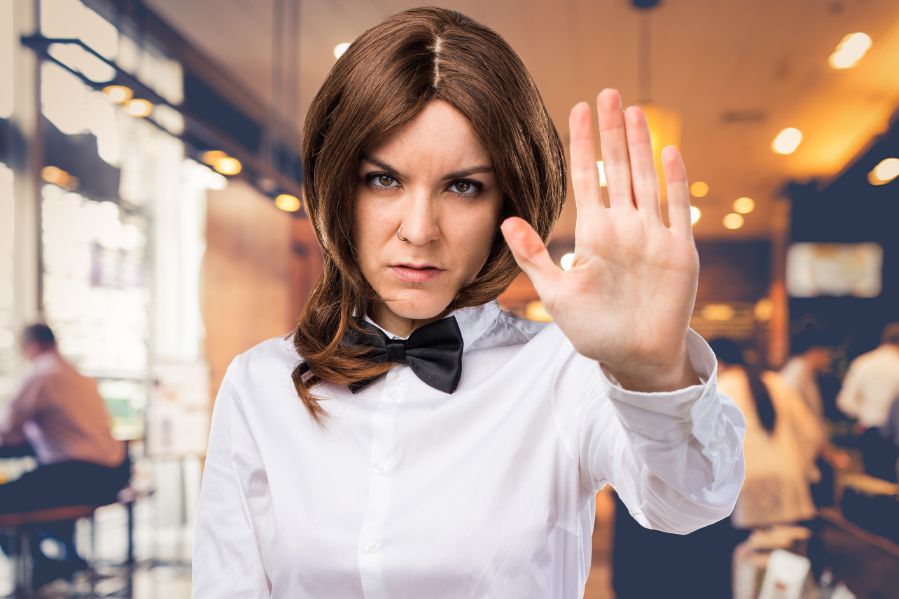 Should restaurants be able to turn away patrons for their religious beliefs?
A Virginia restaurant sparked controversy recently after canceling a Christian group's dinner reservation, pointing to its conservative views on abortion and same-sex marriage.
The restaurant says they chose to cancel the reservation for the safety and comfort of their staff, some of whom belong to the LGBTQ community.
But the Family Foundation of Virginia – the Christian organization in question – is firing back, arguing that its members have been discriminated against for their faith, and many evangelicals are rallying behind that claim.
Which side is right? 
Dinner For None
"We've been canceled again," began a blog post on the Family Foundation's website.
The non-profit group fights to limit abortion rights and opposes same-sex marriage, and describes itself as an advocate for "Biblical principles" that "enable families to flourish at the state and local level."
It was those principles that got their reservation at Metzger Bar and Butchery canceled.
The restaurant, co-owned by Top Chef and Chopped alum Brittanny Anderson, explained in an Instagram post that they refused service to the group due to concerns that its staff would be made "uncomfortable or unsafe" by their presence.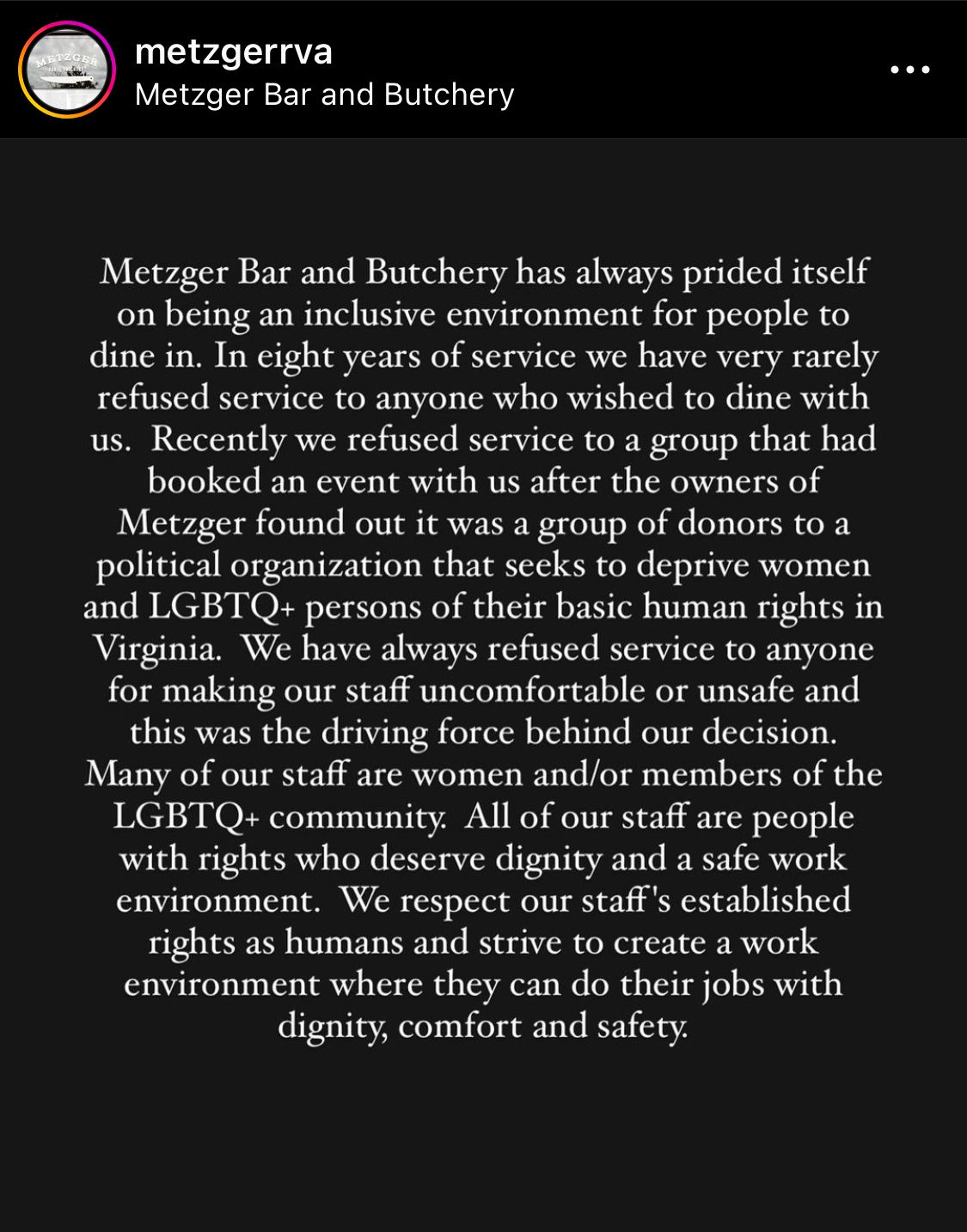 The New Lunch Counter?
Family Foundation of Virginia president Virginia Cobb countered with a blog post likening this treatment to African-Americans being denied seats at restaurants in the 1950s and 60s, and called out the restaurant for a perceived double standard.
"Welcome to the double standard of the left, where some believe Jack Phillips must be forced to create a wedding cake as part of the celebration of a same-sex ceremony but any business should be able to deny basic goods and services to those who hold biblical values around marriage," she wrote.
"It's stunning, and it does feel a bit like 'no Christians can eat here.' Because if you go to our website, you'll find that we are a faith-based organization," she explained. "So it absolutely does feel that there is religious discrimination going on here."
Conservative evangelicals came to the organization's defense – many agreeing that the restaurant was wrong to deny them service. But for those on the other side of the argument, there's a satisfying sense of justice.
Haven't Christian wedding vendors been denying gay couples service for, well... ever?
A Taste of Their Own Medicine
Those in support of the restaurant point out that they're simply taking a play out of the evangelical playbook, and that this is just desserts.
Whether it's a Christian baker, Christian web designer, Christian florist, Christian wedding invitation designer, or another Christian baker, the courts have repeatedly ruled that Christian wedding vendors can turn away same-sex couples as clients if their faith guides them to believe that marriage is only between a man and a woman. 
As commenters on our own Facebook post on this story argued, "if Christians don't want to serve or do business with those who don't share their beliefs, then those who hold those beliefs shouldn't have to serve or do business with the Christians who feel that way."
In other words, Christian groups "can't have it both ways," the restaurant's supporters say.
Where do you stand? Was the restaurant entitled to turn away the group due to its views, or is there a legitimate claim of religious discrimination here?