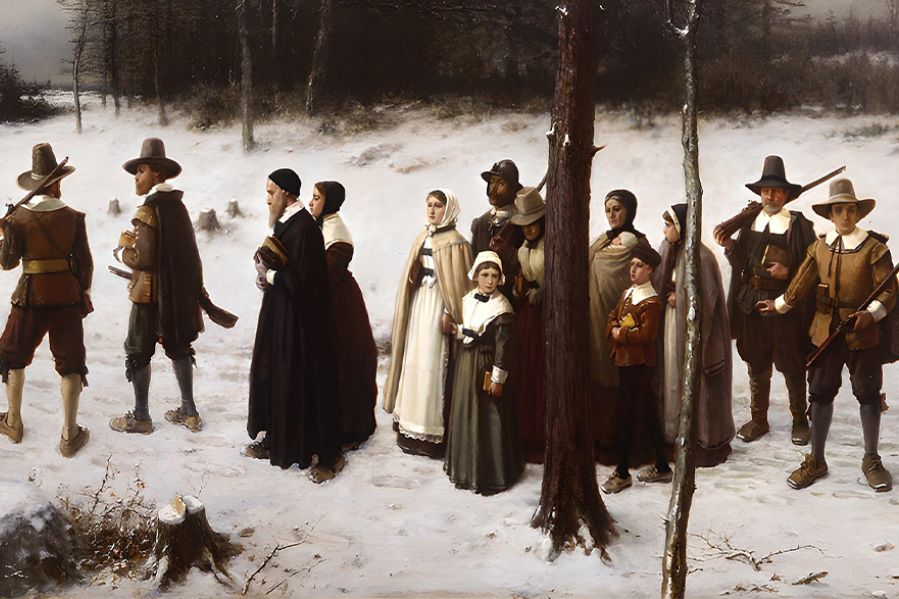 You're probably familiar with the "War on Christmas," the perceived erasure of Christian influence in American culture around the holiday season.
It seems like every year there's a new front in this war, whether that's Starbucks' holiday cups not being Christmasy enough, the growing popularity of the greeting "Happy Holidays", or this year's outrage du jour, the Hallmark Channel debuting their first holiday romcom with gay leads. 
In many ways, the War on Christmas is its own little American tradition. But did you know it's also a Christian tradition? And one that goes back a long way, as it turns out.
Indeed, the first assault on Christmastime was not masterminded by sinister atheists hoping to erase Christianity, or 'woke' corporations bowing to public pressure to be politically correct… but by the Puritans.
This is the story of the original War on Christmas.
An Ancient Tradition
Raucous December revelry dates back to ancient times, and many pagan cultures celebrated the winter solstice with bonfires, feasts, and drunken singalongs. Yule, as they called it, was basically the ultimate office holiday party, just without Gary in accounting hitting up the karaoke machine (thank the gods).
When Christianity began competing against paganism across Europe, Christians "borrowed" many of those customs, and over time the old pagan traditions were folded into the new Christmas holiday. As Christianity spread far and wide, so too did many Christmas traditions.
The technology may be different, and the food is probably better, but the Christmases of 17th century England were not that different than they are today. Feasts, drinks, family, gifts – it was all there in some form or another.
All through December, lords and commoners alike looked forward to the most wonderful time of the year. Everyone loved it!
No Holly, No Jolly
Well, okay, not everyone. Across the pond, those famous sourpusses, the Puritans, despised Christmas with a tenacity that makes the grinch seem like a jolly holiday spirit in comparison.
Early Puritan settlers saw Christmas as an affront to God, outlawed the holiday, and doled out fines to anyone who dared celebrate. 
An official ban was enacted in 1659, and one just needs to look at the book of laws in Massachusetts Bay Colony to see how seriously anti-Christmas sentiment was taken:
"For preventing disorders arising in several places within this jurisdiction, by reason of some still observing such festivals as were superstitiously kept in other countries, to the great dishonor of God and offence of others, it is therefore ordered by this Court and the authority thereof, that whosoever shall be found observing any such day as Christmas or the like, either by forbearing of labor, feasting, or any other way, upon such accountants as aforesaid, every person so offending shall pay of every such offence five shillings, as a fine to the county."
Why Ban Christmas?
As it turns out, the Puritans were well aware of Christmas's pagan origins and they considered the holiday to be a shocking example of heresy and idolatry. They wanted nothing to do with continuing "impure" traditions that had pagan roots. 
A Massachusetts reverend named Increase Mather is quoted on the subject in 1687. Mather wrote:
"The early Christians who first observed the Nativity on December 25 did not do so thinking that Christ was born in that Month, but because the Heathens' Saturnalia was at that time kept in Rome, and they were willing to have those Pagan Holidays metamorphosed into Christian ones."
So what did the Puritans do on Christmas? Work, pray, go to church, be chaste, pray some more… Safe to say they definitely were not hanging stockings by the fire with care in hopes that Saint Nicholas would soon be there. And don't even think about mistletoe.
A Comeback Story
In the end, however, the spirit of Christmas proved too powerful a foe for the Puritans. The ban only lasted until 1681, when it was repealed.
Despite its pagan origins, they likely realized that having a holiday celebration in December was important to keep people's spirits up through the dark of winter. 
Interestingly, Christmas later fell out of favor again following the American Revolution, as it was largely viewed as an English custom. It wasn't until the mid-1800s that it experienced a resurgence in popularity.
The "original War on Christmas" officially ended in 1870, when Christmas was formally made a national holiday in the U.S.
In many ways, the War on Christmas is part of America's religious heritage. So the next time someone makes a stink because you said "Happy Holidays" instead of "Merry Christmas", remember: it's tradition!