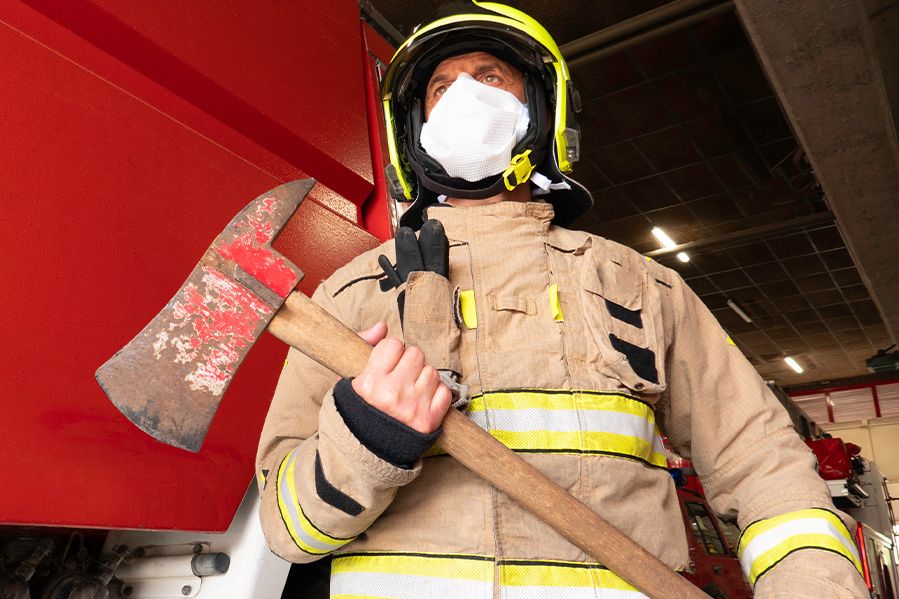 A group of Muslim and Jewish firefighters in Washington D.C. is going to court, alleging religious discrimination over a safety policy prohibiting facial hair.
The men claim that because they wear facial hair in accordance with their faith, they were denied career opportunities and ended up with pay cuts. 
They're asking a D.C. judge to hold the city in contempt over their facial hair policy, arguing that not only is it a blatant violation of their religious freedom.
Should religious workers in dangerous fields who might have to wear masks be forced to shave?
Face Off
The policy in question dates back to 2020, at the start of the Covid-19 pandemic. D.C.'s fire and EMS departments instituted a rule prohibiting facial hair "that comes between the sealing surface of the facepiece and the face."
Representatives from those departments say that any obstruction between the N-95 masks or respirators and the face prevents the mask from creating a proper seal, and that having significant facial hair could thus pose a serious medical risk to the safety of firefighters.
But the four men who filed the lawsuit – Steven Chasin, Calvert Potter, Jasper Sterling, and Hassan Umran – say they must wear facial hair "in accordance with the tenets of their Muslim or Jewish faith."
When the policy was introduced, the men pointed out to supervisors that their faith prohibits shaving their faces.
As a result, they allege, they were shuffled between departments and put in logistical positions. The men say this resulted in a significant loss of career opportunities and take-home pay.
After lawyers got involved and sent a strongly worded letter to the city, three of the men were reinstated to field duty in late 2021, and one took an administrative position (by choice) – but they say the damage was done.
Close Shave
Although the policy was implemented in 2020 and is only now being litigated, the men argue this matter was actually resolved 15 years ago.
In 2007, a U.S. district judge ruled against a similar grooming mandate, pointing out that "evidence shows that a beard has never interfered with the ability of a FEMS worker to do his duty" outside of a "catastrophic scenario."
This isn't the first time that religious facial hair requirements and worker safety policies have butted heads.
The U.S. military is known for strict enforcement of a clean-cut physical appearance for soldiers. However, it recently gave its blessing to both a pagan and a Christian soldier to wear beards in accordance with their faith. The military has also allowed Muslims and Sikhs to wear facial hair since 2017. 
The attorneys for the four firefighters say their clients are victims of an unjust and discriminatory policy and are pursuing compensatory damages.
The city argues the beard policy was for the workers' own safety. But the firefighters insist the policy violated their religious freedom and put them in an impossible position of choosing between their faith and their career.
Where do you stand?