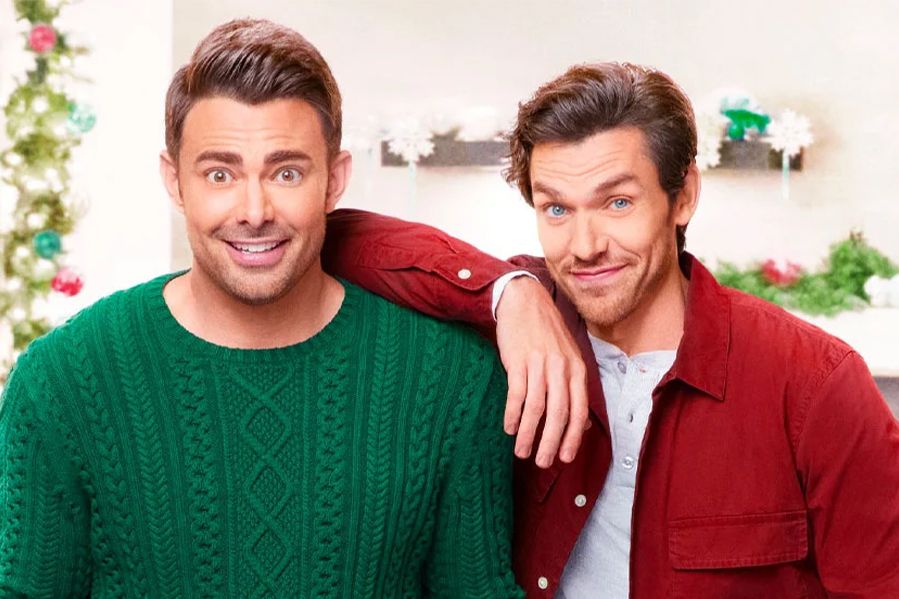 After years of pressure from LGBTQ activists and viewers alike, the Hallmark Channel – best known for its massive catalog of feel-good family and holiday movies – is finally putting out a Christmas-themed romantic comedy focusing on a gay couple.
'The Holiday Sitter', starring Mean Girls actor Jonathan Bennett, appears to be otherwise basically identical to the dozens of cozy holiday films Hallmark plans to release this year.
Bennett plays "a workaholic bachelor who babysits his niece and nephew before the holidays" who then meets "handsome neighbor Jason, and finds himself in an unexpected romance."
In other words, it sounds like any other Hallmark flick… just with gay characters.
But the fallout from this film has been massive.
Internal turmoil at Hallmark over the decision to feature a same-sex romance has led to a major talent exodus, with Hallmark actors fleeing to a competitor channel that promises to stay focused on "traditional family values" and Christian-focused content. 
Merry Christmas?
A Long Time Coming
For many Hallmark viewers, a film focusing on an LGBTQ couple is long overdue.
Over the years, Hallmark has produced hundreds of Christmas romcoms, and they only had their first gay characters – not lead characters, mind you, side characters – in the 2020 flick 'The Christmas House', also starring Bennett. That was after years of increasing pressure from the queer community to include queer representation in Hallmark's yearly slate of holiday fare. 
Prior to 2020, Hallmark seemed dismissive of the issue. In 2018, a network higher-up issued a statement about the lack of gay representation in their films, arguing that "there are no forced values associated with our networks" and that they're "not an issues-oriented network." But, they pointed out, they hire gay actors! That has to count for something!
The network has since changed its tune, however. Bennett, a regular on Hallmark, announced the first holiday film with a same-sex relationship at the center on Instagram. "Words can't describe what it feels like to have Executive Produced and starred in such an incredible story that will mean so much to so many," he wrote. A HUGE APPLAUSE to Hallmark Channel and all the leadership and executives, they not only believed in this story but took good care of it and championed it wholeheartedly."
It's worth noting that 'The Holiday Sitter' is just one of 40(!) holiday films debuting on Hallmark this holiday season. To put it another way, 2.5% of their films this year feature same-sex romance. That really isn't that much, yet on the surface Hallmark appears as jolly as Santa to be championing increased representation.
Behind the scenes and on social media, however, the reception has been a tad… frosty.
The RomCalm Before the Storm
Candace Cameron Bure, a Hallmark mainstay in front of and behind the camera, recently left the company to sign with Great American Family (GAC), a direct competitor to Hallmark that has also produced a litany of cheery holiday films since its launch in 2021.
Bure minced no words about why she went to Great American Family, stating that "I knew the people behind Great American Family were Christians that love the Lord and wanted to promote faith programming and good family entertainment." 
Translation, in her own words: "I think that Great American Family will keep traditional marriage at the core."
Actress Hilarie Burton Morgan shot back at Bure on Twitter, calling her a bigot.
And yet, on the other end of the social media spectrum, fans of GAC were applauding its religious stance.
"Thank you for standing up for family values!" wrote one commenter. "So thankful! I've read up on what has happened with Hallmark Channel and how this channel has come about. God Bless everyone involved and I'm so excited for this Christmas and what's to come," wrote another.
Is Holiday Diversity the Future?
Hallmark, for its part, is vowing to better represent groups they have generally neglected in years past. In addition to featuring same-sex couples, they're also debuting films this year focusing on Hanukkah and Kwanzaa – the latter of which will be celebrated on Hallmark for the first time.
And yet, although Great American Family is a newcomer on the scene, it appears that there's also an audience who want their holiday romcoms without the 2.5% queerness Hallmark is implementing.
What is your reaction?