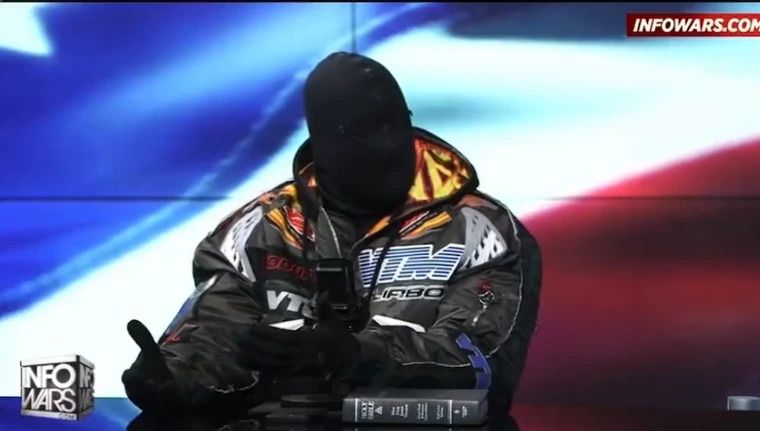 The Bible teaches forgiveness, understanding, and turning the other cheek.
But are there limits to Jesus's love? How should Christianity treat people who do deplorable things? 
That's part of the debate stirred up by embattled music artist Kanye West, who is back in the headlines after what many deemed a bizarre and troubling interview with commentator Alex Jones.
Appearing with a black mask over his face and a copy of the Bible placed on the desk before him, Kanye (who now goes by just "Ye"), doubled down on the antisemitic statements that have caused his business empire to come crashing down in a matter of months. 
He proceeded to set the internet on fire with a series of shocking claims about one of history's most notoriously evil groups. 
So, what did he say? How does he use the Bible to defend these beliefs? And what do religious leaders make of Kanye's biblical interpretations?
Praising Nazis and Hitler
The most disturbing excerpts of the recent interview came when Kanye repeatedly praised the Nazis and Hitler. 
Kanye responded to Jones's statement that "the Nazis were thugs," saying "we gotta stop dissing the Nazis all the time."
He went on to say that Jesus teaches that we should "love everyone" and that "every human being has something of value they brought to the table, especially Hitler."
Kanye said he "doesn't like the word 'evil' next to 'Nazis'" and explained that "I love Jewish people. But I also love Nazis."
When prompted by Jones to clarify his stance, a clear opportunity to denounce the Nazi leader, Kanye instead doubled down, saying "there's a lot of things I love about Hitler."
The once-beloved rapper's comments were shocking to many people, drawing widespread criticism.
Elon Musk Gets Involved
Following the InfoWars interview, Kanye tweeted "Jesus is King" along with a reference to Elon Musk and Twitter's public commitment to free speech. 
Elon responded, writing that "Jesus taught love, kindness and forgiveness. I used to think that turning the other cheek was weak & foolish, but I was the fool for not appreciating its profound wisdom."
Kanye's Twitter account was later suspended after he tweeted an offensive symbol that combined the Star of David with a Swastika. 
Inspired By The Bible
How did we get here?
Kanye West has embraced his spiritual side in recent years – hosting worship services, referencing the Bible in interviews, and even making gospel music (he released an album titled "Jesus is King" in 2019).
Initially, church leaders were thrilled to have a spokesperson for the faith of his pedigree and celebrity. 
However, as Kanye has begun to spread antisemitic messages over the past several months, pastors that once stood by his side are now distancing themselves – and questioning his Biblical conclusions. 
Kanye has repeatedly defended his beliefs on the grounds that Jesus "loves everyone." The insinuation from his latest rant appears to be: why should the Nazis be excluded from that love?
Religious Leaders Speak Out
Religious leaders, on the other hand, don't quite see things the same way. Nor do they view him as an ideal spokesperson for Christianity. 
Among these critics is Pastor Michael J.T. Fisher, of the Greater Zion Church Family in Compton. Referring to Kanye, Fisher said, "the church needs to do a better job in discipling these celebrities when they become interested in the teachings of Jesus Christ," Fisher said. 
The pastor continued:
"My concern isn't that he's imperfect, because we're all imperfect. But the message has got to be solid. So bringing people to Christ through his music — great. But we have to work on the message he's spewing out when the track stops, because it's counterproductive. It goes against the things he's singing about, and it goes against the God he says he represents."
Pastor Jamal Bryant of Atlanta's New Birth Missionary Baptist Church (who has also appeared with Kanye in the past), voiced similar concerns about the direction the artist is headed in.
"I think he needs to come out of a public space, go into intensive therapy and meet with pastors for prayer," Bryant said. "You can't heal in public."
Would Jesus Love Nazis?
Many Twitter users voiced similar sentiments following the stunning InfoWars interview.
However, some people defended Kanye's statements, arguing that his biblical argument was simply being misunderstood.
What is your reaction? Do the Bible's teachings mean we should love everyone, no matter how evil? Or is that a bridge too far?