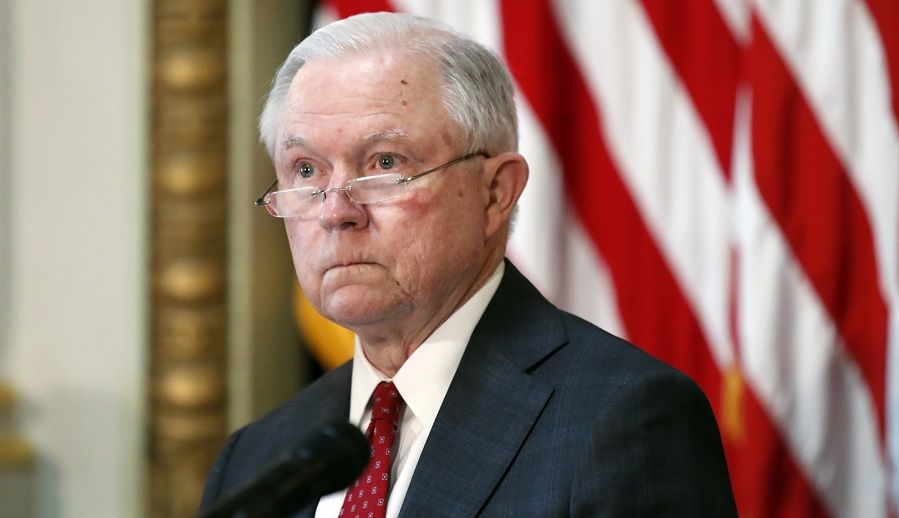 Attorney General Jeff Sessions has announced the creation of the "Religious Liberty Task Force," a new body under the Department of Justice intended to be a watchdog for violations of religious freedom. The task force will alert the DOJ to any anti-faith government regulations and monitor policies implemented to protect religious liberty across America.
Sessions held a press conference to make the announcement, which was accompanied by an impassioned speech about how religious liberty is under attack in America today. He explained that our cultural climate has become increasingly hostile religion, and those who choose to express their faith often do so reluctantly, for fear of facing nasty consequences.
"We've seen nuns ordered to buy contraceptives. We've seen U.S. senators ask judicial and executive branch nominees about dogma even though the Constitution explicitly forbids a religious test for public office. And we've all seen the ordeal faced so bravely by Jack Phillips," Sessions said, referring to the Colorado baker who refused to bake a cake for a same-sex wedding. Phillips recently took his case all the way to the Supreme Court and won.
Sessions continued, adamant that people of faith have too long been overlooked:
"In short, we have not only the freedom to worship but the right to exercise our faith. The Constitution's protections don't end at the parish parking lot nor can our freedoms be confined to our basements. Religious Americans are no longer an afterthought."
Mixed Response
Scores of religious groups expressed strong support for the new task force. They're hoping a new age has dawned in America where the Bible will be permitted in the classroom, prayer may return to school activities, the Ten Commandments can once again be proudly displayed on public property, and public expressions of faith will be celebrated instead of scoffed at.
However, many feel differently evidenced by the strong criticism levied at Sessions following this morning's announcement. Some took to social media to vent their concerns, arguing that the task force poses a grave threat to the separation of church and state.



Jeff Sessions just announced they formed a Religious Liberty Task Force to ensure that all religious organizations have rights. Only by all organizations he means Christians, and by rights he means the freedom to impose their beliefs on others.


Alt Fed Employee (@Alt_FedEmployee) July 30, 2018
Others warn that the task force might be biased toward Christians and will overlook the plight of other religious groups in America:



People are always asking me to do futurist prediction so here goes. I'm gonna go out on a limb and guess that the new Religious Liberty Task Force WON'T work on hate crimes and the surge in persecution of Muslims, Jews, Sikhs, and other religious minorities. OK, somebody pay me.


N. K. Jemisin (@nkjemisin) July 30, 2018
Expressing Faith vs. Breaking the Law
A central question in this ongoing debate is whether or not protecting religious liberty necessarily means stepping on the rights of others. For example, if a baker decides his religious convictions prevent him from baking a cake for a gay couple, have the couple's rights been trampled? Legally, it's still unclear. Although the Supreme Court sided with Jack Phillips, they declined to say whether it's constitutional to deny someone service based on religious beliefs.
For the sake of argument, let's assume this behavior is acceptable. The question then becomes, how far should these faith protections extend?
Here's another case to consider: two Oregon parents were convinced that God would heal their sickly newborn child, and they decided not to take her to the hospital. The baby died hours later. Should their expression of faith trusting God over medical professionals be permitted? The answer is pretty obviously no (and the state agreed, sentencing them both to prison time).
But critics will point to these more extreme cases and argue that we're headed down a slippery slope. After all, religious belief leads some people to do crazy things. Until a definitive ruling comes down from the Supreme Court, there remains a lot of grey area to exploit.
**What do you think of the new task force? When does the law supersede religious conviction?
**