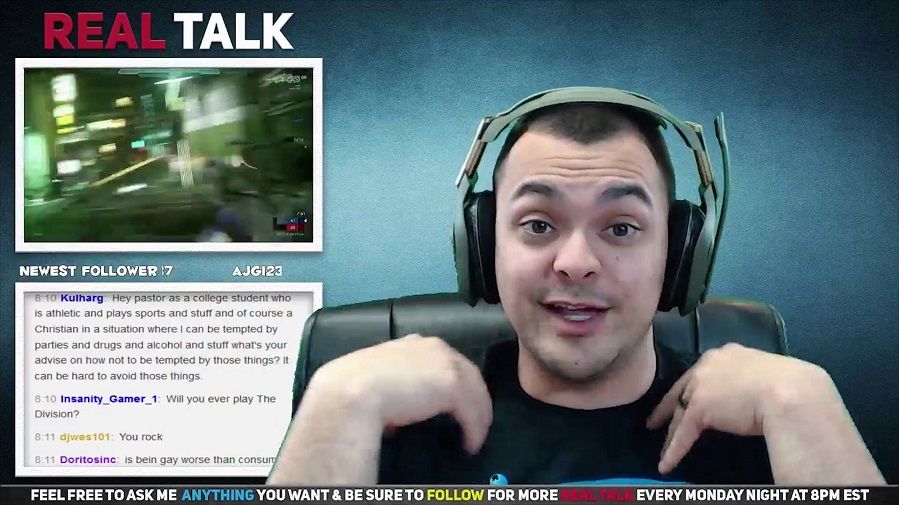 ---
You don't need to remind Reverend Matt Souza that the Lord works in mysterious ways.
The 27-year-old Virginia resident spreads the good word not through traditional preaching, but through a thoroughly modern medium: online video games. A few years back, Souza started his own church, which he calls GodSquad.
Every Saturday night, Souza hosts a weekly sermon where he speaks to his followers through a headset all while playing the latest popular video games and streaming the footage online. It's far from an elegant production he preaches from his living room at home, and usually wears jeans and a T-shirt. Souza knows most of his congregants by their online username only. And yet, he has slowly built a loyal following.
Converting the Un-Convertable
This accomplishment is all the more remarkable considering that his target audience the gaming community is largely made up of atheists, secular thinkers, and others who eschew traditional religion. But as it turns out, preaching to this group is not a fruitless task after all - evidenced by the thousands of viewers who tune in via popular online live-streaming platform Twitch to hear Pastor Souza's weekly sermons as he blasts his way through popular video games titles, dropping Bible quotes left and right.
Souza seeks to reach people who might otherwise never encounter religion, and he believes deeply in his mission:
"If we believe as Christians we have a command to go to all the world and share God's love with people, how do we share God's love with people who don't leave their house? I was thinking somebody's got to try this, somebody's got to go on what is normally known as a toxic website and start . . . sharing God's love with people."
In the span of a few short years, Souza has gone from a random guy talking about Jesus while playing video games to a full-time gaming preacher with thousands of followers.
A New Form of Preaching?
The Entertainment Software Association estimates some 2.6 billion people worldwide play video games, including nearly two-thirds of U.S. households. Given this potential reach, and the fact that many churches have been struggling to fill the pews, experts wonder if the key to boosting church attendance lies in video game-based sermons.
After all, your congregation is a lot more likely to attend services if they can do so from the comfort of their couch especially if "church" revolves around playing their favorite new shooter or sports game.
What do you think? Do video games represent a perversion of religious teachings, or should they be embraced as a useful preaching tool for churches in the future?