---
In a surprise announcement, the Supreme Court declared that it will rule on the case of a Christian baker who refused to bake a cake for a gay wedding.
It all started in Denver, Colorado back in 2012, when a gay couple visited a local cake shop hoping to order a wedding cake. However, upon learning the nature of the ceremony, the owner refused to take their business. The case eventually went to court, where it has bounced around for the past 5 years. For a time, it seemed destined to stay in the lower courts.
Until now. The Supreme Court's decision to take on the case has set up a heavyweight clash between the competing principles of religious freedom and non-discrimination. The outcome will likely create precedent that fundamentally shapes the future of religious expression in the U.S.
The Uncompromising Baker
But let's backtrack a bit. Here's how it all went down:
When the couple walked into the store, owner Jack Phillips explained that he would be happy to sell them any of his baked goods, but could not in good conscience make a cake for their wedding. Doing so, he claimed, would violate his fundamental religious belief that marriage is between a man and a woman.
Phillips offered to direct the couple to another cake shop in the area that would happily take their business. But that wasn't the point, they insisted he had singled them out because they were gay.
Convinced they were being discriminated against based on their sexual orientation, the gay couple filed a formal complaint against the baker. The case has been in the court system ever since.
Artistry or Bigotry?
When his cries of religious freedom seemed insufficient, Phillips found another argument to fall back on: freedom of speech. As a cakemaker, he says, his work represents a distinct form of art. Each cake is a piece of artwork -- and by extension, an act of free speech that should be protected by the law. Phillips argues that he shouldn't be compelled by the government to create art against his will.
As the case has moved through the courts, this secondary argument has proved to be effective. So much so, that lawyers for Mr. Phillips have now made it the primary justification for his refusal. In their words: "Every American should be free to choose which art they will create and which art they won't create without fear of being unjustly punished by the government."
However, the couple has since countered with their own argument, insisting that they did not order any specific inscription or style to be made-- merely that a cake be supplied. They didn't force his artistic hand, they just asked for a stack of flour and frosting for their wedding.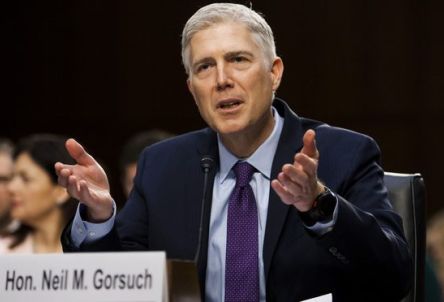 More Than Just a Cake
One thing is clear: the impact of this case will extend far beyond the wedding cake industry. It's just one of many cases involving everything from florists, to calligraphers, to wedding planners that weighs freedom of expression against claims of discrimination. It's a fundamental question: should business owners be allowed to deny services to people based on personal beliefs?
The ACLU has sided with the couple, arguing that "when businesses are open to the public, they're supposed to be open to everyone."
However, it's not clear the Supreme Court will see it that way. With the recent addition of conservative Justice Neil Gorsuch, the court may be inclined to rule in favor of the baker. With the decision not expected until later this year, we'll just have to wait and see.
Whose side are you on?