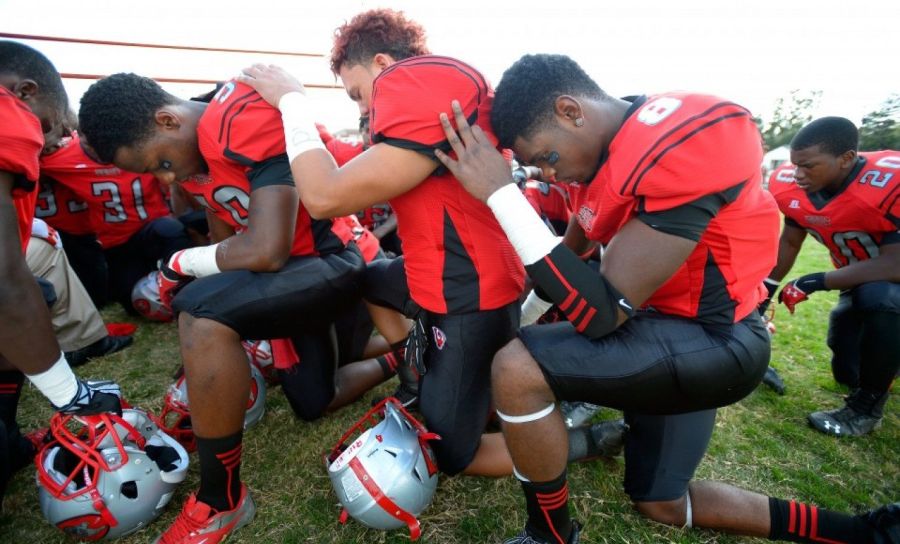 ---
---
The U.S. constitution holds that religion and government must remain independent of one another. However, there's no getting around it America's long history of Christian religious tradition. The majority of Americans are Christians, and to many their faith is more than just a part of daily life it's absolutely central to their identity. This makes enforcing the separation of church and state somewhat complicated, especially in highly religious areas. Perhaps nowhere is this conflict more apparent than in America's schools.
In theory, religious beliefs are never supposed to enter the realm of public education. In practice, though, this happens all the time. And in the age of social media, perpetrators rarely fly under the radar. Today we explore the question: has religion invaded our schools?
School-Endorsed Baptisms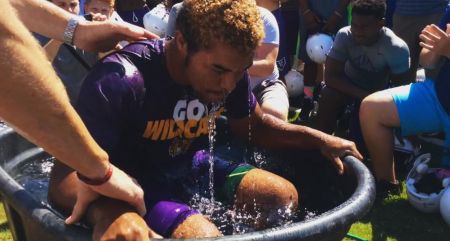 A Mississippi high school football coach is catching some heat after a video posted online showed him baptizing one of his players. In the video, coach Ryan Smith stands in the center of a crowd. He points to the player and calls him forward. Before performing the baptism, Smith proudly explains that his player "made a decision that a man's supposed to make. He accepted Christ as his savior."
To those in the rural Mississippi community, it was a beautiful expression of Christian faith by a respected football coach. However, others saw the baptism in an entirely different light. To them, it was highly inappropriate behavior for a public school employee.
If this incident sounds familiar, that's because it's happened before. School baptisms are not uncommon in the U.S. In fact, just recently several schools in Georgia came under fire after mass baptisms took place on school property. Many were shocked to learn that church officials actually came to Villa Rica High School to baptize 18 members of the football team, including the coach, on the field before practice. At another high school, the entire football team participated in a mass baptism on school grounds to honor the memory of a former student who had passed away. Both events were filmed and posted on Facebook, but were later removed.
Formal Complaints
The Freedom From Religion Foundation (FFRF) is among several groups considering legal action. In a letter to one of the schools, the organization explains its objections:
"When baptisms and prayer take place directly before a team football practice, on school property, with coaches' participation, any reasonable student would perceive these activities to be unequivocally endorsed by their school".
Beyond simply endorsing Christianity, these actions pressure students to conform by tying religious activities to the sport of football. The FFRF argues that this creates a troubling relationship between players and coach:
"A head coach organizing or leading a team baptism, encouraging the students being baptized these actions unmistakably communicate to the players and students present that the coach is in favor of the baptism, and that those being baptized into Christianity are doing something that pleases the coach."
In the Classroom
Although the most blatant violations may occur on the football field, Christian influence also extends into the classroom. While schools cannot endorse a specific religion, some teachers choose to subtly state their beliefs. For example, they might place a bible on the corner of their desk, or set a small statue of the Virgin Mary on the windowsill. Every so often a legal challenge will direct that these objects be removed, but it's quite rare.
A more obvious example of religious influence can be found in after-school religious clubs the vast majority of which are Christian. As long as these faith-based groups are student-run, they are permitted to meet in school classrooms. In schools all around the country, students convene after the last bell to hold bible study or prayer sessions.
---
Satanic Temple Fights Back
However, not everyone is pleased with the proliferation of Christianity in our nation's schools. Some groups have decided to take matters into their own hands. Leading the charge, in fact, is none other than the Satanic Temple. All around the country, "After School Satan Clubs" are sprouting up to rival their Christian counterparts. The Satanists are careful to explain that their goal is not to advocate devil-worship rather, these clubs aim to encourage free thinking and promote religious liberty.
However, many parents are not happy about the presence of Satan Clubs especially those at elementary schools. Some parents are even threatening to pull their kids out of school if the clubs are not banned. One mother expressed her alarm, insisting that the motives behind the Satan Clubs are "not pure", and that they should be banned because "children are innocent".
Local Satanic Temple leader Lilith Star shot back, explaining that innocent children are exactly what's at issue. She emphasized the importance of providing children "the tools they need to make their own decisions about the world", while promoting "science, rationalism, and critical thinking skills". In her estimation, indoctrinating children with Christian beliefs at a young age is far more dangerous than encouraging them to think for themselves.
The Supreme Court made it clear long ago: public schools cannot endorse one religion over another. If a certain faith is represented, others must be permitted a voice as well. Judging by the public reaction, though, the battle over Satan Clubs is far from over.
War on Christianity?
It's no secret that many Christians in this country feel persecuted. During discussions about religious freedom, a frequently-heard complaint involves the government's "war on Christianity". It's not hard to understand why people feel this way. If belief is deeply ingrained, it's probably difficult to leave it at the door every time you enter a government building. Devout teachers and football coaches carry their faith with them as they enter the classroom or walk onto the field.
Takeaways
Although the law is quite clear, Christians seem unlikely to give in. Football coaches will continue to baptize their players, Virgin Mary statues will stay on the windowsill, and Christian parents will keep fighting against After School Satan Clubs. We'd like to hear your thoughts: Is religion invading our schools, or are these activities just harmless expressions of faith? What, if anything, should be done to address the issue?