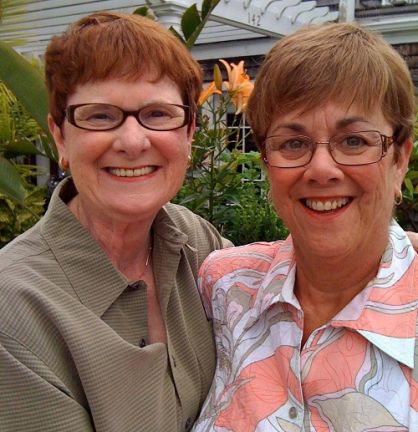 Is it constitutional to deny someone housing because they're gay?
A lesbian couple from Missouri has filed a lawsuit against a senior living center after their housing application was denied when the owners discovered they were gay.
Mary Walsh and Bev Nance have been together for 40 years and have been married since 2009. After touring the facilities at Friendship Village senior living community, filling out an application, and even putting down a deposit, their new apartment seemed like a done-deal.
But before the agreement could be finalized, the residence director called to question Walsh and Nance on the nature of their relationship. Soon after, they were informed their application had been rejected.
The couple decided to file suit.
Living Biblically - AKA No Gays
Although representatives from Friendship Village have thus far declined to comment, it seems that religious belief was responsible for the rejection. The organization's website explains that it is "guided by Biblical values" and its cohabitation policy defines marriage as "the union of one man and one woman, as marriage is understood in the Bible."
Apparently, Mary Walsh had specifically asked during their initial tour if the community would have a problem with two married women moving in together. "The guy looked at me like I had three heads and said, 'No, we don't have any problem at all.' He looked at me so strangely I never asked the question again," Walsh explained.
Do They Have a Shot to Win?
The lawsuit filed in U.S. District Court this week claims the senior living center denied the couple's application based solely on their sexual orientation. "Mary and Bev were denied housing for one reason and one reason only because they were married to each other rather than to men. This is exactly the type of sex discrimination the Fair Housing Act prohibits," said the couple's attorney. "Their story demonstrates the kind of exclusion and discrimination still facing same-sex couples of all ages."
However, legal experts think Marsh and Nance will be fighting an uphill battle. Although housing discrimination based on things like race and sex is definitively illegal under federal law, there's no law preventing discrimination based on sexual orientation.
Fight for Equal Treatment Continues
Walsh and Nance have seen the gay rights movement evolve from its infancy. they were alive during the Stonewall riots, when being openly gay was basically unheard of. And decades later, they witnessed a long-sought victory: the legalization of same-sex marriage. And yet, even after all these years, they're still facing obstacles.
"All this stuff just keeps coming at you, and then you're in your 70s, and you think it's going to be easy from now on and then you face this kind of prejudice. In my mind, the time has come for this to be corrected," Walsh said.
Even if Walsh and Nance end up losing their case, Friendship Village might want to consider a name change, for this type of treatment doesn't come off as particularly friendly. At the very least, they should put an asterisk next to their name explaining that "gays need not apply."
What do you think? Should housing companies have the right to turn away gay applicants?