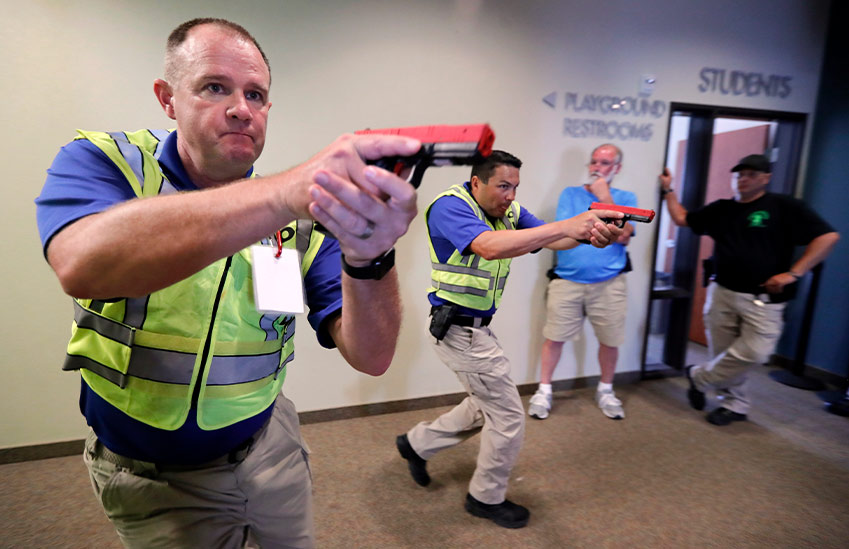 ---
The Fellowship of the Parks Church has decided the best way to deal with future mass shootings in holy places is to train its own congregants to fight fire with fire.
The Fort Worth, Texas church and its sister campuses have partnered with the local Sheepdog Defense Group to arm church members and train them in threat assessment, first aid, and weapons handling. Effectively, transforming them into volunteer security guards that can respond to mass shooting situations in real-time.
While it may sound strange to some, organizers view it as a depressing sign of the times.
"Ten years ago, this industry was not a thing," explains police officer and Sheepdog founder David Riggall. Riggall decided to get his training license following the 2012 elementary school shooting in Newtown because as he says, "sanctuary means a safe place."
God and Guns
Much like his newfound client Doug Walker, who leads the interdenominational Fellowship of the Parks Church, Riggall watched helplessly as a 1999 mass shooting at a Forth Worth church left eight dead. In 2017, a gunman killed 26 followers at the First Baptist Church in Sutherland Springs, Texas - half of them children.
Walker believes mass shooters will continue to target places of worship, so-called soft targets. Which means his own security team will require better training.
And he's not the only one training churchgoers.
In Birmingham, Alabama, David Youngstrom is now running a similar operation called Sheepdog Firearms. He offers eight-hour church security courses on "reload drills, concealment carry, weapon malfunction drills, shooting on the move drills, first aid, and force-on-force drills in a response to an active shooter."
Mass Shootings, Mass Debates
There is definitely a trend to this theme that defies any one faith. Democratic Michigan senator Gary Peters recently announced a bipartisan bill authorizing $75 million in grants to fund everything from surveillance cameras to active-shooter training for religious buildings. That marks a 25% increase from last year. The bill cites the tragic "rise in the number of violent attacks at synagogues, mosques, and churches across the country."
More recent mass shootings in El Paso and Dayton, Ohio have reignited the debate over gun control. Senate Majority Leader Mitch McConnell even signaled a willingness to consider some gun legislation this fall. Perhaps even universal background checks?
Obviously, church leaders are not holding their collective breaths, given the current political climate.
But as more churches arm congregants, will that really make churchgoers any safer? Could you imagine the confusion and potential horror of having, not one, but several guns going off in response to an active shooter situation in your own place of worship?
Then again, can thoughts and prayers alone keep you safe?