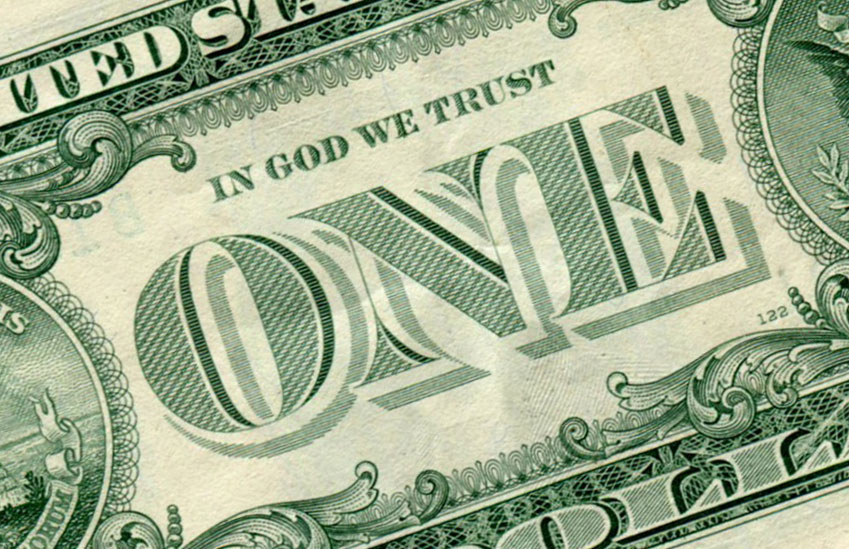 ---
If they didn't pay attention to the news over the summer, Kentucky students are in for a Biblical surprise upon their return to the classroom this fall. As a result of legislation passed in the General Assembly, every public school in Kentucky must display the words 'In God We Trust' somewhere on school grounds beginning this school year. The law, which passed 72-25, makes Kentucky the ninth state to require the national motto be posted in schools.
But not everyone is on board. While most schools are complying without issue, some districts are finding creative ways to push back against the state's demand.
In Snark We Trust
The Fayette County Public School District in Lexington made national news with their creative protest against the new law. Some schools opted for giant posters scrawled with the required national motto. Some directed students to paint those words on the walls of every last school in the district. However, Fayette County simply sent each school a framed copy of the enlarged back of a crisp one-dollar bill. While technically in compliance with the law, it's clear the school district intends to make a statement.
Rep. Brandon Reed, the Christian evangelist who sponsored the bill last August, was not impressed.
"It is extremely disappointing to see Fayette County Public Schools spend time searching for silly loopholes to a law that passed with broad support from both Democrats and Republicans and received over 70 votes in the House of Representatives. Instead of empowering students by allowing them to create artwork displaying our national motto, Fayette County has instead chosen to play political games and deprive students of that opportunity. Our national motto is prominently displayed in other public institutions, and is something to be proud of, not ashamed."
The 'Almighty' Dollar
FCPS Superintendent Manny Caulk responded to that statement with maximum snark. He praised the "spirit of bipartisanship" that produced such monumental legislation. Then he wondered aloud if Kentucky's 1,466 public schools might also benefit from reversing decades of underfunded public education and expanding full-day kindergarten.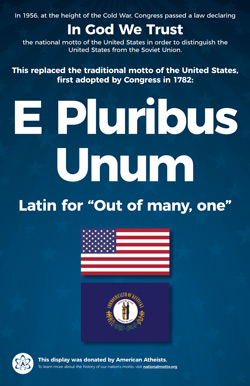 As for the dollar bill bit, Reed chose to play the student-of-history card.
"Our actions are not part of a political game as Rep. Reed suggested. We have taken our lead from the members of the 84th United States Congress, who passed a joint resolution on July 11, 1955 determining that the most appropriate and enduring placement of the national motto was on all U.S. currency and coins. How can that display, used daily in commerce, be acceptable and ours considered unfortunate and silly?"
Teaching a Lesson
It's crystal clear Caulk took advantage of a law that wasn't well thought out. Future legislators, take note: If you're going to require schools display the national motto, make sure you specify the size, location, and design of these signs.
Worse than a dollar bill, The Fayette County Public Schools could have settled on framed images of a shiny penny, perhaps even a stamp. The words 'In God We Trust' could have also been written out on some cafeteria wall in glow-in-the-dark marker, so that it'd only be visible when the lights went out. They could even display the fact-based poster available free from American Atheists.
This isn't the first time the phrase has caused problems. In fact, activists have been trying to remove the phrase from our currency for years. What do you think? Is the dollar bill loophole a bit of clever tongue-in-cheek protesting? Or is the school's snarky circumvention an exercise in wasting time?