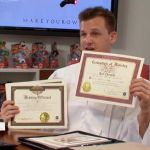 The ULC Monastery welcomes its newest celebrity minister - Robert Dyrdek!
Professional skateboarder and reality TV star Rob Dyrdek has become ordained as a minister of the Universal Life Church Monastery, and used his ordination to officiate his sister's wedding on a new episode of MTV's Fantasy Factory, which aired on April 2nd.
Dyrdek became legally ordained on July 29, 2009, and at that time was already planning to use the ordination to perform a wedding for his sister Denise.
The episode is an irreverent but entertaining take on the power of ministry. Dyrdek's friends question the validity of his ordination, to which Dyrdek responds, "This isn't a joke. The state of California recognizes me, Robert Dyrdek, as a man of divinity." He is then seen showing off his official ordination credential, wedding officiant certificate, and minister parking hanger from the Universal Life Church Monastery. Later in the episode, is seen wearing a "Minister" T-Shirt and meeting with a pastor to practice the wedding ceremony.
Dyrdek is one of a growing number of celebrities to seek legal ordination through the ULC Monastery. Fran Drescher, Star of TV Land's Happily Divorced, was also recently ordained and officiated a same-sex wedding in New York. Conan O'Brien celebrated the 1-year anniversary of his TBS show last year by becoming ordained and performing a wedding for a staff member.
To watch the full episode, click here.