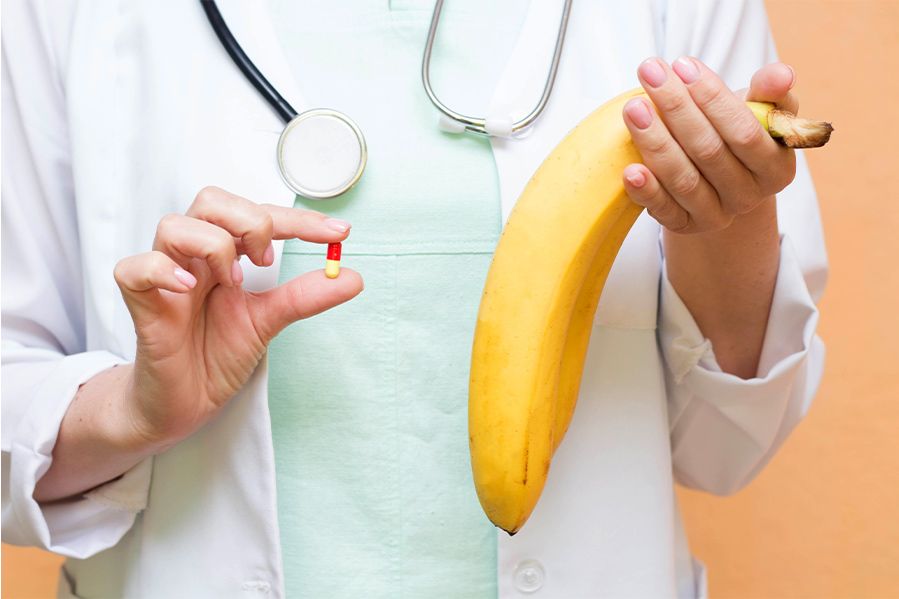 Are evangelical Christian men not happy with the size of their rod and staff? A new study says yes – and it has the data to prove it.
Researchers analyzed Google searches from men in all 50 states, and found a strong correlation between states with high populations of evangelical Christians and the popularity of search terms for male enhancement, including "ExtenZe", "grow penis", and "make penis bigger".
Even after controlling for things like age, marital status, and political affiliation, the results stayed the same. 
The paper, titled "Linking Evangelical Subculture and Phallically Insecure Masculinity Using Google Searches for Male Enhancement", was first published in the Journal for the Scientific Study of Religion.
So how did they come to this conclusion? And why are evangelical men uniquely unhappy with what God gave them?
He Isn't Risen
Researchers theorized that many men would be shy about answering questions over the phone or in person about a very personal subject, so they went right to a source that never lies: Google search history.
They used Google Trends, which tracks Google searches and provides data on search terms that can be broken down geographically. The results were clear: "Specifically, as the proportion of evangelicals in a state increases, the relative frequency of Google searches for [male enhancement] also increases."
After all, you can see it in the graphs below: As Protestantism goes up, so too do the relevant searches.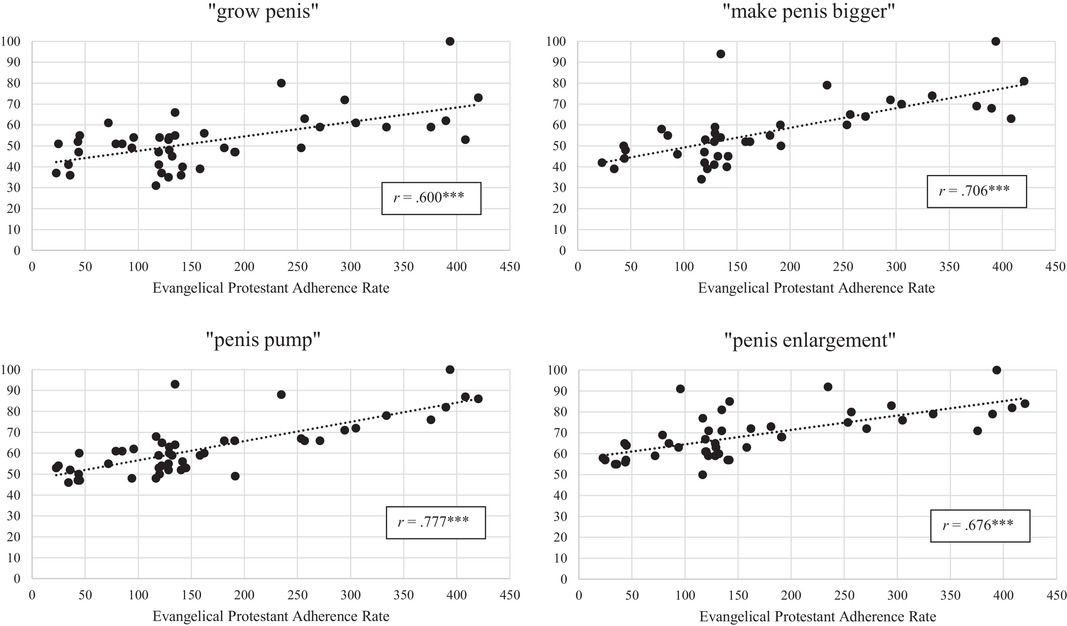 Of course, there are clear limitations to the study. For one, it isn't clear _who _exactly is doing these searches. It could be men, but it's also possible that some seriously unhappy wives are looking to Google for solutions to their "size problems."
The authors acknowledge this. However, sometimes the simplest explanation is also the most accurate – that evangelical men are on the hunt for penis pills, penis pumps, and other general penis enlarging tools more than other groups.
The obvious question, then: why?
The Strong, Silent Type
The study's authors have one guess as to why evangelical men are so insecure: toxic masculinity. The authors theorize:
"Writings of prominent evangelical thought leaders have for decades relied on phallic symbolism and even explicit phallic references to either valorize physical strength or, more often in the negative, castigate Christian men for their lack of "manliness" (e.g., "feminized," "pussified," "neutered," "emasculated," "wimpified," etc.)"
Basically, Christian leaders have for decades extolled the virtues of traditional, rugged masculinity, inadvertently creating a stereotype to which most males can't – and shouldn't, necessarily – measure up to. They continue:
"Scholars argue this effort to equate Christian masculinity with (phallocentric) size and strength has grown progressively more radicalized as evangelical men internalize these values, increasingly perceive threats to their patriarchal hegemony, and begin to worry they cannot live up to the standards of the strong, dangerous, virile man."
Could there be something to this link between Christian men and toxic masculinity?
Just earlier this month, we wrote about a controversial pastor who thinks women should wear makeup and stay slim for their husbands. Critics were quick to call his statements out as the very essence of toxic masculinity, and the pastor has since been put on leave. The irony was not lost on some readers that even as this pastor was asking women to slim down, the Google search study indicates he may have been looking to, well… expand elsewhere.
Ultimately, the study's authors argue that years of conditioning from Christian leaders to be that hypermasculine ideal has left many of the faithful feeling insecure and inadequate, leading to a hope to inflate their "masculinity" artificially.
What do you think – are evangelical men holding themselves to a masculine standard they simply cannot reach? Is it toxic masculinity at work? Or is there something else going on?