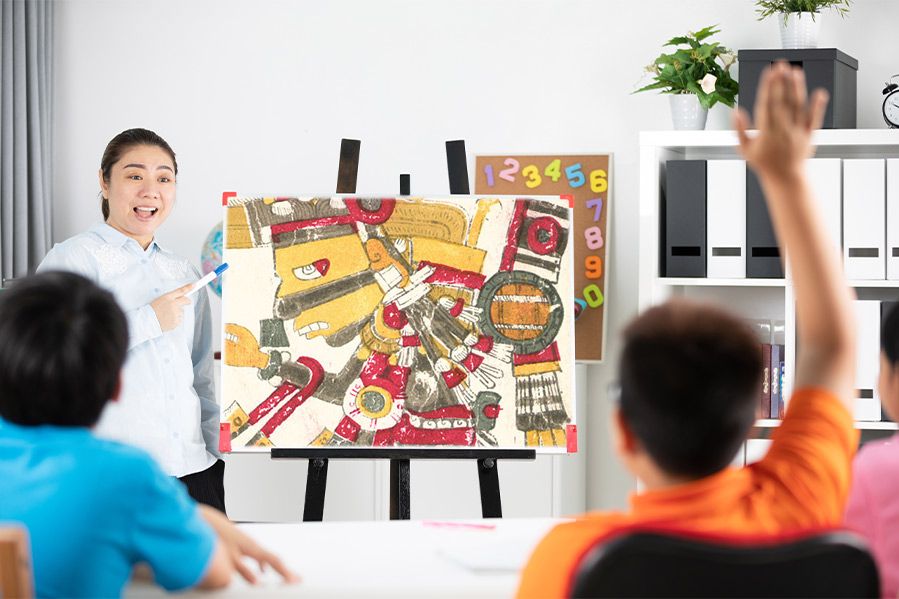 A new ethnic studies curriculum proposed in the state of California would have children across the state chanting the name of an Aztec god as part of their studies. The controversial curriculum was designed to help students "challenge racist, bigoted, discriminatory, imperialist/colonial beliefs" by celebrating indigenous cultures.
That includes teachers leading students in chants to Tezcatlipoca, an Aztec god known as the Creator god, who was honored by human sacrifice, complete with heart removal.
While California's goal is ultimately to lift up underrepresented groups and help share their history and traditions, many say educators are going too far. The most outspoken critics even call the lessons unconstitutional and "evil, retrograde cultural vandalism."
Chanting to Tezcatlipoca
The chants included in the curriculum call on students to be "warriors" for "social justice", as well as calls for "transformation, liberation, education, emancipation, imagination, revitalization, [and] decolonization."
Advocates say the activity is designed to bring students together, with declarations that "you are my other me" and "if I do harm to you, I do harm to myself."
Proposed text released by the state includes more content, with lines such as: "Seeking the roots of the truth, seeking the truth of the roots, elders and us youth, (youth), critical thinking through."
There is also specific mention of the Aztec god Tezkatlipoka. Students are instructed to chant: "Tezkatlipoka, Tezkatlipoka, x2 smoking mirror, self-reflection Tezkatlipoka."
Other Aztec gods are invoked in the chants as well, including Quetzalcoatl, Huizilopochtli and Xipe Totec, all siblings to Tezcatlipoca.
According to Aztec myth, Tezcatlipoca had many manifestations, and would intervene in the lives of humans to bring about both happiness and despair. He was worshipped in ceremonies, where a man - often, a prisoner of war - was dressed to impersonate Tezcatlipoca, honored with a ceremony filled with dance, married to four women, then taken to a temple where his heart was torn out.
Building Unity Through Learning
The proposed ethnic studies curriculum "helps students see themselves and each other as part of the narrative of the United States," and "helps students see themselves as active agents in the interethnic bridge-building process we call American life."
The chants are, simply, a unity-builder for students, and will help reinvigorate students after a long or emotionally taxing lesson. According to California, they're simply harmless ways to engage students.
Not everyone sees it that way.
The God of Controversy
"The idea that a tax-supported public school system would, or could, be used to unleash this vicious cultural and spiritual poison into our young people's consciousness is both extremely offensive and quite possibly illegal," stated Christian Post Executive Editor Richard D. Land in an op-ed that also called the curriculum "retrograde vandalism."
He compared the situation to teachers not being allowed to lead students in prayer, pondering, "if public schools are not allowed to sponsor Christian prayers, why would they be allowed to sponsor prayers to an Aztec pagan idol to whom human sacrifices were offered routinely?"
Land wasn't the only one frustrated by chants to Aztec gods being proposed, when a prayer to Jesus Christ would, obviously, not be allowed in public school. The reporter who first broke the story, Christopher F. Rufo at City-Journal, had similar concerns. 
"Public schools are prohibited from leading state-sanctioned Christian prayers, he writes. "They would presumably be similarly prohibited from leading state-sanctioned chants to the Aztec god of human sacrifice."
He views the chants as a wholesale displacement of Christianity, stating that "the chants have a clear implication: the displacement of the Christian god, which is said to be an extension of white supremacist oppression, and the restoration of the indigenous gods to their rightful place in the social justice cosmology."
Is all this simply a move to erase Christianity from American culture?
Education or Double Standard?
We're yet to see how the state's Board of Education will vote on the proposed Aztec chants, but should they approve them, the fight will undoubtedly continue in the court system. Even with approval, it could be a long time yet before California schoolchildren are singing songs to Tezcatlipoca.
Still, it's an interesting situation. Many critics say that the lesson, particularly the chanting, is unconstitutional. They point out that other faiths prayers or chants are not welcome in public schools. Does it matter that there are very few genuine believers of the Aztec faith in North America, compared to some 200+ million Christians in the U.S. alone? 
Advocates also say that the curriculum isn't endorsing ancient Aztec religion, it's using it as a framework to unite children, celebrate indigenous cultures and make BIPOC students feel seen.
Bridge building or indoctrination, what do you think?