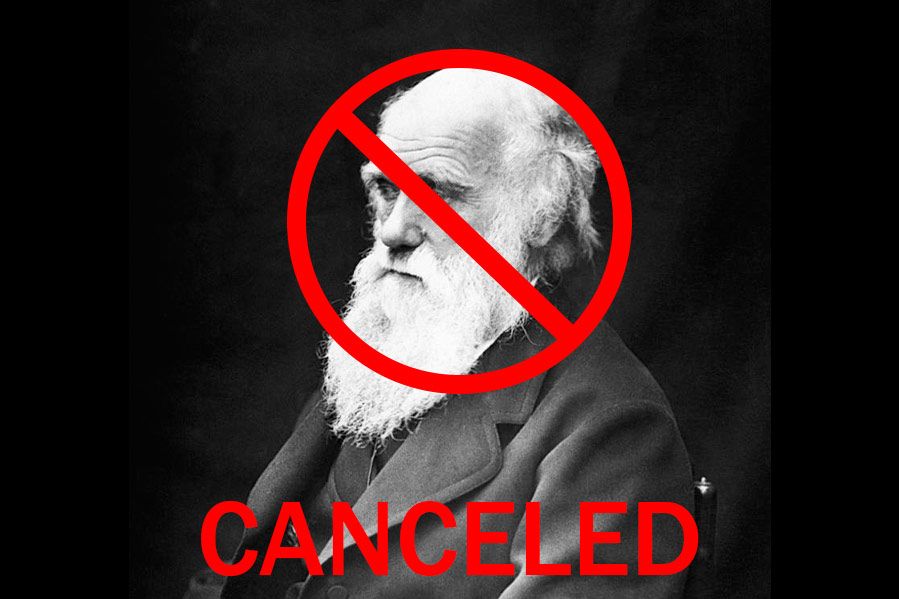 If you're entrenched enough in the internet world, then you've undoubtedly heard about 'cancel culture'. Cancel culture is an online phenomenon that seeks to tear down anyone found to have said or done things deemed problematic or offensive. Targets range from celebrities, to politicians, to influencers, to regular people. It is a form of public shaming fueled by online platforms like Twitter and Facebook, and is in equal parts relished and despised by internet users.
Now one evangelical leader is trying to harness cancel culture for his own purposes: to cancel Charles Darwin.
Dissent Over Darwin
Ken Ham, CEO of Answers in Genesis, is perhaps best known for his life-size Noah's Ark, a tourist attraction and museum in Kentucky. The attraction brought Ham both infamy and praise, as well as an invitation to debate creationism and evolution with Bill Nye the Science Guy.
Ham, an outspoken evangelical who believes the earth is 6,000 years old, is now harnessing the greater cancel culture movement to try and get one of his nemeses scrubbed from science and history books nationwide.
In a blog post, Ham said that Darwin published "some of the most inherently racist material you could read," citing Darwin's influence on Hitler's beliefs and science textbooks that falsely list Caucasians as the highest order in a racial hierarchy.
"Surely that alone should be enough to cause the 'cancel culture' to ban Darwin from libraries, schools, and universities," Ham laments, before suggesting that liberals and academics won't criticize Darwin because he's "like a god to them."
Ham suggests that Darwin's racism should be enough to throw him and his landmark writings on evolution out of schools, universities, and the public consciousness forever.
A Man of His Time, or Irredeemably Racist?
The accusation that Darwin was a racist and helped fuel racist beliefs is not a new one for Ham. He's been pounding this drum for years, including in another Answers in Genesis blog post called "Did Darwin Promote Racism?" 
Ham cites 20th century racists and eugenicists who used so-called biological arguments to justify their racism. Evolutionary biologist Stephen Jay Gould wrote that "biological arguments for racism may have been common before 1859, but they increased by orders of magnitude following the acceptance of evolutionary theory." He also cites Darwin's own words, like his language describing African Pygmies as "savages".
It seems apparent that, like most of his contemporaries, Darwin did have racist beliefs. Notably, he drew distinctions between "civilized" and "savage" races of humans, and said that there are biological differences between races - including mental and emotional capacity. The fact that these beliefs were disturbingly commonplace during Darwin's lifetime doesn't excuse his views, but it does help to explain them.
The underlying question is: do these revelations put a stain on Darwin's theories? Is it time to "cancel" Darwin and remove his "inherently racist dogma" from public schools, as creationist Peter Heck suggests? 
To Cancel or Not to Cancel
But critics ask: what would that accomplish? Just because the man himself was objectionable, doesn't mean his scientific findings are. The case for evolution by natural selection is overwhelming, and "evolution is as firmly established a scientific fact as the roundness of the Earth."
Evolution and natural selection can be observed on scales large and small, and isn't even necessarily at odds with religious belief. The Catholic Church, for example, has been open to evolution for decades, and allows Catholics to believe (or not) in evolution.
Scientists seek knowledge through methods of determining objective truth. Does it really make sense to erase scientific findings just because the person making the discoveries held ugly views?
Nonetheless, the case of Darwin is worth watching as we face a larger cultural reckoning and re-examination of figures from our past. As we've covered recently, activists are tearing down statues of Civil War generals, slave owners, and some even want to topple statues of Jesus.
What do you think – are statues of Darwin next? How should we deal with problematic historical figures?