Noah's Ark has been rebuilt. It stands, of all places, in the rolling green hills of Kentucky.
From an outsider's perspective, it seems a strange idea to construct a gigantic sea vessel in the middle of America's land-locked heartland. But this wasn't some madman's pet project it was carefully planned out by an Australian named Ken Ham. The Ark is part of his brainchild: a giant Christian theme park that will help spread fundamentalist biblical teachings.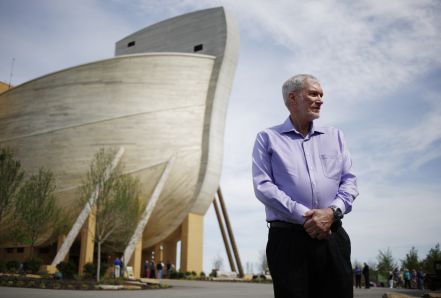 Promoting Creationism
Ken Ham is the founder of "Answers in Genesis", a group that espouses strict creationist views. He believes that the earth is 6,000 years old and that humans lived alongside dinosaurs. After visiting numerous museums, Ham became frustrated that they "were all totally from an evolutionary perspective." That's where he came up with the idea to build his own theme park, complete with a museum dedicated to the creationist perspective.
"I find some of the aggressive secularists try to shut down people talking about the Bible," Ham explains. "So for us it's 'How can we get a message out there about the Bible?'"
His solution: construct a giant Ark. "There are people you couldn't blow into church with a stick of dynamite that will come and visit an ark."
Ark Breakdown
The Ark is built to be an exact replica of the version in the Bible. Standing 51 feet tall and 500 feet long, it holds 120 separate animal pens (though no live animals). It cost over $100 million to build. Notably, the Ark's animal pens also feature dinosaurs. Contrary to evolutionary theory, visitors walking through the exhibits can see a baby stegosaurus alongside pigs and cows.
So far, the theme park has proven incredibly popular. Crowds come from all over to see the massive structure, and caravans of school buses can be spotted heading there for field trips. According to Ham, the Ark is projected to attract a million visitors in its first year.
Expanding the Park
Large as the Ark may be, Ken Ham says his vision extends far beyond the popular exhibit. His team has already launched into a 12-year plan to expand the theme park to hold 80 individual structures. Perhaps the most interesting idea coming down the pipe is a thrill ride styled after the 10 plagues. Riders will experience each of the 10 plagues unleashed on the Egyptians, from swarming locusts to thunderous hailstorms. This much-anticipated attraction is expected to be a hit.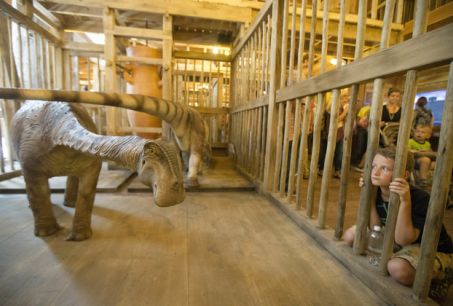 Controversy
As you might imagine, Ken Ham's theme park has also been the source of some controversy.
For starters, the state and local government gave Ham a number of tax breaks and funding deals to lure him into the building the park in Kentucky. Critics say that since it's an evangelical institution with the stated goal of teaching creationism, the state had no business getting involved.
Among the park's opponents is Barry Lynn, an ordained minister who advocates for a separation of church and state. "Why would the state indirectly subsidize a nonsensible alternative to evolution?" he asks. "It's not good science. It's not good anything. It ought to be unacceptable for a state at any level to treat this like one more bond-funded enterprise. Most Christians do not accept this as a literal or natural interpretation of the Bible."
Critics are also concerned about how theme park caters directly to children. Teaching them that dinosaurs and humans walked the earth together might have consequences down the road, they argue; creationist beliefs don't hold much water when you get to college or head out into the "real world".
"Must Be Creationist to Apply"
Although the Ark is expected to create hundreds of jobs for people in the area, it has also faced heavy criticism for excluding potential new hires based on their religion. Indeed, in order to get a job there, employees must sign a formal "statement of faith" attesting to a sincere belief in creationism. In addition, applicants must disavow homosexuality and gay marriage.
**What do you think? Is the Ark a state-sponsored tool for converting non-believers, as opponents assert, or just a unique twist on the traditional American theme park?
**