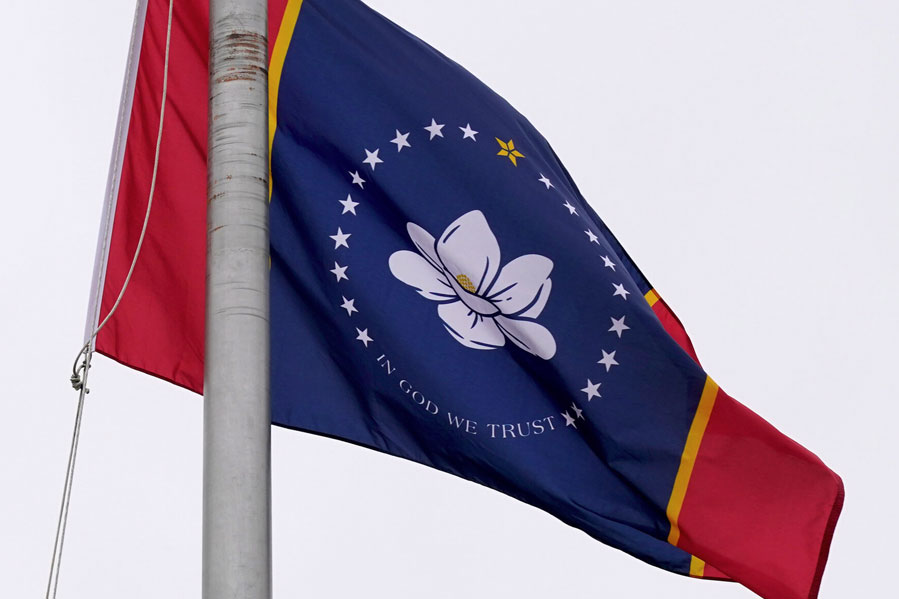 After decades of pressure, Mississippi will finally remove the Confederate battle emblem from its state flag. Mississippi legislators voted late in June to pull the controversial symbol off the flag, and MS Governor Tate Reeves then signed the bill into law. The decision, which some argue should have been made years ago, became much more urgent in the wake of George Floyd's killing and the subsequent protests that have gripped America.
And to the surprise of some, the bill was passed without much opposition from conservative factions in Mississippi. But critics argue that's probably due to what lawmakers have decided will replace the Confederate emblem: the phrase "In God We Trust." 
A Divisive Act of Unity
Mississippi officials apparently decided their new flag design should reflect the religious beliefs held by many state residents.
"It is my personal belief that it is time for us to change our state flag to reflect the love, compassion and conviction of our people," said Mississippi Attorney General Lynn Fitch. "The addition of 'In God We Trust' from our state seal," she said, "is the perfect way to demonstrate to all who we are."
The flag replacement is a bittersweet victory for many atheist activists who strongly supported replacing the Confederate symbol, but object to invoking God in its place. Far from its goal of promoting unity, critics say putting "In God We Trust" on the state flag will only replace one divisive symbol with another.
Mississippi politicians insist that this new religious message will be a unifier for all Mississippians. But will it? According to Pew, 17% of Mississippians don't identify as Christian, with most of this group stating no religious affiliation at all.
Endorsement or Acknowledgment?
The move is also leading to concerns about the separation of church and state. Here's the question some are voicing: by slapping a religious message on the state flag, is Mississippi promoting one form of faith over others?
Hemant Mehta of The Friendly Atheist didn't mince words on the issue, writing: "make no mistake: This is just a new way to inject God into government. It shouldn't be happening."Mehta insists that "besides invoking the history of the Confederacy, the problem with the current flag is that it includes a symbol of exclusion. That's exactly what bringing God into the mix would do. There are citizens who would see that flag, with that phrase, and think, "I'm not welcome here."
But supporters of the new flag insist that "In God We Trust" is not necessarily a religious message. They argue it's more of a unifying phrase signifying a common culture and set of ideals – similar to the reasoning behind keeping it on our currency.
How Did We Get Here?
Not everyone is familiar with the history behind the Mississippi state flag, which is another important aspect of this debate. The confederate symbol was originally added to the flag in 1894 – almost 30 years after the Civil War – a move that many historians frame as a direct retaliation by white supremacist legislators furious that African-Americans had gained a modicum of political power during Reconstruction.
According to Brittanica, even in 1894 many opposed the adoption of the Confederate symbol into the official state flag of Mississippi. But supporters used an excuse we're all too familiar with today: according to them, the Confederate flag represents state pride and Southern heritage, not slavery and racist traditions.
Due to a legal fluke, in 2000 the state Supreme Court ruled that flag which had flown in Mississippi for over a century wasn't actually the official state flag; it had never been formally approved. So in 2001, Mississippi voters re-approved the state flag, complete with the Confederate symbols, over an alternative design that omitted symbols of the Confederacy entirely.
Now the design has finally changed, but it's clear that many remain unhappy with the message conveyed.
What do you think? Should Mississippi be allowed to display religious beliefs on its state flag? Or should the government avoid endorsing specific faiths altogether?