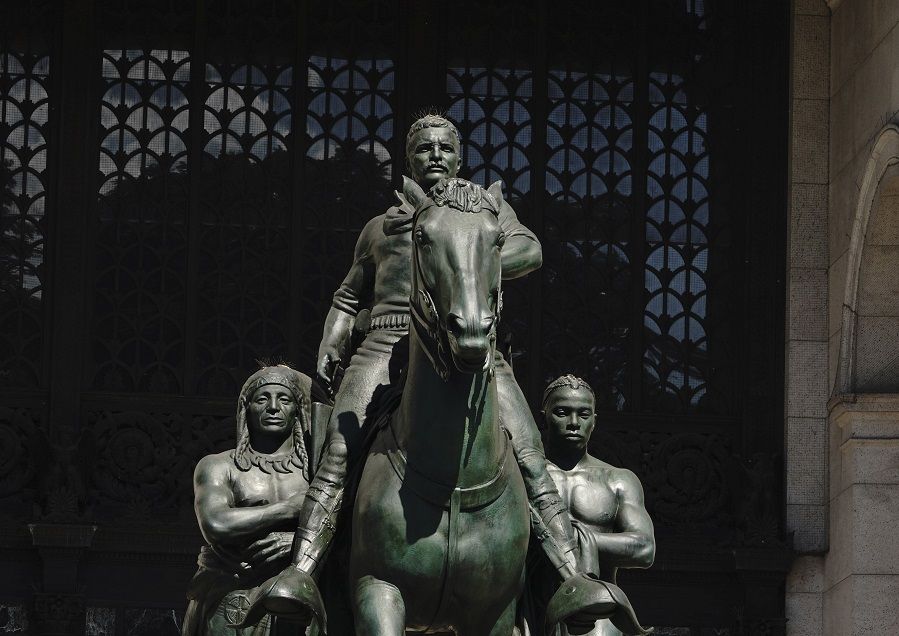 As protesters in cities across America continue to topple statues of Confederate leaders, slave owners, and other historical figures, some are sounding the alarm that things are going too far. Could religious monuments soon become targets? Conservative organizer Matt Schlapp thinks so, and he's warning that "statues of Jesus are next."
Schlapp was roundly criticized for fearmongering. But it seems his prediction wasn't so off base.
Some prominent progressive activists are now saying that Jesus is culpable of upholding white supremacy and thus deserves to come down as well. Writer and organizer Shaun King formalized the call to action in a tweet demanding all statues that depict Jesus as a white European be torn down.
Is Jesus Part of the Problem?
For hundreds of years of Western culture, Jesus has been popularly portrayed as a Caucasian man with fair skin. That's despite the fact that most historical evidence points to Jesus being a much darker skinned person, probably of Middle Eastern descent.
Critics argue that this inaccurate depiction we've adopted is the equivalent of "whitewashing" Jesus, making his appearance more palatable and "pure" to white people. Within that framing, Jesus himself is not the problem – it's the way he is portrayed in so many paintings, sculptures, and statues because it plays into the idea that white skin is superior to darker tones.
But does that mean we should tear down all the statues of Jesus that don't portray him accurately? Or should we come to terms with the fact that historical figures – and the artists that create their likenesses – are complicated.  
To Topple or Not to Topple
That's precisely the same debate playing out on the ground in the United States regarding famous figures in American history. Amid massive protests against racial injustice, people began targeting statues of the Confederacy and removing them by force. But now activists are taking things a step further and focusing on a broader range of monuments – figures who had nothing to do with the Confederate flag.
That's led some to ask: where should we draw the line?
Over the weekend, activists in San Francisco vandalized and toppled a statue of Ulysses S. Grant, the former U.S. president who served as general of the Union Army and led his troops to victory in the Civil War. Their reasoning? Grant once owned a slave (who he later set free).  
Protesters in Portland defaced and tore down a statue of the nation's first president, George Washington, because he was a slaveowner.  
So is that the new standard? Anyone who owned a slave?
Well, not exactly. The American Museum of Natural History has announced it will be removing a statue of former president Teddy Roosevelt which has stood outside the entrance since 1940. Roosevelt never owned slaves (he was five years old when the Emancipation Proclamation was signed) but the statue negatively depicts black and indigenous peoples, the museum explained.
Finding Balance in History
Those who support the removals insist that a true reckoning with the demons of America's past is long overdue. We should stop celebrating men who helped uphold a system built on white supremacy, they argue. Apparently, that also means taking down statues of white Jesus.    
But not everyone is convinced this is the right path. Critics are concerned that this exercise amounts to an arbitrary "purity test" by which small groups of activists – not voters – get to decide which statues are allowed to remain and which aren't.  
They also say it's not fair to judge figures of the past by the standards of today. Critics maintain that if we allow this behavior to continue unchecked, letting the mob "cancel" any historical figure that ever did something wrong, then pretty soon we'll have no statues left.
Where do you stand?