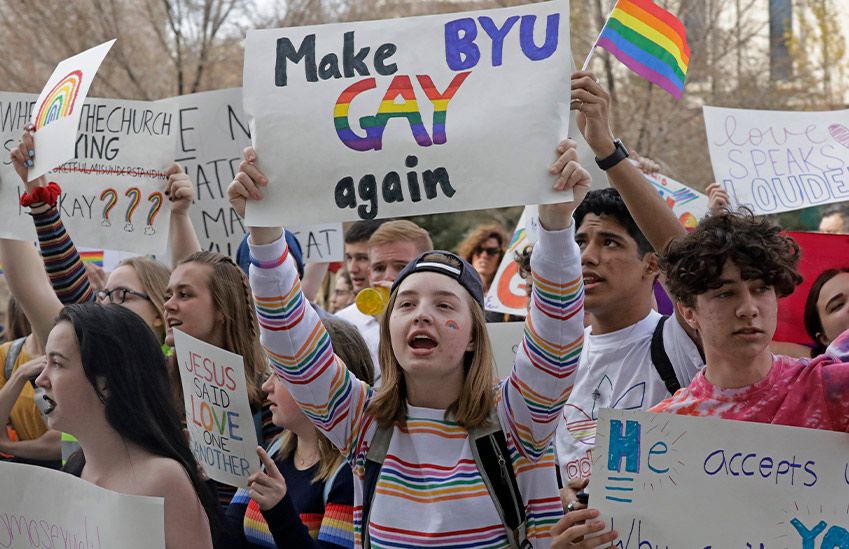 Brigham Young University, the private, Mormon college based in Utah, can't seem to make up its mind on whether or not it will accept LGBTQ students. Their total about-face on whether they will tolerate same sex relationships on campus has many of its LGBTQ students feeling both betrayed and exposed.  
"It was whiplash — total, complete traumatic whiplash."
Those words, spoken by a vulnerable 21-year-old bisexual student Tiauna Lomax, came after her fellow gay classmates celebrated changes to Brigham Young University's Honor Code that removed a clause prohibiting "all forms of physical intimacy that give expression to homosexual feelings" less than a month ago. That meant LGBTQ couples could now hold hands on campus, for example, without fear of retribution. The news emboldened Lomax to come out to her parents, relieved dating women would no longer get her suspended from the private university. "I felt like I had an institution that supported me."
Church Elders 'Clarify' Brief Tolerance
But BYU's tolerance was short-lived.
More recent "clarifications" have since walked back those remarks, flaming on-campus protests and a larger rally in front of the church's headquarters in Salt Lake City, where BYU students chanted: "Let all students date!" while singing Mormon hymns.
Church Educational System Commissioner Elder Paul V. Johnson's statement reasoned as follows: "Same-sex romantic behavior cannot lead to eternal marriage, and is therefore not compatible with the principles of the Honor Code."
Except current and former BYU students had been given the impression that as long as gay couples followed Church chastity rules and didn't have sex outside a heterosexual marriage, they could openly date and show affection on campus.
That is no longer the case.
LGBTQ Students Consider Leaving
The university's run-around means more LGBTQ students might transfer out for good.
Summer Lee-Corry, a 21-year-old queer student who transferred to Utah Valley University last year, insists BYU was no longer "a healthy place" for her, what with fears she'd be reported to the Honor Code Office and punished for maintaining even platonic relationships with other female students. "I've had several friends die by suicide. If I had stayed at BYU, I would have been one of those statistics."
Lee-Corry still attends church, and she's made it a point to insist BYU's attitude toward students like her remains at odds with her Mormon faith.
"What I learned within the Christian religion was that Jesus sat with people who nobody else would sit with. How can we call BYU 'the Lord's University' when I know that Jesus would have been part of our protest, loving and accepting the queer students there?"
While Corry may have a point, the fact is the LDS Church has continued to ostracize the LGBTQ community, even while updating its own General Handbook to encourage "kindness, inclusiveness, love for others, and respect for all human beings" and allowing gay men to serve in senior church roles... on the condition they remain chaste.
Case in point: only this year, the Mormon Church officially severed its century-old relationship with the Scouts BSA, a move many believe had plenty to do with that group's decision to welcome transgender boys, as well as openly gay youth members and adult volunteers, to shore up its own dwindling membership.
What Will BYU Do?
But then, Brigham Young University is a private institution, technically free to enact whatever rules it feels are becoming of its members and in keeping with their faith. That also means its LGBTQ students are free to leave- something that probably won't bode well for a church looking to remain relevant with its far more liberal and progressive youth.
That is the push and pull. Question is, will the LDS Church adapt to a changing society, or double down on its antiquated beliefs?