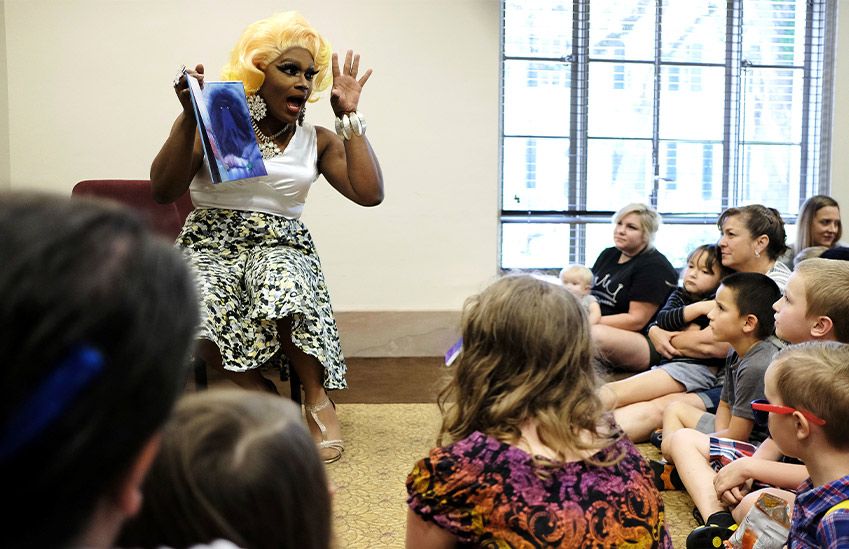 If you thought you'd heard the last of the wildly controversial Drag Queen Story Hour (DQSH), you thought wrong. Drag Queen Story Hour, equal parts celebrated and condemned, has now come to Minnesota, and some legislators in the Gopher State aren't taking too kindly to it.
Five Minnesota Republicans are going so far as to propose a bill that would slash all government aid to public libraries that host Drag Queen Story Hour, which were conceived to provide young children more positive LGBTQ role models in a fun and wholesome environment.
The response from the public was not exactly what the legislators had in mind.
"All five of us immediately began receiving hate email which continued throughout the evening and all night long," reported Eric Lucero, one of the bill's sponsors. His post on Facebook drew hundreds of comments pro and con, with many outraged that, in the midst of a pandemic, their legislators were focused on defunding libraries for letting drag queens read to children.
Still, they had plenty of defenders. One commenter stated, "Stand your ground!! Be like PRESIDENT TRUMP!!! Shrug it off. There are more on your side . Please every Christian STAND UP!!!!"
A Global Phenomenon
DQSH began as a small operation in San Francisco that has since ballooned into a global phenomenon, with well over one hundred events every year.
Turns out, kids love being read to by these sparkly and often larger-than-life characters that will take children age 3 through 8 through a riveting 45 minutes of storytelling, sing-alongs, dress-up time, face-painting and other arts and crafts. Many parents, for their part, really seem to love the idea of showing their kids that it's okay to be different.
And yet these same events have drawn protestors - mostly evangelical Christians - who denounce them as inappropriate, hyper-sexualized and unnecessarily promoting homosexual lifestyles that ultimately lead children astray from the Bible's teachings.
Some have even taken their objections to the courthouse. A group in Texas called "Christ Followers" actually sued the city of Houston for allowing DQSH in their local library under the basis that the event violated their religious freedom - although, it should be noted, nobody forced them or their children to attend.
A federal judge ultimately dismissed their suit.
The Fight Never Ends
The battle continues, and Minnesota Republican Rep Mary Franson is on the front line. She had made it clear that she is most certainly not in favor of DQSH. She claimed that it's "outrageous" that "publicly funded institutions would put on such programming."
Does she have a point? Videos have emerged of some of these events, and while reading to kids is one thing, risqué dancing is another.
While this behavior is an outlier, it drew swift condemnation from commenters, who called it everything from "sick" to "demonic". One suggested that "The FBI seriously needs to check the hard drive of everyone in that room right now."
Still, the proposed anti-DQSH bill will likely be dead on arrival in the Democratically-controlled House, which has critics dismissing it as a minor publicity stunt.
But these sorts of political stunts can also undo what proponents argue is an innocent, feel-good and highly successful initiative designed to create a kinder world for everyone, and to show how easy it is for all of us to get along.
However, is there a line for these type of events? Can things get a little out of hand, even with the best of intentions?
What do you think? Do the Republican Representatives have a point? Or should public libraries have the freedom to hold whatever events they choose?