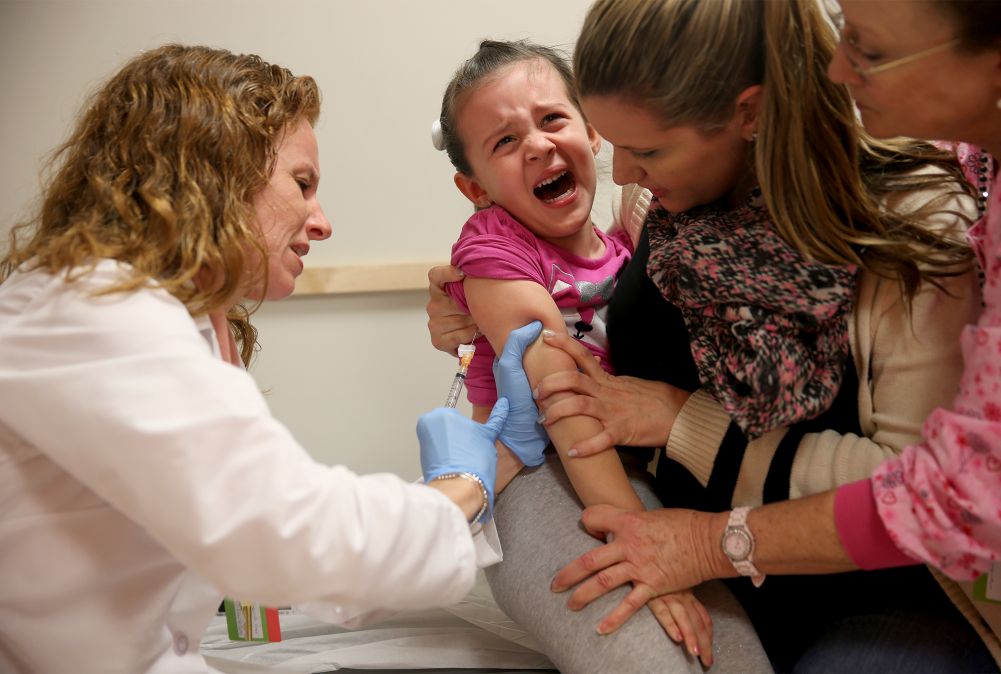 ---
According to a recent study by the American Academy of Pediatricians, more parents are refusing to vaccinate their kids than ever before. Although there is a consensus from medical experts on the benefits of vaccines, many parents have become suspicious of them.
Kristen O'Meara was one of those parents for years, she was staunchly against vaccines. Before her kids were born, she did lots of research about them online. The Chicago mother, like many other concerned parents, came to the conclusion that vaccines actually do more harm than good. Acting on her beliefs, she didn't allow her children to be vaccinated.
The Wake-Up Call
Then, everything changed. The wake-up call came when her three kids suddenly contracted Rotavirus, an acute stomach virus that can be deadly in certain cases. Fortunately, outbreaks are quite uncommon in developed countries because we have a vaccine to prevent them. Of course, O'Meara's children never got the vaccine before long, both she and her husband had also contracted Rotavirus. O'Meara slowly came to frightening realization: by refusing to vaccinate her children, she ended up putting the entire family in danger.
Regret
O'Meara recalled experiencing the first flickers of doubt and regret as she listened to her young daughters cry out while doubled over in pain. As the disease ran its course over a span of three excruciating weeks, she began to feel overwhelming guilt.
Before the disease struck, O'Meara admitted that she "secretly felt superior to others" for refusing to vaccinate. She looked down on other parents for being blind, uninformed, and "just sheep following the herd". She confessed thinking to herself, "let someone else take on the risks of vaccinating". Looking back, she concedes, this viewpoint was "very selfish".
Call to Action
And now, O'Meara has decided to speak out, encouraging anti-vax parents everywhere to rethink their stances. She encourages others to look past the "intentional bias of the anti-vax reports" and let go of their fear about vaccines. No matter your stance on this issue, it takes courage for someone to come forward in front of the national media and admit that they made a mistake.
Jenny McCarthy
Of course, plenty of people remain unconvinced that vaccines are completely safe. For years, former Playboy model and actress Jenny McCarthy has led an anti-vaccine crusade. She first began speaking out after her son was diagnosed with autism in 2007. McCarthy started promoting the idea that the mercury in vaccines causes autism and it quickly took hold. However, numerous studies concluded that there is little evidence linking vaccines and autism. After much public backlash, McCarthy's wounded reputation took another hit when she lost her coveted position on The View due to her anti-vaccine stance.
The Anti-Vax Argument
Aside from the autism link, those opposed to vaccines provide several additional arguments to support their case. They insist that the plethora of vaccines which doctors recommend can overwhelm a child's immune system thus putting them at risk. They also advocate for "natural" immunity, a theory that the immune system will become stronger if allowed to fight off diseases instead of being vaccinated against them entirely. The medical community has repeatedly dismissed these arguments, but rising vaccine refusal rates indicate that many parents find them convincing.
Religious Exemptions
The issue gets increasingly muddled when religious objections are introduced. In 47 states, it is legal to refuse vaccination on religious grounds. However, none of the major religions profess formal anti-vaccination stances (although certain independent sects have differing views). As such, most religious organizations - ULC included - do not provide exemptions to their members. Interestingly, studies show that religious exemptions are most commonly sought by people whose objections are philosophical in nature, not religious. It seems that many people see claiming a religious exemption as the easiest way to work around vaccination laws.
Herd Immunity
One of the primary arguments made by vaccine supports revolves around the concept of "herd immunity". This applies when a majority of people become immune to a particular contagious disease, thus preventing it from spreading throughout the population. It is, by far, the most effective method for preventing large outbreaks of disease. Vaccines provide herd immunity but only if people agree to get vaccinated. By refusing to do so, those opposed to vaccines are endangering more than just themselves.
Negative Side Effects
However, vaccines are not a cure-all solution. Sometimes, they can fail. A person may think they are protected, when in fact the immunization did not work. There are also unintended side-effects. While these are generally mild, some people can have severe reactions to vaccines. In that sense, those who oppose them may have a legitimate gripe pro-vaccination arguments often gloss over these downsides.
Takeaways
Opponents believe that vaccines are harmful. Advocates point out that the consequences of not getting vaccinated can be much worse. Ultimately, this issue may come down to a question of responsibility. As citizens of a larger community, should we be looking out for ourselves, or are we responsible for the safety of those around us, too?
Where do you stand on the issue of vaccines? Do parents have a right to refuse vaccinations for their kids?