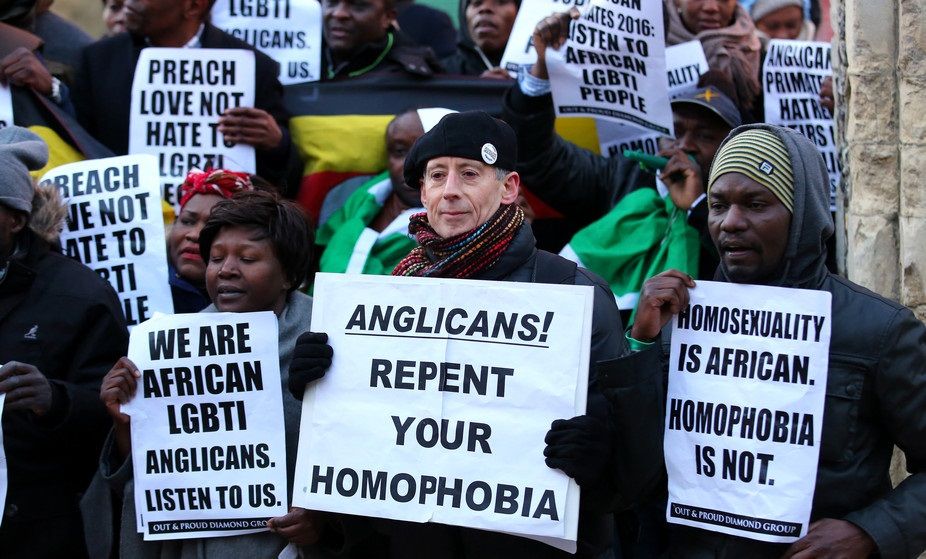 ---
"Hate has no place in the house of God" - Desmond Tutu
In early 2015, the Episcopal Church (the U.S. branch of the Anglican Church) voted to formally allow same-sex marriage. Few were happier to hear the news than Gene Robinson, a man who knows firsthand how difficult it can be to navigate life as a gay member of the church. Back in 2003, Robinson famously became the first openly gay Episcopal Bishop. His election was not without controversy many of his fellow clergy members voiced fanatical opposition. To make matters worse, Robinson reportedly received death threats and was forced to wear a bulletproof vest in public.
Criticism
This latest decision by the Episcopal Church to permit gay marriage has been highly criticized by other branches of the Anglican Church. Although the response has been relatively peaceful in nature, it has not been without drama. In an unprecedented move, Anglican Church leaders publicly reprimanded the Episcopal Church and suspended its voting rights for three years. This means the Episcopalians will have no say in any decisions regarding Anglican doctrine until at least 2018.
There was also clear pressure on the Episcopal Church to offer an apology for their stance. However, representatives of the church were unwavering in their defense of same-sex marriage and refused to apologize. The now-retired Gene Robinson expressed his sincere appreciation: "thanks for not throwing us under the bus the LGBT community as well as the Episcopal Church, we're proud of you."
An Ongoing Question
This ordeal exposed an existing divide within the larger Anglican Church. Many Anglicans see a fundamental contradiction between traditional Christians beliefs and homosexuality. Due to this belief, most member churches are vehemently opposed to same-sex marriage. However, recent events show that not all branches are in agreement. Just this past summer, the Anglican Church of Canada voted to endorse same-sex marriage.
Passionate feelings on both sides of this argument have generated much hostility, and a compromise seems unlikely anytime soon. Church leadership is in a bind - how can they hope to remain unified if they're unable to come to a meaningful solution?
Traditional Attitudes in African Countries
Conflicting opinions over gay marriage have also arisen among Anglicans in Africa, where societal attitudes toward homosexuality are far less progressive. Although feelings there are slowly changing, gay marriage still enjoys little public support. This dynamic was reflected at a meeting of the Anglican Church of Southern Africa (ACSA), an organization which includes Anglicans from Angola, Lesotho, Mozambique, Namibia, Swaziland, Saint Helena, and South Africa. A proposed rule change would have allowed priests to bless same-sex unions, but it was soundly rejected by voting members.
Despite losing the vote, supporters expressed optimism for the future. This was the first time gay marriage had been seriously debated by the church - and will likely not be the last. They see the tide being in their favor, and when the topic of same-sex marriage comes up again, supporters predict that more people will rally to the cause.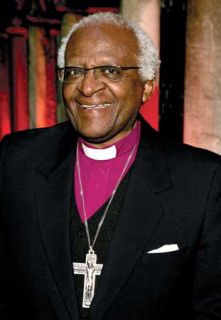 Desmond Tutu
Among those most disappointed by the outcome of the vote was Desmond Tutu. The famous South African social rights activist and retired Anglican bishop is renowned for the role he played in the fight against apartheid. Less-known, however, is his continued defense of gay rights in South Africa, in the Anglican Church, and around the world. Out of all the ACSA member countries, Tutu's South Africa is the only one that legally permits same-sex marriage.
Demonstrating his strong feelings on this issue, the former bishop once famously said: "I would refuse to go to a homophobic heaven. No, I would say sorry, I mean I would much rather go to the other place. I would not worship a God who is homophobic and that is how deeply I feel about this. I am as passionate about this campaign as I ever was about apartheid. For me, it is at the same level."
Tutu helped create the Harvey Milk Foundation, an organization that supports LGBTQ rights around the world. He also strongly supports allowing gay and lesbian priests, an issue which has touched him personally. When his daughter - an Anglican priest - married a woman earlier this year, Tutu gave the couple his blessing. However, in accordance with Anglican rules, the marriage resulted in a loss of her priesthood.
Addressing the Issue
To refocus on the bigger picture: one obvious takeaway is that the vocal movement in favor of gay marriage has has grown in strength around the world. Whereas before they could simply ignore the issue, many religious groups that oppose same-sex marriage are now being forced address it. Aided by social media and the information age, the vocal movements championing inclusivity have dramatically expanded their reach and put pressure on church leadership to respond to their demands.
Role of the Church
In many places around the world, being gay is still looked down upon by society. In certain countries, it's forbidden by law. Critics point out that much of this animosity toward homosexuality is fueled by traditional religious views. Given the prominent role religion plays in many people's lives, some think the church alone may have the power to change attitudes. Supporters of gay rights argue that religious groups have an obligation to preach compassion and understanding to counter the existing distrust and hate.
According to come studies, doing so may actually be in the church's interest. Declining church attendance numbers show that we are living in a changing world, and it's no secret that the church needs to find new ways to reach out to people. If it hopes to grow its future membership, the church could benefit from taking a more inclusive stance toward gay and lesbian people. What do you think? Should religious groups continue to stick by their deeply held principles, or must they learn to accept people regardless of their sexual orientation?