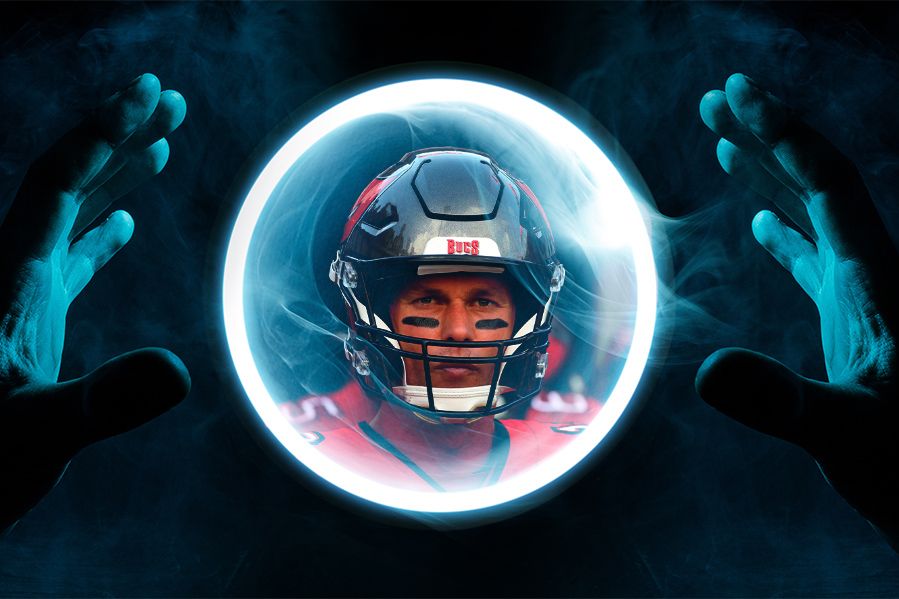 It's football season, which means another year of future-hall-of-fame quarterback Tom Brady defying the natural laws of the universe as he continues throwing touchdown passes at the age of 45.
But could his remarkable success be soon coming to an end? 
A group of witches on TikTok say that NFL legend Tom Brady's career is about to take a nosedive for a very strange reason: spellcraft. Or, more accurately, lack thereof.
Lost? Don't worry, we'll unpack this.
While the theory sounds far-fetched on the surface, believers say they've got the receipts to prove it.
Spelling it Out
Brady is in the midst of a messy divorce from his supermodel wife, Gisele Bundchen. But many people believe Gisele had been casting protective spells on Brady while they were married. 
The theory has taken WitchTok by storm, as hundreds of witches speculate that Brady is now in a weakened state now that Gisele – who they say is a witch – is no longer performing all manner of performance-enhancing spells.
"A lot of people may not know this, but Gisele is a witch," TikTok user readbykelvey says in a video laying out the whole wild theory. "And [Tom Brady] attributes a lot of his success to her spellwork."
https://www.tiktok.com/@readbykelvey/video/7147730159511014699
She's not wrong. Brady's been vocal in the past about Gisele's pre-game rituals, including creating an altar for him, utilizing healing stones, and chanting mantras.
"I have these little special stones and healing stones and protection stones and she has me wear a necklace and take these drops she makes and say all these mantras," Brady explained. 
He said he found it all a bit weird at first. But when Gisele accurately predicted Brady's Super Bowl wins in 2015 and 2017, he accepted that, perhaps, she has some sort of power he simply didn't understand.
"At first, I was like, 'this is kind of crazy,'" he said about her pregame rituals, but, he says, "I stopped questioning her a long time ago."
"You're lucky you married a witch," Gisele told Brady after the Patriots' victory over the Rams in Super Bowl LIII.
But all that's gone now. With divorce lawyers hired, Tom Brady's now without any protective magic he might have been receiving from Gisele. 
Gisele the Good Witch
Was the source of Tom Brady's power actually magic all along?
As the TikTok theory goes, in exchange for Gisele's performance-enhancing spellwork, Brady promised to retire at age 45 (the tarot card number associated with positive life changes) to focus on their family.
But when he betrayed that vow by returning to the NFL after a brief 40-day retirement, Gisele knew where his heart's desire lay (40 is supposedly the tarot card number that shows our heart's truest desires). 
With Gisele now refusing to use her powers, Brady's alarmingly gaunt appearance at a press conference last month shows his true form when not enhanced by Gisele's spellwork, believers say.
The witches of TikTok predict that Brady will completely fizzle this season without Gisele magically protecting him from the sidelines.
But it could have been worse for Brady, some say. Gisele is reportedly a white witch, meaning she doesn't cast hexes.
Some might recall that back in 2020, a group of witches hexing President Donald Trump 'round the clock took credit when he was diagnosed with COVID-19. 
Those close to Brady are hopeful he won't suffer a similar fate. 
What is your reaction?