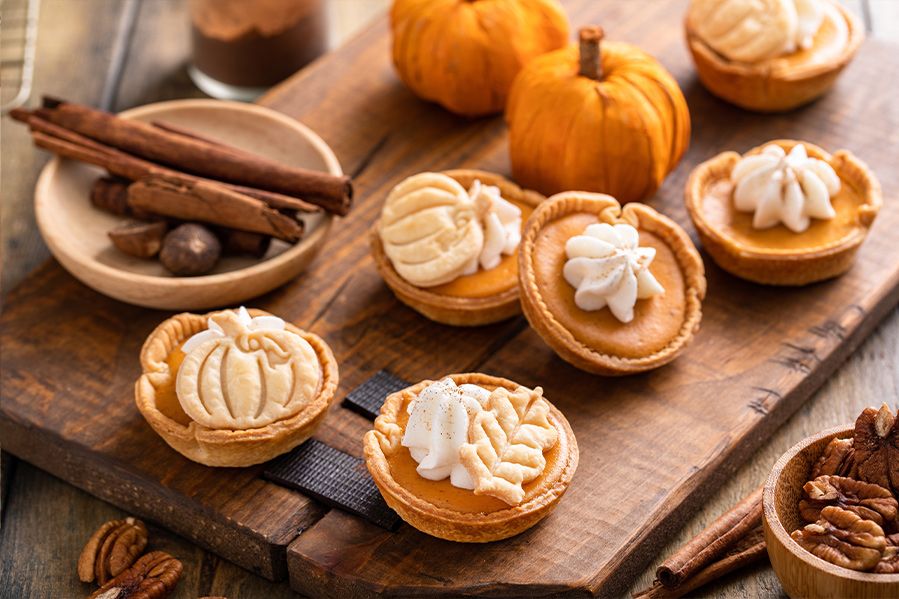 One of the biggest trends in weddings is to completely personalize the ceremony from start to finish. Couples are throwing out rituals that have no meaning, are outdated or are just too expensive. There's no reason to do something simply because your parents, grandparents or best friends did. Take advantage of these fall wedding trends to customize your special day.
Fall Dessert Table Instead of a Wedding Cake 
The average price of a wedding cake ranges between $3.00 to $8.50 per guest. Spending $500 or more on a work of art that often goes uneaten seems wasteful. Fall is the perfect season for rich, indulgent desserts, so instead of a cake, go with a dessert table filled with apple and pumpkin pies, decadent donuts, cheesecakes and spiced cookies. Your guests will appreciate having a choice, and you can pay for desserts you actually want to eat.
No-Flight Destination Weddings 
Destination weddings are on trend any season. One of the best fall wedding trends is taking advantage of unique locations that offer a beautiful natural backdrop. Instead of asking guests to travel overseas for a destination wedding, many couples are choosing venues within driving distance that offer a special place for the ceremony.
Local, Sustainable, Practical Favors 
Wedding favors are a staple at wedding receptions as a way to say thank you to your guests for coming to your party. Unfortunately, many of them end up collecting dust in someone's closet, while the rest never even make it home. Couples are taking notice and giving more practical favors, such as local artisan foods. For fall, you can often find fresh-grown produce that your guests can take home with them for a nice snack. Local apples or pears make great wedding favors that are eco-friendly and fun.
Simplified Invitations 
Wedding invitations often have multiple enclosures with RSVP cards, destination information and registry cards. Couples are simplifying the process through technology, using a postcard to send out the invitation and including a QR code or website where guests can get all the information they need to RSVP and get to the wedding. You may still have to chase down those who don't RSVP, but technology can't solve every problem.
Sustainable Floral Options 
More wedding couples are finding ways to be green when hosting their wedding. Imported flowers aren't only expensive, but they also have a high carbon footprint. Choose locally grown flowers to save money and the environment. Use potted flowers for table decorations. You can put them on your patio or in your own garden after the wedding as a reminder of your special day. Dried flowers are also making their way into weddings as part of fall wedding trends.
Fall-Themed Rehearsal Dinners 
The rehearsal dinner is a nice way to kick off your wedding weekend. You don't need to go all out with the rehearsal dinner, but you can use the colors and flavors of autumn to host a relaxing meal that sets the stage for a fun wedding. Welcome guests with fresh apple cider and warm butternut squash soup appetizers. Select a few cocktails with an autumn flair, such as Irish coffee, hot toddies, pomegranate or pumpkin martinis and mulled wine. Use pumpkins and colored leaves for table decorations. Serve comfort foods, like mac and cheese, pot roast or a spicy curry, for the main course.
Fall Wedding Trends Make Your Wedding Special 
Using the season as a backdrop for your wedding opens the door to natural decorations and flavors that resonate with your guests. Invite autumn to your ceremony by incorporating all the things you love about fall. There are so many possibilities that set the stage for a beautiful, memorable day.