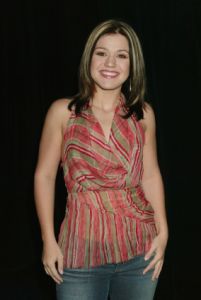 Award-winning pop country singer Kelly Clarkson has announced that fellow country star Blake Shelton will perform a wedding after Shelton's manager, Brandon Blackstock, proposed to her. Cosmopolitan has suggested that Shelton will use an online ordination with the ULC Monastery to officiate the wedding in a recent article.
Clarkson revealed the wedding plans on Sunday, 7 April at the 48th annual Academy of Country Music Awards. The American Idol winner told Entertainment Tonight that "[h]e's not only singing," at the wedding reception, "but he's marrying us," adding that "he's done it before with people." She announced her engagement to Blackstone on Twitter back in December, writing with quintessentially rustic warmth, "I wanted y'all to know!! Happiest night of my life last night! I am so lucky and am with the greatest man ever."
The backstory has a traditionalist, chivalrous "kick-in-the-pants" quality that will make some sigh and others shift uncomfortably in their seats. According to The New York Daily News, Shelton said that he didn't become an ordained minister so he could watch Blackstone miss his chance to "snatch up" the girl: "I told Brandon, man, you need to grow up and figure out that you need to marry this girl I am going on the record saying, I will do the music at the wedding or whatever you want to do, I'll be that guy. I will play for four hours if I have to, 'cause you need to get your head out of your ass and ask that girl to marry you." Whatever one thinks of chivalry, the country chanteuse does appear to adore her fiancé.
There has been some speculation on the precise method Shelton will employ to wed the bride and groom. Some media sources suggest that the best-selling singer and singing coach on The Voice will become an ordained minister online through the Universal Life Church, following in the footsteps of other celebrity ministers like Conan O'Brien, Kathy Griffin, and Fran Drescher. It is not a farfetched possibility, since he has served as celebrity wedding officiant before and will be doing so again at the wedding of a bandmate of his wife, Miranda Lambert of The Pistol Annies.
Whether or not the Rev. Shelton decides to marry Clarkson and Blackstock using a ULC ordination credential, it is pleasing to see the practice of online ordination gain more acceptance through many influences, including Hollywood and popular music. We at the Universal Life Church Monastery wish the very best for the bride and groom in their future life together, and for Shelton in what appears to be a blossoming career as wedding minister.
Sources:
Cosmopolitan
The Los Angeles Times
The New York Daily News