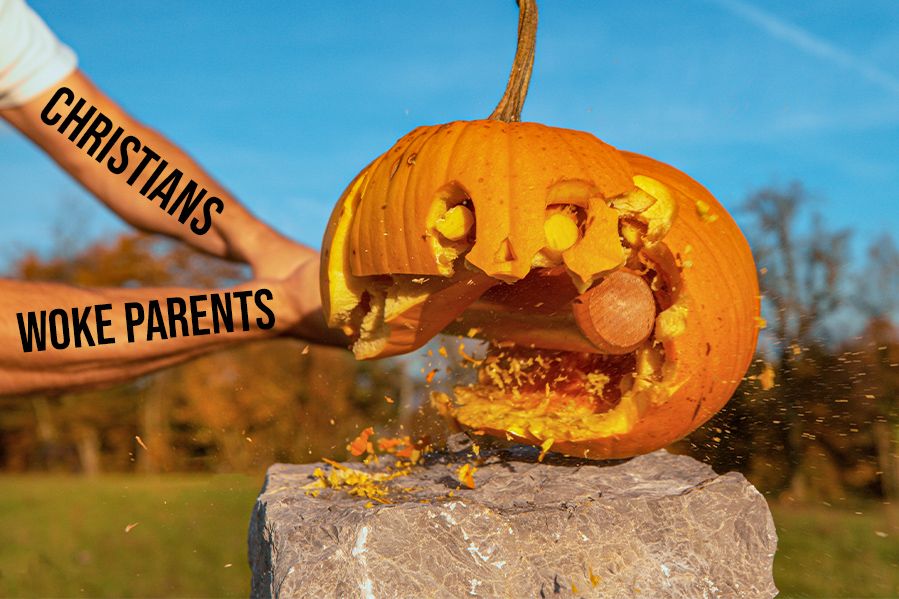 First, there was the War on Christmas. Then came the War on Thanksgiving.
Now, the stage is set for a spooky new holiday battle: Halloween. 
Notably, the clash is marked by an unlikely alliance between religious activists and progressive parents who are both determined to end Halloween celebrations – although for different reasons. 
Welcome to the War on Halloween.
Time to Cancel Halloween?
The state of Pennsylvania is home to some of history's most hallowed battle sites. And Montgomery County appears to be continuing that tradition.
The Lower Merion School District in Montgomery County, Pennsylvania recently announced that its annual school Halloween parade – a tradition that goes back at least 50 years – is over.
Parents received letters in the mail on October 7th informing them that the parades at all six of the district's elementary schools are canceled due to concerns that the parade is simply not inclusive enough.
"First, there are concerns for the safety and security of students parading outside among a crowd of unscreened adults on our field," explained the director of school and community relations.
"Another [reason for canceling the parade] is the lack of inclusivity of students whose families do not celebrate Halloween for religious or cultural reasons."
Parents Fume
Parents, many of whom experienced the very same parade when they were kids, did not take kindly to the news.
"I feel like it's just crossing the line, and where does it end?" pondered Linda Joseph, a parent in the school district. "So, next people are going to be offended by pumpkins? So we're going to take away pumpkins or jack-o-lanterns or pumpkin carving?"
"Will they be canceling recess? School sports - soccer, baseball, lacrosse, etc. What about kids who don't make those teams?" asked Linda Fox, another local parent. "Are they no longer inclusive?"
A Growing Movement
The incident mirrors similar incidents of schools canceling or suspending Halloween celebrations out of concern that they leave some students feeling excluded and risk spreading cultural appropriation, among other things.
Last year, a Seattle elementary school canceled its own Halloween parade after parents and administrators decided it wasn't inclusive enough.
"Historically, the Pumpkin Parade marginalizes students of color who do not celebrate the holiday," explained a Seattle Public Schools spokeswoman at the time. "In alliance with SPS's unwavering commitment to students of color, specifically African American males, the staff is committed to supplanting the Pumpkin Parade with more inclusive and educational opportunities during the school day." 
Citing a lack of actual complaints about Halloween, critics have argued that canceling the celebrations for fear of causing offense is a good example of administrators looking for solutions to a problem that doesn't really exist.
But interestingly, this new breed of Halloween critic has a very unlikely ally in the fight to cancel Halloween: conservative Christians.
Trick or Treat
Certain faith leaders have long condemned Halloween as a celebration of the occult and a distraction from Jesus' teachings.
But this year has brought renewed fears from some parents who argue that Halloween is an unholy Pagan celebration that might claim your child's very soul
"Please ask yourself if not only your mind but your children's minds are strong enough to ward off the hypnotization and bewitching trance that will be coming through the screen to aid in the desensitization of the coming evil in this world," warned concerned mother Jamie Gooch in a Facebook post that went viral earlier this month. "Don't fall victim to the schemes of hell."
The movie entrancing children into a Satanic lifestyle? The new Disney Plus release 'Hocus Pocus 2'.
At first glance, one might mistake this theory for the plot of a B-level horror movie. A sinister force corrupting children through the warming glow of the television?
But the threat is real, insists Gooch – and many of her fellow believers are echoing the warning. 
What Comes Next for Halloween?
The holiday remains beloved by children (and adults) everywhere, but these rumblings of reform leave the future of spooky season in doubt.
Wiccan and pagan groups have long criticized the way that Halloween has been commercialized and divorced from its true history. 
And now we have religious conservatives and progressive activists aligning against the holiday? Two groups that rarely agree on anything, and yet here they are, agreeing that Halloween oughta make like a witch's spell and disappear. 
Regardless of the reasoning, the calls to change – or cancel – Halloween appear to be growing louder. 
Should that worry Halloween enthusiasts? Where do you stand on the matter?