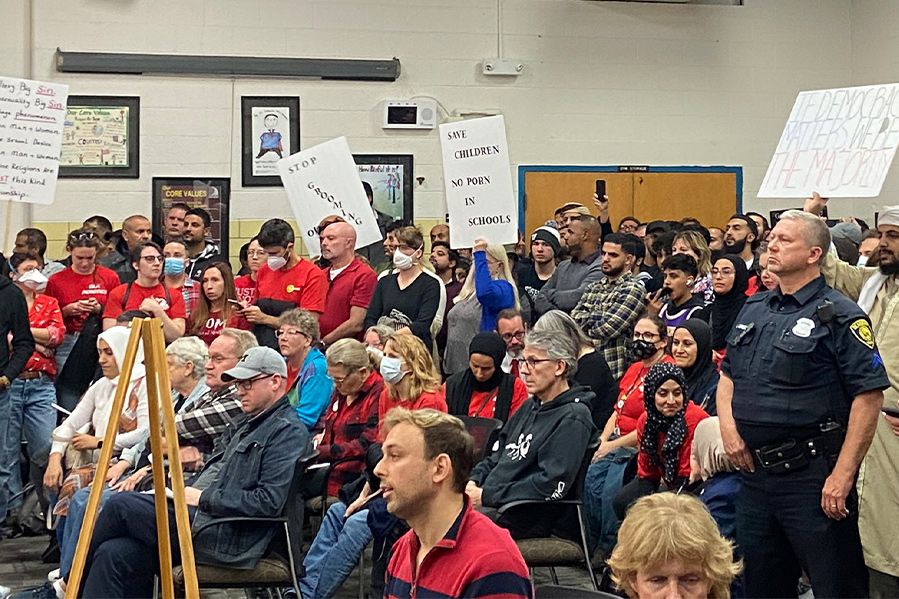 A school board meeting in Dearborn, Michigan was suspended after hundreds of protesters flooded the meeting space demanding that LGBTQ books be removed from school libraries.
The October 10th school board meeting in Dearborn is just the latest front in a growing war between school librarians and concerned parents over "pornographic" LGBTQ-adjacent content available to kids in libraries.
A bit of background:
In the last few years, the war on "inappropriate" books in school has escalated from attempted book bans, to burning the offending books, to towns defunding and closing their libraries entirely.
The movement, largely spearheaded by evangelical Christians, has a familiar mantra at its core: Think of the children. Examples of the content parents have objected to include cartoon mouse nudity and reading events featuring drag queens.
Now, it would seem a valuable new ally has joined the evangelicals in their crusade to keep anything even remotely gay out of our nation's library halls: conservative Muslims.
Not Your Average School Board Meeting
The October 10th school board meeting in Dearborn was a raucous event that quickly descended into chaos. The meeting was held to discuss books deemed "sexually explicit" by some community members, but an alliance of Dearborn's concerned Christian and Muslim communities flooded the meeting hall, resulting in the board ultimately suspending the meeting. 
Interestingly, it was Dearborn's Christian community that first raised alarms about LGBTQ books in schools, following a parental complaint about the school library's book selection – a complaint that ultimately led to seven books being temporarily pulled out of circulation while the school reviewed their content.
But once Christians got local Muslims on board, they had an army of upset parents. Nearly half of Dearborn's residents are Arab American, a considerable portion of which practice the Muslim faith.
And for weeks, Muslim leaders in the Dearborn community were urging their congregations to attend the meeting to make their voices heard. As one local Imam stated, "some of those books are completely inappropriate for our children to read. Some of those books promote pornography. Some of them promote homosexuality. We don't need this."
That all resulted in a meeting packed so full that a police presence was required. Hundreds of protesters showed up with signs reading "Keep your porno books to yourself" and "Stop grooming our kids".
The oversized and worked-up crowd quickly turned chaotic, with many shouting accusations towards and threatening to vote out the school board members. Soon after, board chair Roxanne McDonald ended the meeting, arguing that the large number of protesters were violating the building's fire code.
Not the Final Chapter
The meeting's been rescheduled to a larger space, and the board says they're committed to hearing all the complaints. 
But, they say, they've introduced a new formal policy for challenging books in the school library. They say that parents can block their children from checking out whichever books they'd like, or block them from using the school library entirely. \
There's also a book-challenging process that parents can use, resulting in five district specialists independently examining the text and ruling on whether the book is age appropriate.
Parents can now block their kids from checking whichever books they want, or from even setting foot in the library altogether.
The big question remains: will that be the end of it? Clearly, some members of the community think such measures aren't enough.
What is your reaction? Should concerned parents have the right to get books banned from school libraries entirely?