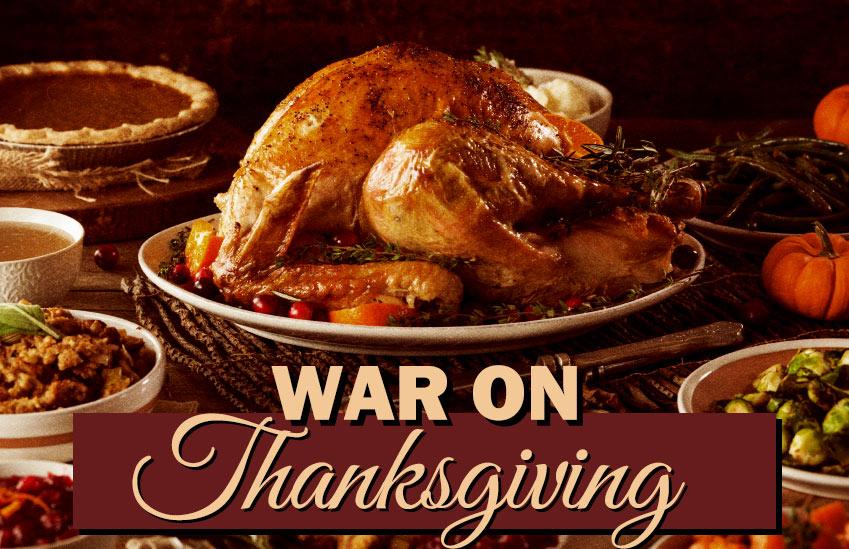 ---
You've heard of the "War on Christmas," but this year the battle has apparently opened up a second front. That's right: the "War on Thanksgiving" has begun.
The War on Thanksgiving unofficially began earlier this November, when Huffington Post published an article titled 'The Environmental Impact Of Your Thanksgiving Dinner'. While the article explicitly states that "no one should be discouraged from enjoying the holiday or celebrating with family and friends", it does imply that Thanksgiving is a giant recipe for carbon pollution. To help offset the impact of the holiday festivities, the author provides a number of eco-friendly alternatives to reduce your carbon footprint.
Notably, the article suggests swapping out the conventional turkey (which creates 34.2 pounds of CO2) with plant-based alternatives, like brussel sprouts or mushrooms. The author quotes eco-experts who suggest sourcing ingredients locally and considering the impact of your holiday travel on the environment.
While this does arguably put a damper on the Thanksgiving holiday, there is one silver lining: pumpkins have a relatively small carbon footprint, so we can all safely have a second piece of pumpkin pie.
Defenders, Man Your Stations
To the surprise of absolutely nobody, the suggestion of forgoing normal Thanksgiving delights did not sit well with ardent holiday loyalists; it wasn't long before outlets like Fox News picked up the story and ran with it.
"Cancel culture has turned on the holiday," began Fox News host Todd Piro in one segment, backed by a massive "WAR ON THANKSGIVING" graphic. "The Huffington Post is seriously suggesting Americans skip spending time with family, instead foregoing travel to save our planet" finished his co-host.
"All joking aside," Piro continued, "I got viscerally angry because this is the latest attempt to tear down an American tradition that was fine and didn't need any help."
Piro wasn't the only Fox News personality upset about the Huffington Post piece. Popular personality Tucker Carlson took issue with the article as well, insisting that "the left isn't just demanding you give up steak dinners and plastic straws. Now [they're] demanding you cancel Thanksgiving dinner, too."
And host Jesse Watters seemed to take the article as a personal challenge. "They want to fight a War on Thanksgiving? They lost the War on Christmas. They want to fight again? I helped win the War on Christmas. Come at me guys!"
Twitter users were quick to mock the Fox News hosts for expressing outrage - especially given their penchant for calling out so-called "snowflakes" who take offense at perceived minor grievances. 
But is it possible these Thanksgiving defenders have a point? Does embracing progressive sensibilities risk undermining the traditions of our favorite holidays? 
Exorcising Past Demons
Last Sunday, church leadership and the congregation of Plymouth Congregational Church in Minneapolis, Minnesota voted to remove a Thanksgiving embroidery entitled "Churchmen in the New World." The embroidery depicts Pilgrims and Native Americans at the first Thanksgiving table, along with slaves and a slave ship. These images, according to those who voted to remove the embroidery, are part of a harmful origin myth for Thanksgiving that romanticizes early settlers while glossing over later decimation of Native American tribes:
But even at this progressive church, members were divided over how to handle the display. The embroidery, which has hung in the church since 1974, was created by a beloved group of local churchwomen called the Needlers.
Some people were in favor of the vote, believing it was correct to remove any imagery that might be considered offensive. But long-time congregants like Bob Carr see it differently. He told the Star Tribune that removing the embroidery entirely is "throwing history and art under the bus." Another member, Dobby West, said that "to view [the embroideries] only in terms of their unintended message is wounding and turns the Needlers' sacrifice into something to be ashamed of." 
Let's Talk Turkey
It does seem a bit ironic that these high-profile disagreements always flare up around the holidays, a time when we are all supposed to be coming together. And studies show these battles aren't confined to the media space they often spill over into our regular lives. In fact, nearly half of Americans report skipping family gatherings to avoid spending time with relatives they disagree with. 
That said, the "Thanksgiving War" seems like a clear case of overreaction by both sides.
Does the original Huffington Post article demand that you stay at home, alone in your apartment, and eat cold brussel sprouts this Thanksgiving, as some news personalities tried to frame it? Of course not. It merely asks you to consider the environmental impact your actions have before you dig into Thanksgiving dinner. 
And is an embroidery made in good faith 45 years ago really deserving of being thrown in the trash? That seems pretty harsh. America is reckoning with its not-always-squeaky-clean past, and the process isn't always pretty.
Thanksgiving was made a national holiday by Abraham Lincoln in the midst of the Civil War, at a time when a nation rabidly divided desperately needed a force for unity. Sound familiar?
Perhaps we can all take a cue from the church congregants at Plymouth Congregational. Though opinions were split on the embroidery, they refuse to be torn apart by the issue. Said acting senior minister Paula Northwood: "At the very least, we are going to find a way to agree to disagree and still love each other."
What do you think? Is that a good philosophy for the Thanksgiving table?