Are People Really Offended Over the Starbucks Cup?
It seems that the Christmas season begins earlier and earlier each year (and no, this isn't just us getting older!). Traditionally the 'Christmas season' didn't begin until after Thanksgiving... but things have changed. It's likely that you've already been exposed to a pretty heft dose of X-Mas... think of how many things you see signifying Christmas season just in the first week of November:
Stores putting Christmas decorations on display

Christmas commercials showing Christmas deals

Christmas music playing the day after Halloween
Whether you love it or hate it, this is the new world order. This Christmas season we've already got our first Christmas controversy: outrage is brewing over Starbucks and their new holiday cup. This year, it is simply the color red. No fancy Christmas designs, no words, nothing but a solid red cup. The company were hoping that the minimalist design would help feel everyone included, even those who do not celebrate Christmas.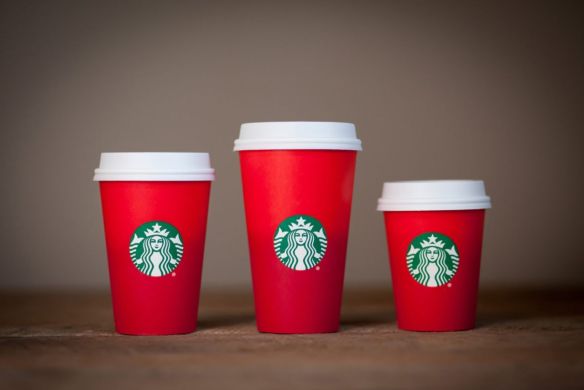 Once the cup was released, many Christians around the country expressed that they were terribly offended about the release of the cup. These individuals were upset that the company had neglected to make any mention of Christmas on the cups, and had removed all of the Christmas/winter iconography that have been featured on the cups in years past. The red cup controversy spread like wildfire, with memes spreading all around social media telling Christians and other people who were offended by the cup that they should be focused on more important matters, such as orphans and the poor.
Christians Really Offended?
However, the more you look at social media posts, the more you will see a lack of offended people. Almost all Facebook posts and Tweets mentioning the Starbucks cup simply talk about how silly this controversy is, and how no one should be offended by what Starbucks put on their cup. It's difficult to find posts about people who are actually offended by the cup. In this new media-dominated age, it's tough to tell how big this controversy actually is.
A Select Few
What we do know is that this controversy has made its way to the national stage. Just last night, Presidential Hopeful Donald Trump urged his supporters to boycott Starbucks and declared that when if he is elected as President "...we're all going to be saying 'Merry Christmas' again". He appears to have gotten even more people fired up... if you look at the hashtag #BoycottStarbucks, you will see hundreds, if not thousands, of tweets from people genuinely offended by the cups.
Blank Canvas
Starbucks supposedly had no idea their red cups would spark so much controversy. Their claim was that they are giving customers an opportunity to create their own designs on the cup. For years, people have doodled designs on their white cups, so they thought this would be a fun time for them to continue doing so during the Christmas season.
Win for Starbucks
No matter what side of the controversy you are on (if you believe there even is a controversy), we can all probably agree this is good news for Starbucks. After all, almost everybody is talking about them right now. Since the vast majority of people support their red cup or at the very least don't have a problem with it, it's likely that whatever boycott does take place won't cause too much harm to the company's coffers. All this will do is put Starbucks in the back of people's heads, and next time they want a freshly brewed coffee or scone, they will pop into their nearest Starbucks to satisfy their craving.
War On Christmas
This does beg the larger question, though. Is there a "war on Christmas"? Seemingly every year there is some "controversy" inspired by Christians upset with what they perceive as an attack on one of their most sacred holidays. Certainly it must be difficult to reconcile the commercial holiday that's formed with the celebration of Jesus' birth... can the two ever really share a day?
What do you think?